Making use of the online tool for PDF editing by FormsPal, it is possible to fill out or modify Form Icb 1 right here and now. The editor is continually upgraded by our staff, receiving useful functions and growing to be even more versatile. This is what you would want to do to get started:
Step 1: Click the "Get Form" button above on this webpage to open our PDF tool.
Step 2: This tool offers the opportunity to customize most PDF forms in a range of ways. Improve it with customized text, adjust existing content, and put in a signature - all doable within a few minutes!
This PDF form requires specific information to be typed in, therefore you should take whatever time to provide exactly what is asked:
1. The Form Icb 1 necessitates certain details to be entered. Be sure that the following fields are completed: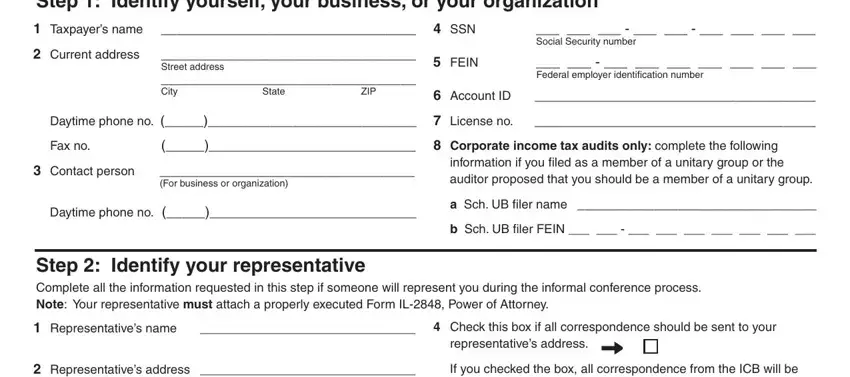 2. Once this array of blank fields is filled out, proceed to type in the relevant details in all these: Representatives address, Street address City State ZIP, Daytime phone no, Fax no, If you checked the box all, If you did not check the box all, Step Provide the following audit, Write the audit period and the, Write the tax type, Audit period, Amount, ICB R, Page of, and Disclosure of this information is.

Concerning ICB R and Daytime phone no, make sure you do everything properly in this current part. These are the most significant ones in the file.
3. The following step is usually pretty straightforward, may be attached if necessary, The ICB will decide your case, discuss your case if you so desire, If you answered yes indicate where, Are you requesting an inperson, yes Chicago yes yes, no Springfi eld no no, If you answered yes you must, and Step Taxpayer or taxpayers - each one of these empty fields will need to be filled out here.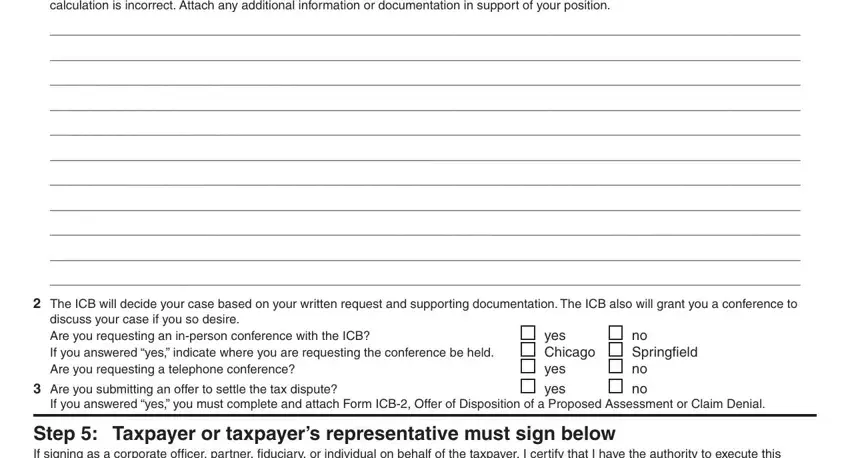 4. Filling out Step Taxpayer or taxpayers, Taxpayers signature, Title if applicable, Date, Taxpayers representatives, Title if applicable, Date, Print taxpayers name if, Representative must be duly, Step Sign the waiver of statute, In order to allow the ICB time to, Title if applicable, Date, Taxpayers representatives, and Title if applicable is vital in the next section - ensure that you take your time and be attentive with each blank!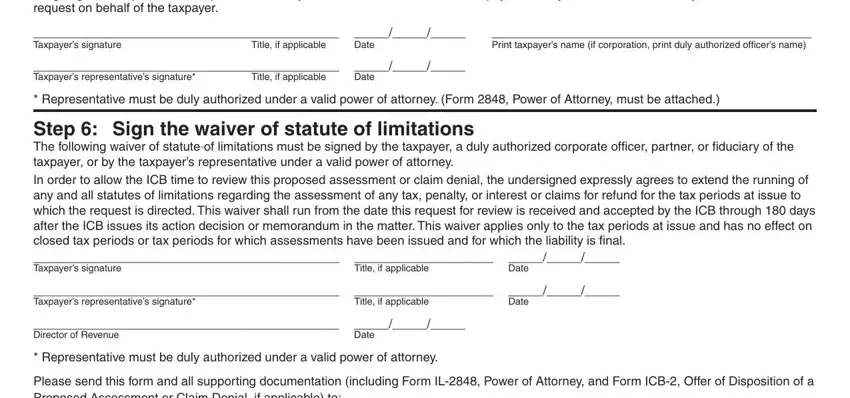 Step 3: Right after proofreading the filled out blanks, hit "Done" and you are good to go! Sign up with FormsPal now and immediately obtain Form Icb 1, available for downloading. All modifications made by you are kept , making it possible to edit the document at a later stage anytime. FormsPal guarantees your data privacy by having a secure system that in no way saves or distributes any type of sensitive information involved. Rest assured knowing your documents are kept protected any time you work with our services!