Handling PDF files online can be a breeze with our PDF tool. Anyone can fill out DeKalb here in a matter of minutes. Our editor is consistently evolving to grant the very best user experience attainable, and that's due to our resolve for continual enhancement and listening closely to customer comments. Starting is easy! Everything you need to do is stick to the following easy steps below:
Step 1: Simply click the "Get Form Button" above on this site to start up our pdf file editor. This way, you will find all that is necessary to fill out your file.
Step 2: With this online PDF file editor, it's possible to do more than merely fill out forms. Try all the features and make your documents appear perfect with custom text incorporated, or optimize the file's original input to perfection - all that comes with an ability to insert stunning photos and sign the file off.
When it comes to blanks of this precise PDF, this is what you should do:
1. Complete the DeKalb with a selection of essential fields. Gather all the required information and make sure there is nothing left out!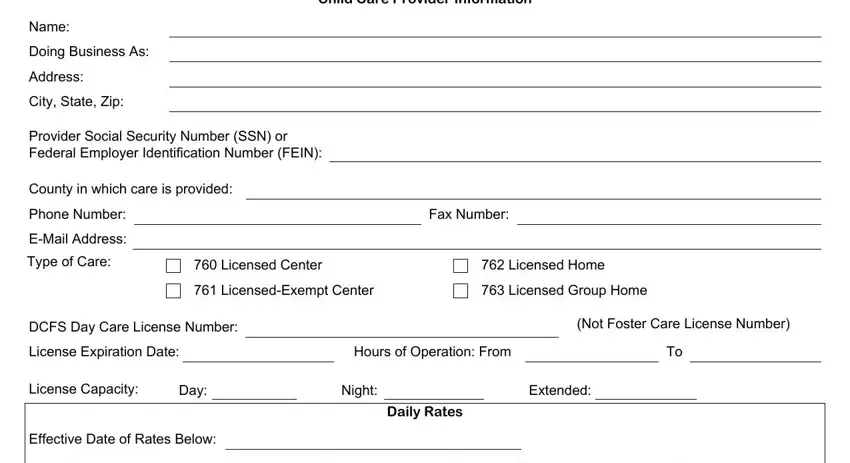 2. Right after the first section is done, proceed to enter the suitable information in these: Check if you have a separate rate, Under Age, Age, Age and Older, FullDay Rate hours per day, PartDay Rate less than hours per, School Age Rate for centers only, Do you have any discounts such as, I certify that the information, Signature, Date, IL R Child Care Rate Certification, and Page of.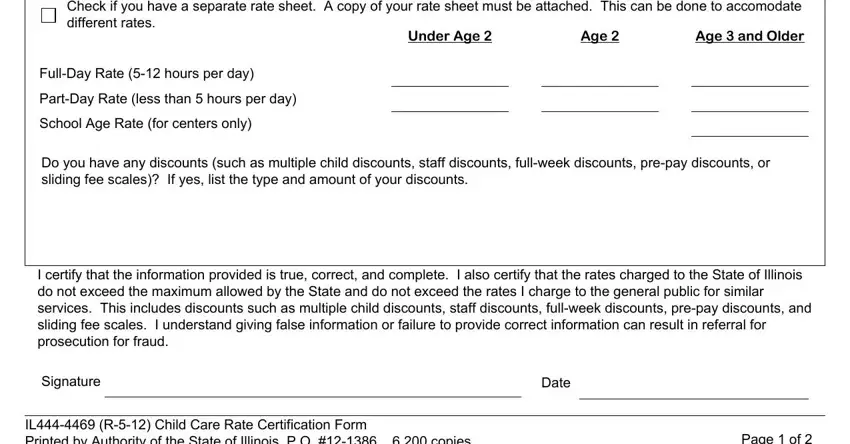 You can certainly get it wrong while completing your Signature, hence make sure you look again prior to deciding to send it in.
3. The next part is pretty simple, Counties Served CCRR, Counties Served CCRR, Cook, Action for Children Child Care, YWCA of Lake County Child Care, Waukegan IL, Community Coordinated Child Care C, YWCA Child Care Solutions Child, Boone Jo Daviess Stephenson, YWCA Child Care Resource Referral, Community Child Care Connection, Child Care Resource Referral, Community Child Care Resource, West Central Child Care Connection, and Coles Clark Cumberland Edgar - these blanks must be completed here.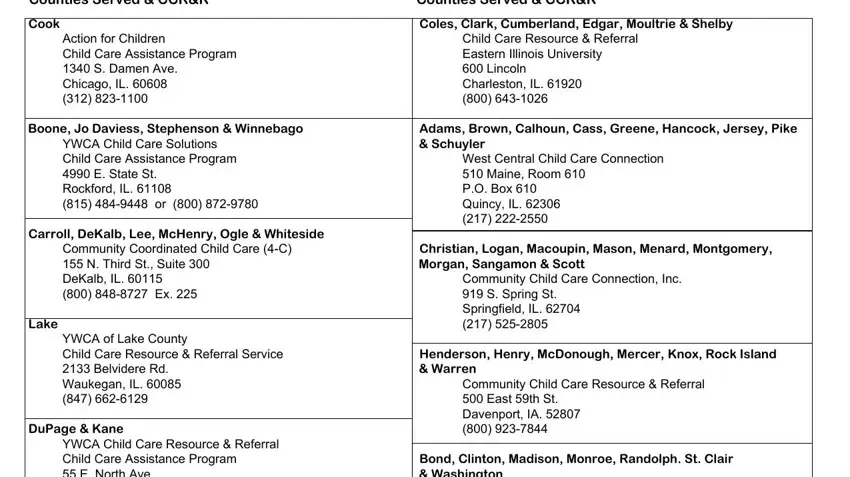 Step 3: After you've looked over the details in the file's blank fields, click on "Done" to complete your FormsPal process. After registering afree trial account with us, you will be able to download DeKalb or email it promptly. The document will also be accessible via your personal account page with your each change. When using FormsPal, it is simple to complete documents without being concerned about data incidents or entries getting distributed. Our protected platform helps to ensure that your private information is kept safely.