Dealing with PDF documents online is actually simple using our PDF tool. You can fill in itd 0020 here and try out several other functions available. To maintain our editor on the forefront of convenience, we work to adopt user-driven features and enhancements regularly. We're routinely grateful for any suggestions - play a pivotal part in reshaping PDF editing. It merely requires several easy steps:
Step 1: First, access the tool by clicking the "Get Form Button" above on this page.
Step 2: Using our state-of-the-art PDF file editor, you'll be able to accomplish more than just fill in forms. Try all of the features and make your documents look professional with custom text put in, or tweak the file's original content to excellence - all comes along with the capability to incorporate stunning photos and sign the document off.
Completing this document calls for focus on details. Ensure every blank is filled in correctly.
1. The itd 0020 usually requires particular details to be typed in. Be sure the next fields are filled out: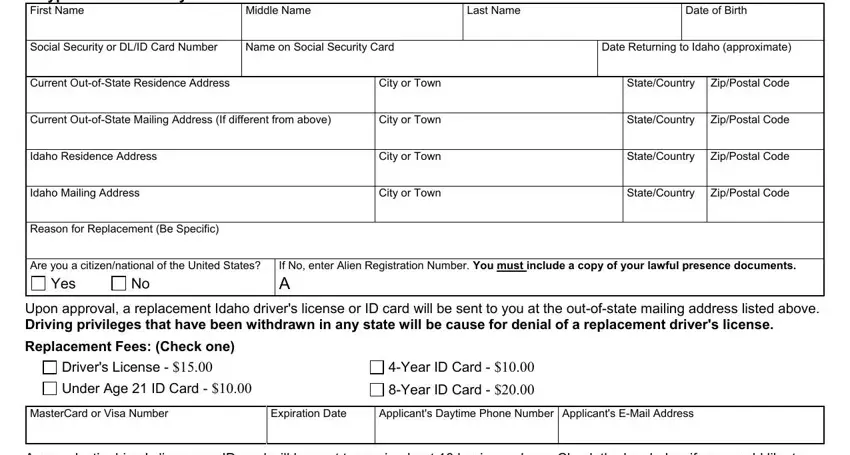 2. Soon after performing the last part, head on to the subsequent stage and fill in all required particulars in all these blank fields - A new plastic drivers license or, I authorize the Fed Ex fee to be, Overnight next business day, Day, Saturday Delivery, By affixing my signature below I, Applicants Signature, and Date.

As for By affixing my signature below I and Applicants Signature, be sure that you get them right in this section. These two are considered the most important ones in the form.
Step 3: Prior to finalizing your file, it's a good idea to ensure that blanks were filled out correctly. When you believe it is all good, click "Done." Right after creating a7-day free trial account with us, you will be able to download itd 0020 or send it through email at once. The document will also be easily accessible through your personal account page with your each and every edit. FormsPal guarantees your data privacy with a secure method that never records or shares any private data provided. You can relax knowing your paperwork are kept protected each time you use our services!