Our PDF editor allows you to create documents. There's no need to do much to modify dss 2221a documents. Just simply use these particular actions.
Step 1: Click on the "Get Form Here" button.
Step 2: The moment you enter our ldss 2221a mandated reporter form editing page, you will notice all the options it is possible to take regarding your document within the upper menu.
These particular parts will compose the PDF form that you'll be creating: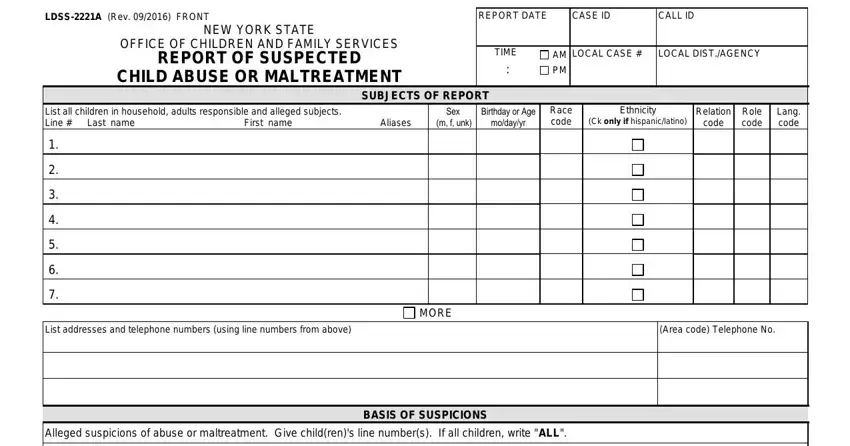 Make sure you write down the demanded information in the DO, A, fatality Fractures, Poisoning, noxious, substances Swelling, dislocation, sprains Choking, twisting, shaking Educational, neglect Lack, of, medical, care Emotional, neglect Malnutrition, failure, to, thrive Inadequate, food, clothing, shelter Sexual, abuse Lack, of, supervision Inadequate, guardianship Abandonment, and Other, specify area.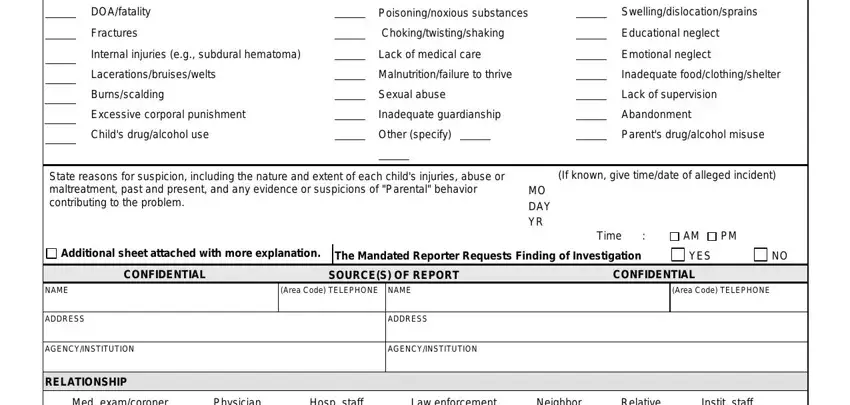 Write the significant particulars in only, Hospitalization, required None, Under, week weeks, Over, weeks Actions, taken, or About, to, betaken Medical, exam X, ray Removal, keeping Notify, medical, examiner, coroner Photographs, Hospitalization, and Returning, home section.

Feel free to identify the rights and responsibilities of the parties inside the LDS, S, ARe, v, REVERSE RACE, CODE A, A, Black, or, African, American AL, Alaskan, Native, AS, Asian NA, Native, American PI, Native, Hawaiian, Pacific, Islander WH, White, XX, Other, UN, K, Unknown ETHNICITY, CODE, Check, Only, If, Hispanic, Latino RELATION, CODES, FAMILIAL, REPORTS Choose, One ROLE, CODE Choose, One and LANGUAGE paragraph.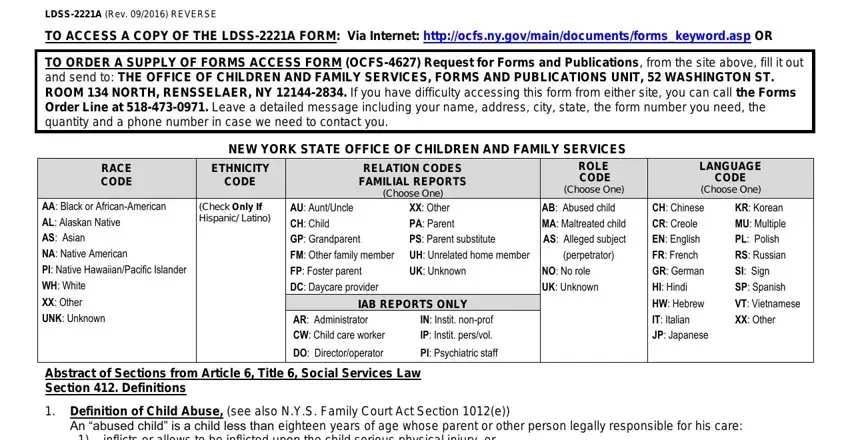 End by checking the following areas and completing them as required: .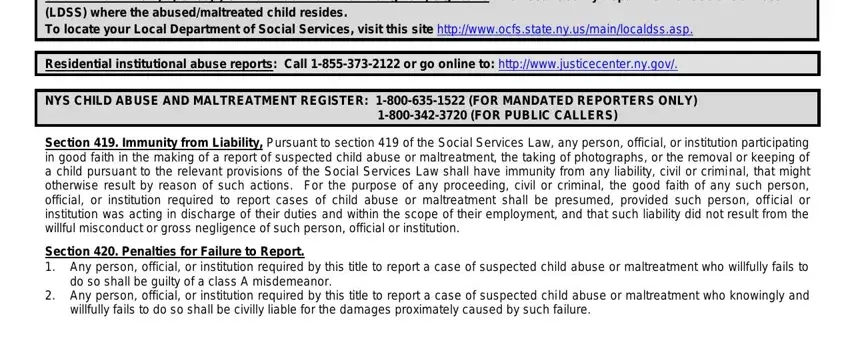 Step 3: Press the Done button to make sure that your completed file could be transferred to any electronic device you pick out or forwarded to an email you indicate.
Step 4: You could make duplicates of your file toremain away from any potential future issues. Don't worry, we do not reveal or watch your data.