With the online PDF tool by FormsPal, it is possible to fill out or modify Form Mo 780 0795 right here. FormsPal expert team is ceaselessly endeavoring to improve the tool and ensure it is much better for clients with its multiple functions. Benefit from today's modern possibilities, and find a myriad of emerging experiences! It merely requires just a few basic steps:
Step 1: Hit the "Get Form" button above. It will open up our editor so you can start filling in your form.
Step 2: The editor gives you the capability to modify PDF forms in a variety of ways. Enhance it with customized text, correct what's originally in the file, and include a signature - all manageable within a few minutes!
Be attentive when filling in this form. Ensure each and every field is completed accurately.
1. To start with, once filling out the Form Mo 780 0795, start out with the section with the subsequent fields: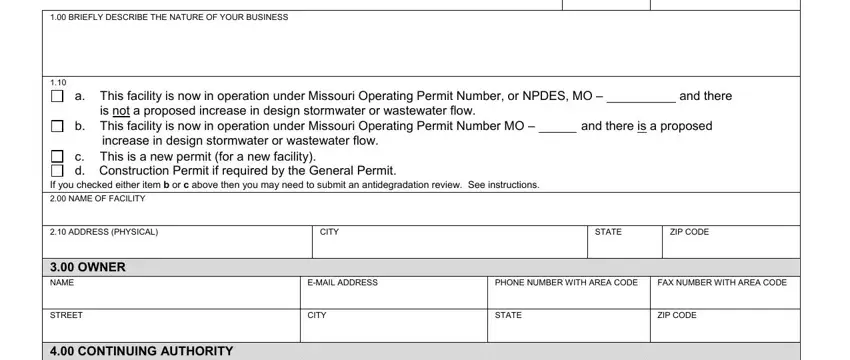 2. After the last segment is finished, you need to put in the required specifics in EMAIL ADDRESS, CITY, CONTINUING AUTHORITY NAME, STREET, OPERATOR if applicable NAME, FACILITY CONTACT NAME, TITLE, PHONE NUMBER WITH AREA CODE, FAX NUMBER WITH AREA CODE, STATE, ZIP CODE, PHONE NUMBER WITH AREA CODE, PHONE NUMBER WITH AREA CODE, FAX NUMBER WITH AREA CODE, and FOR EACH OUTFALL GIVE THE LEGAL in order to progress to the next stage.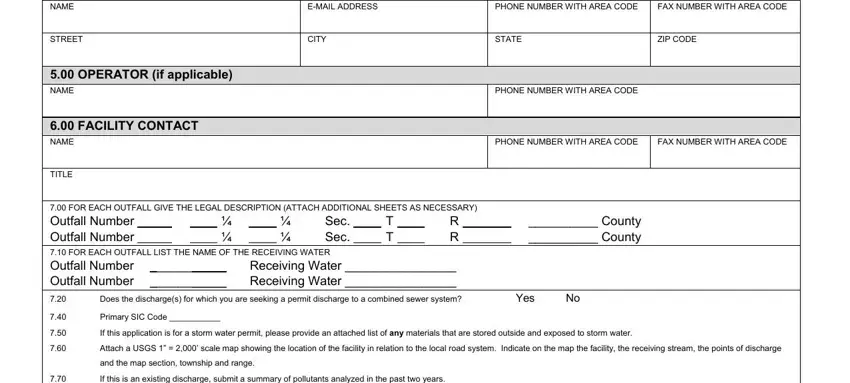 3. This 3rd section is considered rather straightforward, Water Law of Missouri Clean Water, A NAME AND OFFICIAL TITLE TYPE OR, C SIGNATURE MO, B TELEPHONE NUMBER WITH AREA CODE, and D DATE SIGNED - every one of these empty fields is required to be filled in here.

When it comes to B TELEPHONE NUMBER WITH AREA CODE and A NAME AND OFFICIAL TITLE TYPE OR, ensure that you double-check them here. These could be the most important ones in this form.
Step 3: Before finishing your form, make sure that all blank fields were filled in the right way. The moment you think it is all good, click "Done." Create a free trial account at FormsPal and acquire immediate access to Form Mo 780 0795 - download or edit from your FormsPal account page. FormsPal ensures your information privacy with a secure method that in no way records or distributes any kind of personal information involved. Feel safe knowing your paperwork are kept protected whenever you use our editor!