By using the online PDF editor by FormsPal, you can easily complete or change Addressofendorser here and now. The tool is continually maintained by our staff, getting new awesome features and becoming better. Here is what you'd want to do to get going:
Step 1: Firstly, open the tool by clicking the "Get Form Button" at the top of this page.
Step 2: Using this state-of-the-art PDF editor, it is possible to accomplish more than simply fill out blank fields. Edit away and make your documents seem professional with customized text put in, or adjust the original content to excellence - all comes with the capability to insert your own pictures and sign the document off.
Completing this document needs care for details. Make sure all required areas are filled out correctly.
1. Firstly, once filling out the Addressofendorser, beging with the area that features the following blank fields: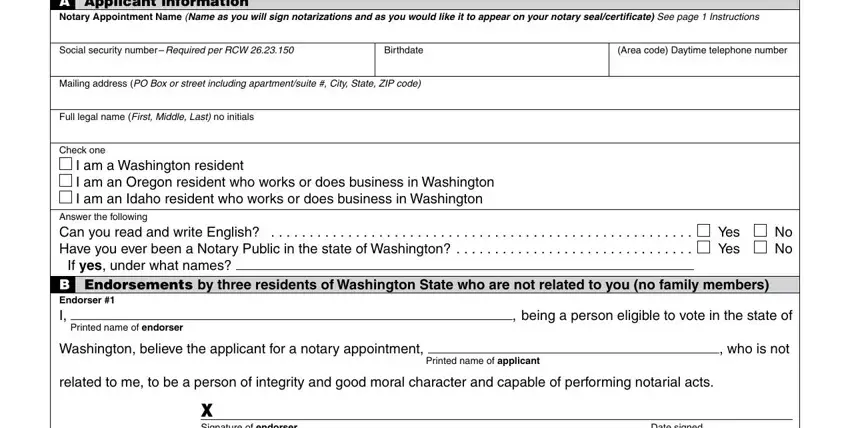 2. Once your current task is complete, take the next step – fill out all of these fields - X Signatureofendorser, Datesigned, Endorser I, Printednameofapplicant, who is not, X Signatureofendorser, Datesigned, Endorser I, Printednameofapplicant, who is not, NPRWAPageof, X Signatureofendorser, and Datesigned with their corresponding information. Make sure to double check that everything has been entered correctly before continuing!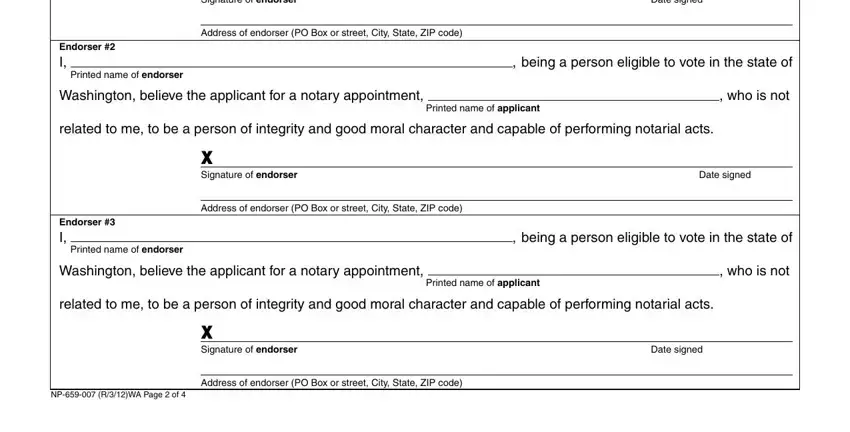 3. This next section is normally rather straightforward, Answerthefollowing Other than a, Yes, Yes, Yes, Other than a divorce or, Yes, Please explain all Yes answers, If you answered yes to questions, Charges, and Namesunderwhichyouwereconvicted - these fields needs to be filled in here.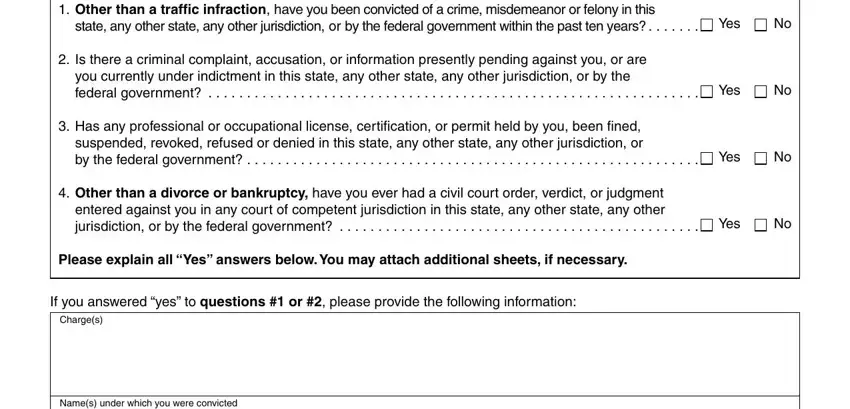 4. This specific subsection arrives with the following blanks to complete: WhereconvictedCity County State, Datesofconvictions, If you answered yes to question, Nameoflicensecertiicationorpermit, ActiontakenFined suspended revoked, LocationCity County State, Dateofaction, Reasonforactionandresolutionifany, and If you answered yes to question.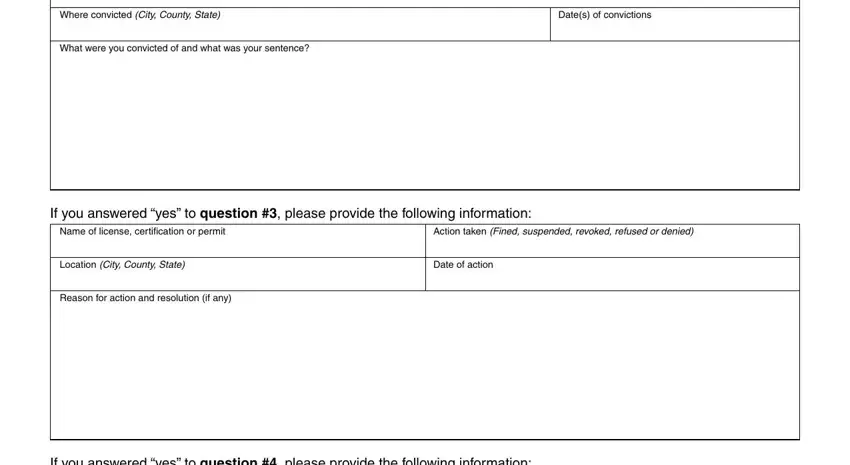 People generally make errors when filling out WhereconvictedCity County State in this part. Make sure you go over everything you type in here.
5. To wrap up your document, this particular area requires some additional blanks. Typing in If you answered yes to question, WherechargedCity County State, Dateoforderverdictorjudgment, and NPRWAPageof should finalize the process and you'll definitely be done in a tick!

Step 3: After you have looked once again at the information in the fields, click "Done" to finalize your FormsPal process. Obtain the Addressofendorser the instant you sign up for a 7-day free trial. Easily access the pdf file within your FormsPal account, together with any modifications and changes automatically kept! FormsPal is devoted to the privacy of our users; we make sure all personal information handled by our editor stays secure.