Dealing with PDF forms online is simple with this PDF editor. You can fill out Form Per De 1 here within minutes. FormsPal professional team is ceaselessly working to expand the editor and ensure it is even faster for people with its multiple functions. Enjoy an ever-evolving experience today! All it requires is just a few simple steps:
Step 1: First, access the tool by clicking the "Get Form Button" in the top section of this site.
Step 2: As soon as you open the editor, you will see the document ready to be completed. Apart from filling out various fields, it's also possible to do other actions with the Document, specifically adding any textual content, editing the initial textual content, adding images, putting your signature on the form, and a lot more.
This PDF will require specific details to be filled in, so ensure you take the time to provide exactly what is expected:
1. To start with, once filling out the Form Per De 1, begin with the section with the next blank fields: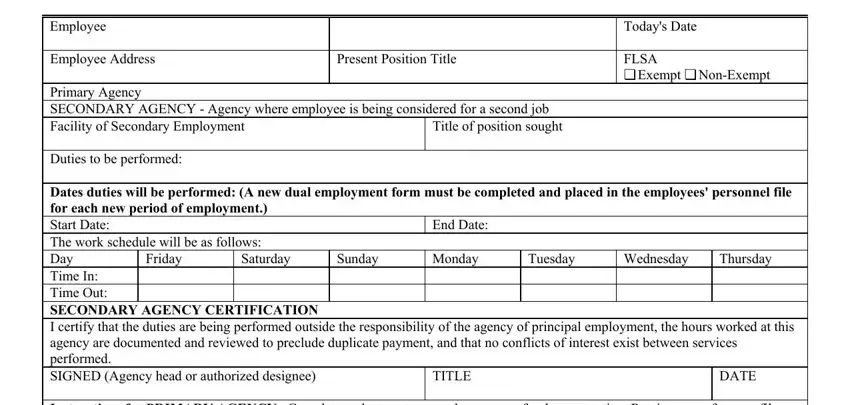 2. The next part is usually to fill in the next few blanks: Employee Employee Address Primary, POTENTIAL CONFLICT OF INTEREST, YES NO, Saturday, Duties Performed Current Work, SIGNED Agency head or authorized, Wednesday, Thursday, Tuesday, Monday, Sunday, TITLE, DATE, and This form provided by the.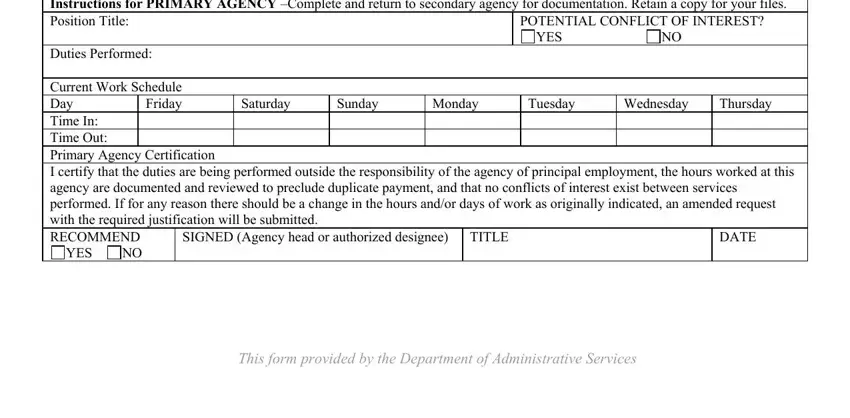 It is easy to get it wrong when filling in the Thursday, hence you'll want to reread it prior to deciding to finalize the form.
Step 3: Before moving on, check that blanks were filled in correctly. As soon as you believe it's all fine, click "Done." Go for a free trial plan with us and acquire instant access to Form Per De 1 - which you may then work with as you wish in your FormsPal cabinet. When you use FormsPal, you're able to fill out documents without stressing about database incidents or data entries being shared. Our secure system ensures that your personal details are kept safely.