Once you open the online editor for PDFs by FormsPal, it is possible to fill out or alter daily observation report for police right here. We at FormsPal are committed to giving you the best possible experience with our tool by continuously releasing new features and improvements. Our editor has become much more intuitive as the result of the newest updates! So now, editing PDF forms is a lot easier and faster than ever before. To start your journey, take these simple steps:
Step 1: Just click the "Get Form Button" at the top of this webpage to access our pdf form editor. Here you'll find all that is needed to fill out your file.
Step 2: Using this handy PDF editing tool, you're able to accomplish more than merely complete blanks. Try each of the functions and make your forms look great with custom textual content added in, or optimize the file's original content to perfection - all that comes with the capability to insert almost any photos and sign the PDF off.
As for the blanks of this precise form, here's what you should know:
1. First of all, when completing the daily observation report for police, beging with the form section with the next blank fields: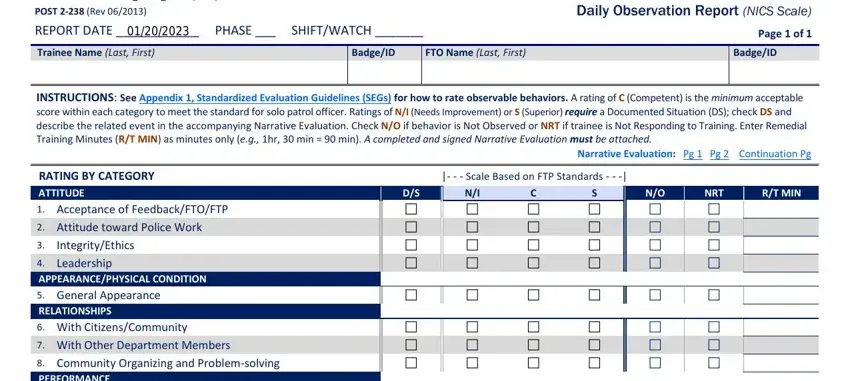 2. The third stage is usually to complete the next few blank fields: Community Organizing and, Driving Skill Normal Conditions, Driving Skill ModerateHigh Stress, Use of Map BookGPS, Routine forms AccuracyCompleteness, Report writing, Report writing, Field Performance Nonstress, Field Performance Stress, Investigative Skills, InterviewInterrogation Skills, Selfinitiated Field Activity, Officer Safety General, Officer Safety Suspicious, and Control of Conflict Voice Command.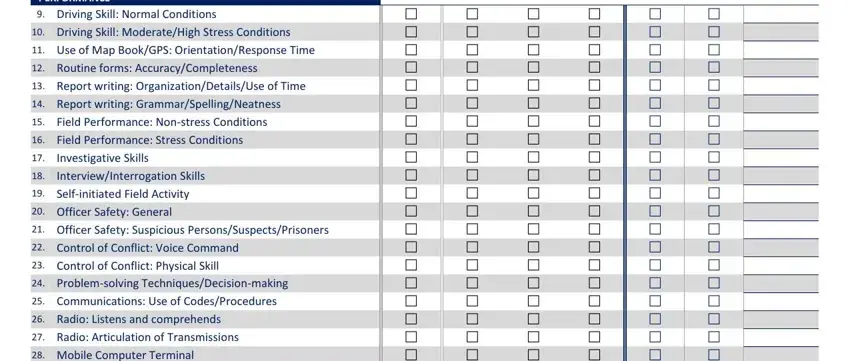 3. The following step is considered pretty straightforward, KNOWLEDGE, Department Policies and Procedures, A Reflected by, B Reflected in Field Performance, Criminal Statutes, A Reflected by, B Reflected in Field Performance, Criminal Procedure, A Reflected by, B Reflected in Field Performance, AGENCYSPECIFIC If used provide, Trainee Signature, and TOTAL RT MINUTES TODAY Identify - all these fields will have to be filled in here.

Be extremely attentive while filling out B Reflected in Field Performance and Trainee Signature, since this is where many people make some mistakes.
4. You're ready to proceed to this fourth part! In this case you have all these POST Field Training Program FTP, REPORT DATE PHASE SHIFTWATCH, APPENDIX Narrative Evaluation, Page of, Trainee Name Last First, BadgeID, FTO Name Last First, BadgeID, INSTRUCTIONS Parts A B Based on, DOR Narrative Evaluation Pg Pg, EVALUATION CONSIDERATIONS Set the, Use lists when appropriate, Think remedial Quantify when, PART A MOST SATISFACTORY, and Category Numbers fields to do.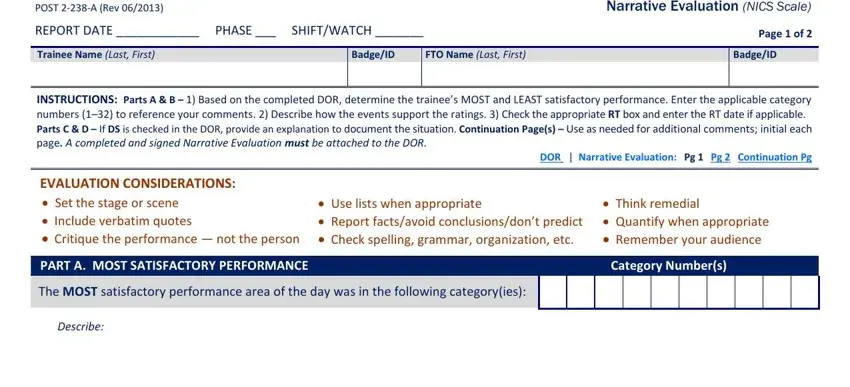 5. The very last step to finalize this document is critical. Make certain you fill out the displayed blanks, for instance REMEDIAL TRAINING, Completed, Recommended Date, PART B LEAST SATISFACTORY, Category Numbers, The LEAST satisfactory performance, Describe, REMEDIAL TRAINING, Completed, Recommended Date, and Continuation Pages Attached, prior to using the form. Neglecting to do this can lead to a flawed and probably nonvalid form!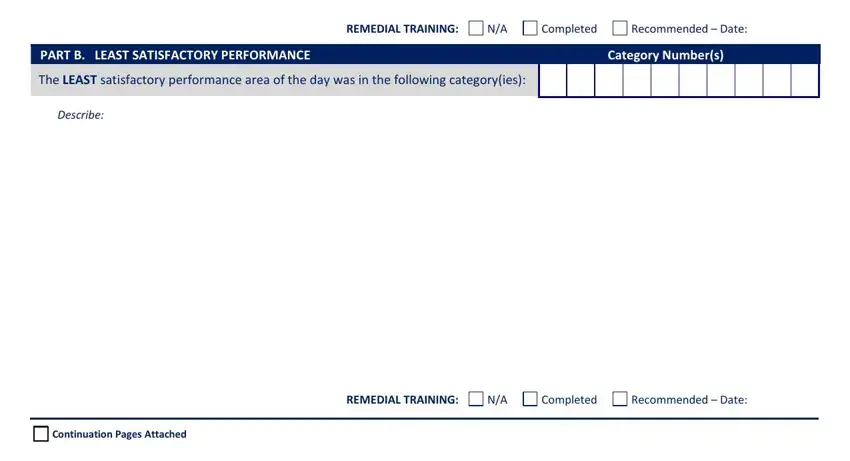 Step 3: After you've reread the details in the fields, press "Done" to complete your form at FormsPal. Obtain the daily observation report for police as soon as you subscribe to a free trial. Easily use the pdf file in your FormsPal cabinet, together with any edits and changes being automatically saved! FormsPal is invested in the personal privacy of our users; we make certain that all personal information processed by our tool is kept protected.