You are able to fill in form sc 134 instantly by using our online tool for PDF editing. In order to make our tool better and simpler to work with, we consistently implement new features, taking into account feedback coming from our users. With just several simple steps, you are able to start your PDF journey:
Step 1: Click the orange "Get Form" button above. It'll open up our pdf tool so that you can begin completing your form.
Step 2: After you open the PDF editor, you will get the document made ready to be completed. Other than filling out different blanks, it's also possible to perform some other things with the file, namely putting on your own textual content, changing the original textual content, inserting illustrations or photos, affixing your signature to the form, and much more.
With regards to the blank fields of this particular document, this is what you should consider:
1. Complete the form sc 134 with a selection of necessary blanks. Collect all the necessary information and make certain there is nothing neglected!
2. After completing the last section, go on to the next stage and enter the necessary details in these fields - Hearing, Date, Date, Dept, Time, Room, Name and address of court if, If you fail to appear and have not, Si usted no se presenta y no ha, This order may be served by a, Date, APPLICATION FOR THIS ORDER, See Instructions on reverse, SIGNATURE OF JUDGE, and applies for an order requiring.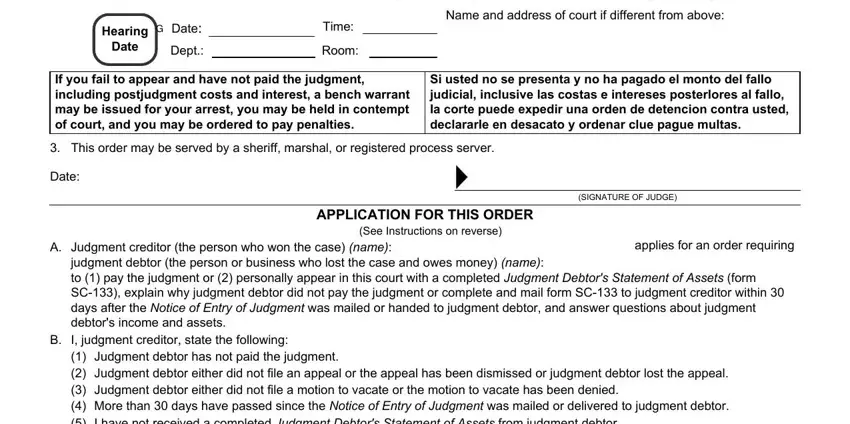 3. This next step is straightforward - complete all the fields in Judgment creditor the person who, Judgment debtor has not paid the, I declare under penalty of perjury, TYPE OR PRINT NAME, DECLARANT, The county provides small claims, Page of, Form Adopted for Mandatory Use, APPLICATION AND ORDER TO PRODUCE, OF ASSETS AND TO APPEAR FOR, Code of Civil Procedure, and Small Claims in order to complete this segment.

Always be really careful when filling in TYPE OR PRINT NAME and APPLICATION AND ORDER TO PRODUCE, since this is where most people make errors.
Step 3: After double-checking the form fields, hit "Done" and you are done and dusted! Right after getting a7-day free trial account with us, you will be able to download form sc 134 or email it directly. The document will also be readily accessible through your personal cabinet with all of your modifications. With FormsPal, you'll be able to fill out documents without having to worry about information leaks or entries getting shared. Our secure system makes sure that your private information is maintained safely.