ssa371 can be completed with ease. Simply try FormsPal PDF tool to complete the job promptly. In order to make our tool better and simpler to use, we continuously come up with new features, with our users' suggestions in mind. Getting underway is simple! All you have to do is adhere to the following simple steps down below:
Step 1: First of all, access the pdf tool by pressing the "Get Form Button" in the top section of this site.
Step 2: As you open the online editor, you will find the document prepared to be completed. Apart from filling in various blank fields, you might also perform some other actions with the form, that is putting on any textual content, changing the initial textual content, adding graphics, signing the PDF, and a lot more.
As for the fields of this particular form, here's what you need to do:
1. Complete the ssa371 with a number of essential fields. Get all the required information and make certain not a single thing neglected!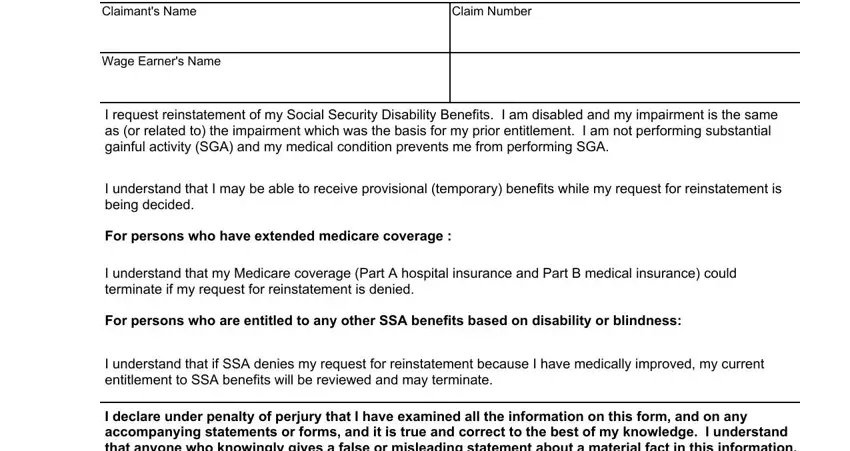 2. Just after filling in the previous part, head on to the subsequent stage and fill in the essential particulars in these fields - Area Code and Telephone Number, Address Number and Street, City and State, ZIP Code, WITNESSES Write in ink, Witnesses are required ONLY if, Signature of Witness, Signature of Witness, Address Number and Street City, Address Number and Street City, Form SSA Destroy Prior Editions, and OVER.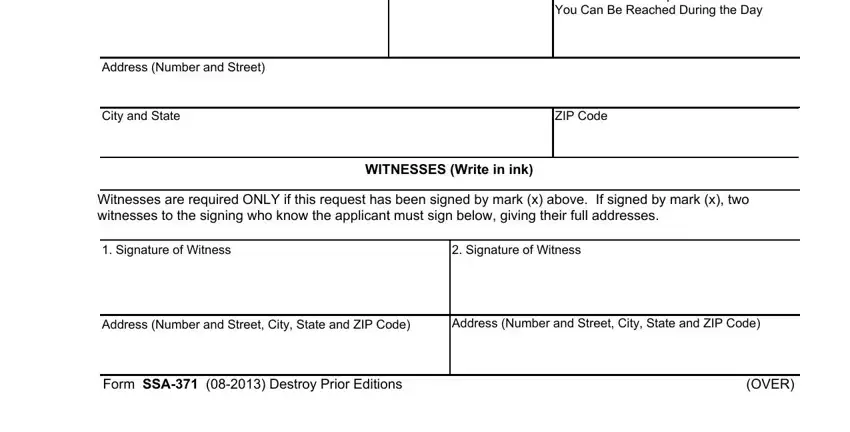 3. In this part, take a look at Your Title or Relationship to the, Area Code and Telephone Number, Address Number Street, City and State, ZIP Code, Your full name First name middle, Signature Please sign here, Date, Privacy Act Statement, Request for Reinstatement Title II, Sections b c d e f a and of the, and To enable a third party or an. Each one of these have to be filled out with greatest accuracy.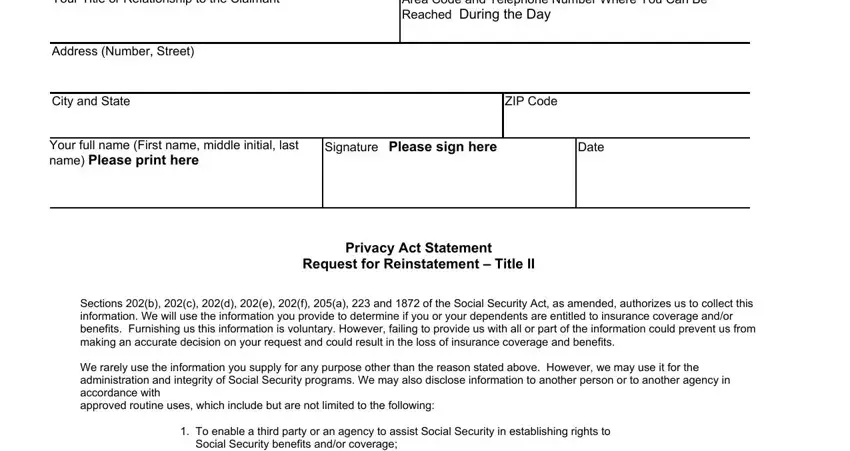 When it comes to ZIP Code and Sections b c d e f a and of the, be sure that you take a second look in this current part. Both of these could be the key ones in this form.
Step 3: Prior to finalizing your file, it's a good idea to ensure that blank fields have been filled in the right way. As soon as you believe it's all fine, click "Done." Sign up with us right now and immediately use ssa371, prepared for downloading. All alterations made by you are saved , making it possible to modify the document later as required. FormsPal offers safe form completion devoid of data recording or distributing. Feel safe knowing that your information is safe here!