Using PDF documents online is certainly super easy with our PDF editor. Anyone can fill out girl scout gold award proposal here and try out several other options available. Our editor is constantly evolving to deliver the very best user experience attainable, and that's thanks to our resolve for constant development and listening closely to comments from customers. To get the ball rolling, go through these simple steps:
Step 1: Simply press the "Get Form Button" above on this site to see our pdf file editing tool. Here you'll find everything that is necessary to fill out your document.
Step 2: Once you start the tool, you'll see the form made ready to be filled in. Other than filling in various fields, you could also do some other things with the Document, namely writing any words, modifying the initial textual content, inserting images, signing the document, and a lot more.
This PDF will need particular details to be filled out, so make sure to take whatever time to enter exactly what is required:
1. While submitting the girl scout gold award proposal, be certain to complete all essential blank fields in their relevant area. This will help facilitate the process, allowing for your details to be processed promptly and properly.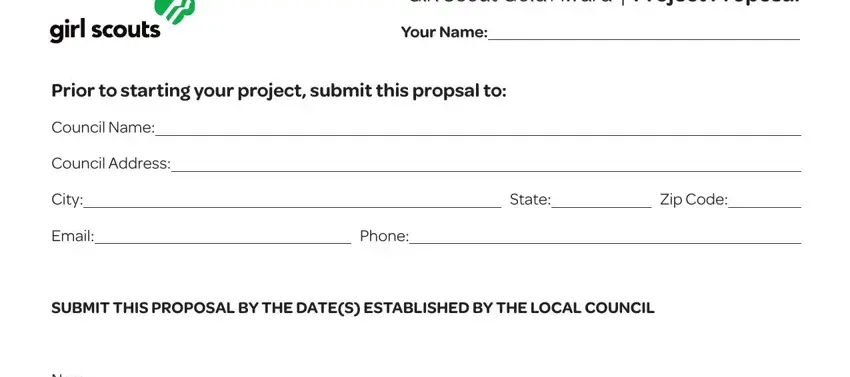 2. The subsequent stage would be to submit the next few blank fields: State, Zip Code, Name, Address, City, Email, Age, Grade, TroopGroup Number, Phone, School, TroopGroup Volunteer, TroopGroup Volunteers Phone, Girl Scout Gold Award Project, and Project Advisors Organization.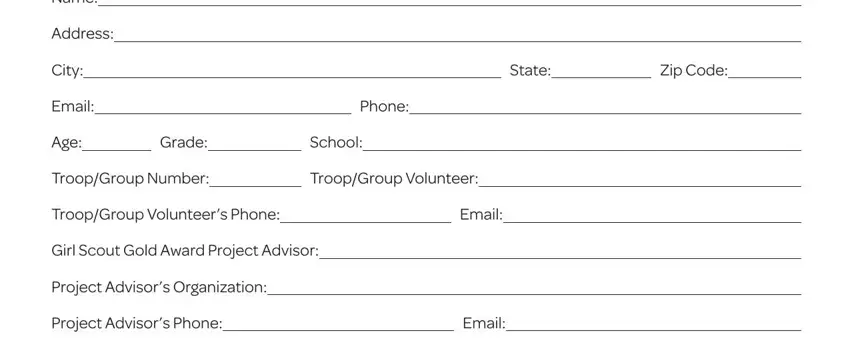 As for TroopGroup Volunteer and Project Advisors Organization, make sure you get them right in this section. Both of these are the key fields in the PDF.
3. This third step is generally relatively easy, Girl Scout Gold Award Project, Your Name, Prerequisites Two Senior or, SeniorAmbassador Journey Books, Date Completed TroopGroup, Girl Scout Silver Award Completion, and Council Where You Earned the Award - these empty fields will need to be filled out here.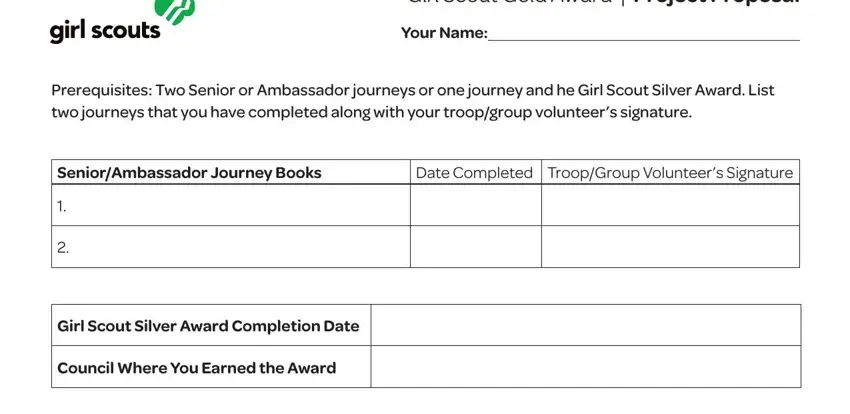 4. Filling out More Team Members, Afiliation, and Role is paramount in the next step - be certain to take your time and take a close look at each blank!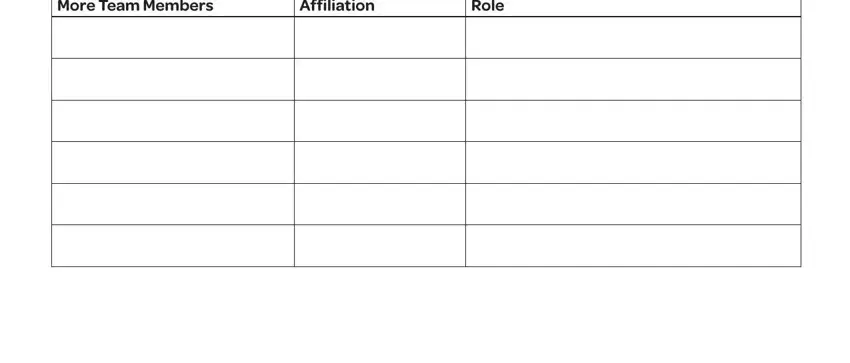 5. The very last section to submit this PDF form is pivotal. Be sure to fill out the displayed fields, including Girl Scout Gold Award Project, Your Name, Take Action Project, Project Title Proposed Start Date, Proposed Completion Date, Describe the issue your project, and Discuss your reasons for selecting, prior to using the form. If not, it may contribute to a flawed and potentially invalid document!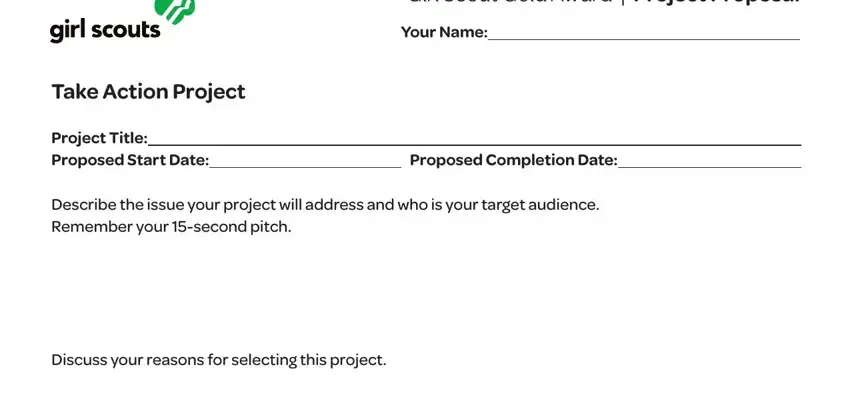 Step 3: Ensure your information is correct and just click "Done" to continue further. Create a free trial plan at FormsPal and obtain direct access to girl scout gold award proposal - which you may then make use of as you want from your personal account. FormsPal guarantees your information confidentiality by using a secure system that in no way saves or shares any sort of personal data involved. Be assured knowing your documents are kept confidential each time you work with our service!