When you would like to fill out hbu for official blank, you won't have to download any kind of applications - simply use our online PDF editor. Our team is devoted to giving you the perfect experience with our tool by regularly presenting new functions and enhancements. Our tool has become a lot more helpful thanks to the latest updates! At this point, editing documents is easier and faster than before. To get the process started, take these easy steps:
Step 1: Click the orange "Get Form" button above. It'll open our pdf tool so you could begin filling out your form.
Step 2: This editor will allow you to customize your PDF file in a variety of ways. Modify it with personalized text, correct what is already in the file, and place in a signature - all at your disposal!
When it comes to blanks of this specific form, here's what you should do:
1. Whenever completing the hbu for official blank, make sure to include all of the necessary blank fields within the relevant section. This will help speed up the work, allowing for your information to be processed fast and appropriately.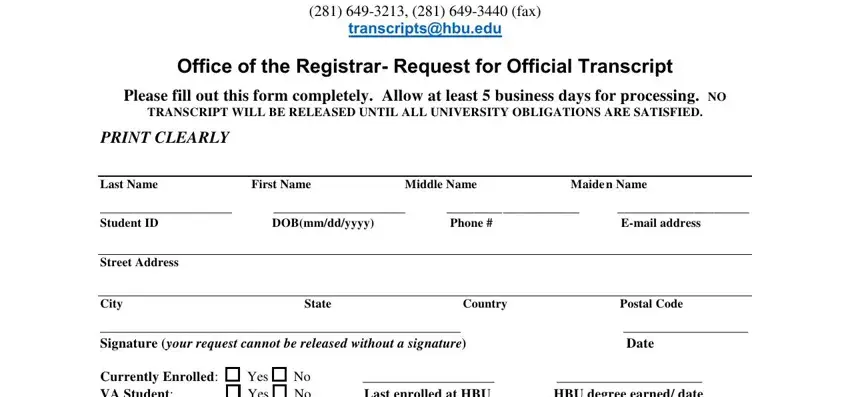 2. Once your current task is complete, take the next step – fill out all of these fields - Signature your request cannot be, Number of Copies Check the, Reason for request, Transferring to another, Applying to graduate school, Student PICKUP, Photo ID Required, Mail the transcripts to me at the, HOLD transcript for, current semester grade, degree posting, grade change, Mail the Transcripts to the, and Name Name Street Street City with their corresponding information. Make sure to double check that everything has been entered correctly before continuing!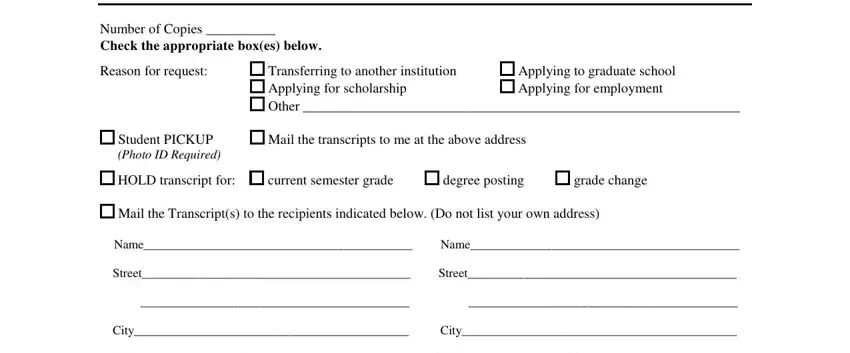 People generally make errors while filling in Mail the transcripts to me at the in this section. Make sure you go over what you enter right here.
3. Completing Name Name Street Street City, and Request for Official Transcript is essential for the next step, make sure to fill them out in their entirety. Don't miss any details!

Step 3: As soon as you've reread the details in the blanks, click "Done" to conclude your form at FormsPal. Try a 7-day free trial plan with us and gain immediate access to hbu for official blank - downloadable, emailable, and editable from your personal account page. Whenever you work with FormsPal, you can certainly complete documents without stressing about personal data breaches or records getting distributed. Our secure platform helps to ensure that your private details are stored safe.