You could prepare humber college offer letter time easily using our online PDF tool. In order to make our editor better and simpler to utilize, we continuously work on new features, with our users' suggestions in mind. Starting is simple! All you have to do is take these basic steps below:
Step 1: Click the "Get Form" button above on this webpage to open our editor.
Step 2: Once you access the online editor, you will find the document all set to be filled out. Apart from filling in various blank fields, it's also possible to do several other actions with the Document, particularly adding custom words, editing the initial text, inserting graphics, placing your signature to the PDF, and more.
This PDF form will involve specific details; in order to guarantee correctness, remember to consider the next guidelines:
1. To start off, while completing the humber college offer letter time, start with the part that features the next fields: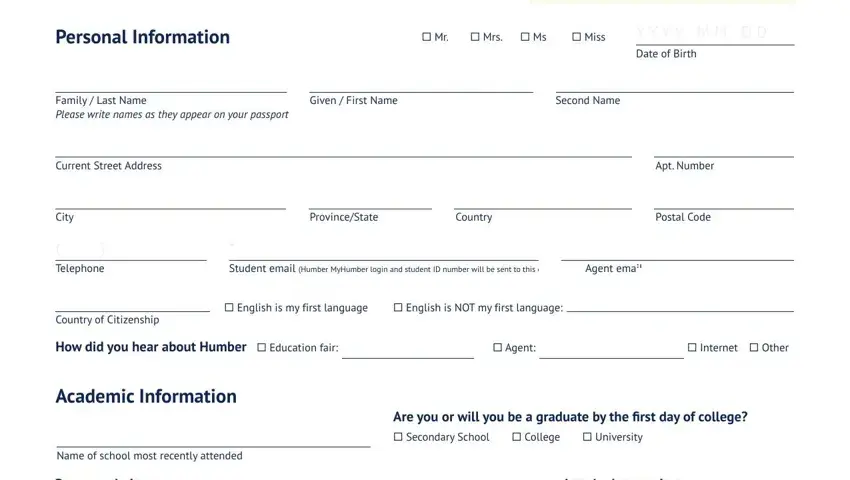 2. After filling out this step, head on to the subsequent part and fill in the essential particulars in these fields - Program choices, Program name, english for Academic Program, Start, Program, Campus, Attached transcripts secondary, College, Attached To follow, university, Attached To follow, toeflIeltsCAel Score, Attached To follow, other, and Attached To follow.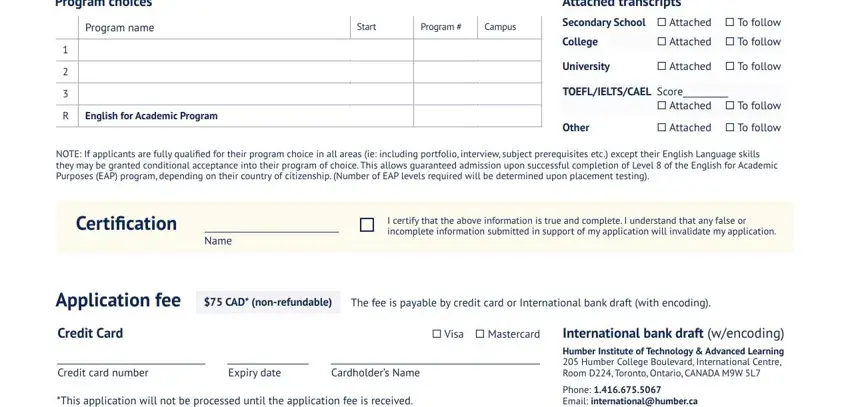 3. Within this step, check out Family Last Name Please write, Given First Name, Y Y Y Y M M D D Date of Birth, hereby authorize, my agent, Agent, other, Male Female, Company, First name, Last name, Address, Address, City, and Country. Every one of these will need to be filled out with highest awareness of detail.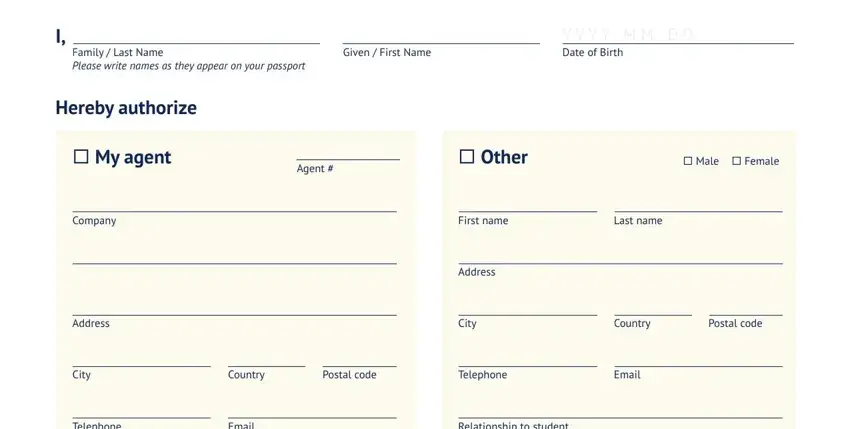 Be extremely attentive while filling out First name and Company, as this is the part where most people make mistakes.
4. To go ahead, your next step involves filling out a few empty form fields. These comprise of Agreement, Y Y Y Y M M D D Date, I agree to the above information, Instructions Type in sentence, Scanned educational documents may, and Email to intlapplicationshumberca, which are fundamental to continuing with this document.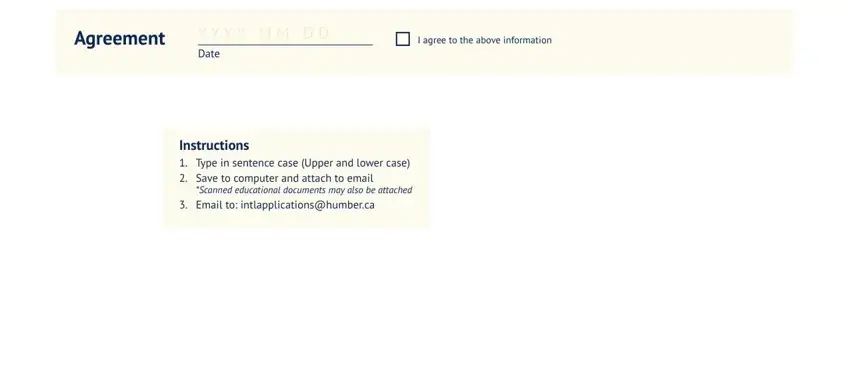 Step 3: Before obtaining the next stage, make certain that all blanks are filled out correctly. Once you're satisfied with it, press "Done." Right after starting a7-day free trial account here, you will be able to download humber college offer letter time or email it directly. The form will also be available in your personal account menu with your every modification. At FormsPal.com, we strive to be sure that your details are maintained private.