Il 505 B Form can be filled out very easily. Simply open FormsPal PDF editing tool to complete the job fast. To maintain our editor on the cutting edge of efficiency, we work to put into practice user-driven capabilities and enhancements regularly. We are routinely happy to get suggestions - play a pivotal part in remolding the way you work with PDF docs. With just a few easy steps, you can start your PDF journey:
Step 1: Simply press the "Get Form Button" above on this site to access our form editing tool. There you'll find everything that is required to work with your document.
Step 2: The editor helps you customize your PDF file in various ways. Improve it by adding your own text, adjust existing content, and put in a signature - all when it's needed!
Completing this form will require attention to detail. Ensure that all mandatory blanks are done accurately.
1. When submitting the Il 505 B Form, be sure to complete all of the necessary blank fields in the corresponding part. It will help hasten the process, which allows your details to be handled swiftly and appropriately.
2. After the previous array of fields is done, you have to include the needed particulars in overpayment credited to, Tax Payment Worksheet for Your, Pay this amount with your Form ILB, from Schedule D, Do not attach your federal Form, Tax Payment Worksheet Instructions, Corporations must include the, and Line If you are a resident fi in order to proceed further.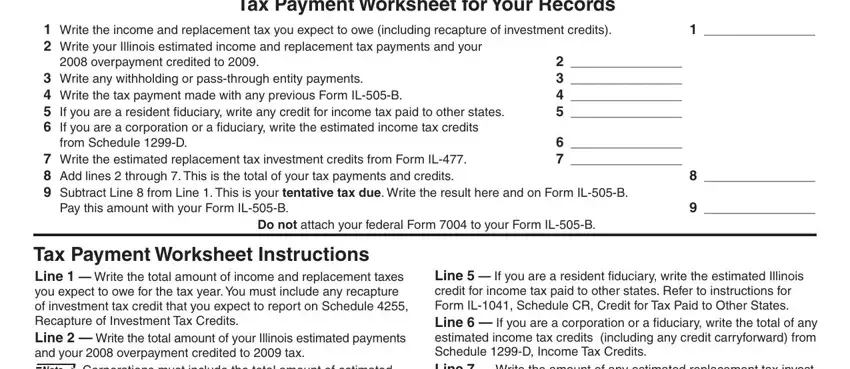 Concerning overpayment credited to and Tax Payment Worksheet for Your, ensure that you don't make any mistakes in this section. These two could be the most significant ones in the file.
Step 3: Ensure the information is accurate and then click "Done" to progress further. Get your Il 505 B Form after you register at FormsPal for a free trial. Instantly gain access to the pdf document inside your personal account page, along with any edits and adjustments being all saved! FormsPal is committed to the personal privacy of our users; we always make sure that all personal information put into our tool stays secure.