Illinois Form 20A can be filled in online easily. Simply try FormsPal PDF editing tool to complete the task fast. We are devoted to giving you the absolute best experience with our tool by consistently introducing new functions and upgrades. With all of these improvements, using our editor gets better than ever before! All it takes is a couple of basic steps:
Step 1: First, access the tool by clicking the "Get Form Button" at the top of this site.
Step 2: With our advanced PDF file editor, you could do more than just complete blank form fields. Express yourself and make your docs appear great with custom textual content added in, or adjust the original content to perfection - all that comes along with the capability to add any graphics and sign the file off.
It really is straightforward to finish the document with this practical tutorial! Here is what you want to do:
1. The Illinois Form 20A requires certain details to be inserted. Ensure the subsequent blank fields are complete: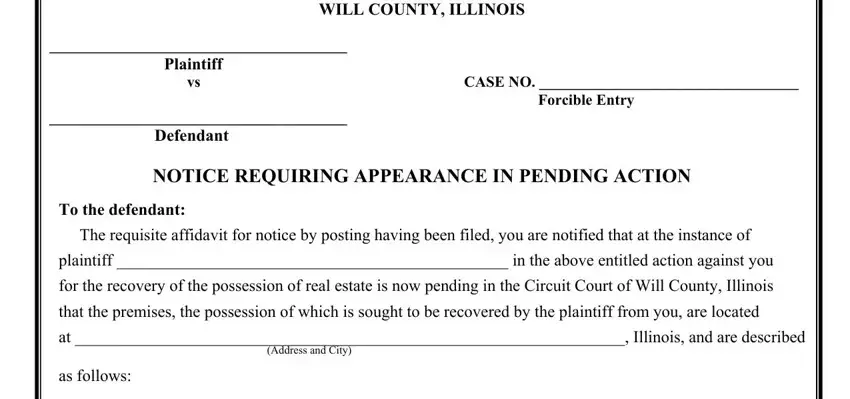 2. Once this part is completed, you're ready insert the needed specifics in at Illinois and are described, You are hereby required to appear, Joliet Illinois You are further, in the above cause IF YOU FAIL TO, Seal of Court, and WITNESS Clerk of the Circuit so you're able to move on to the 3rd step.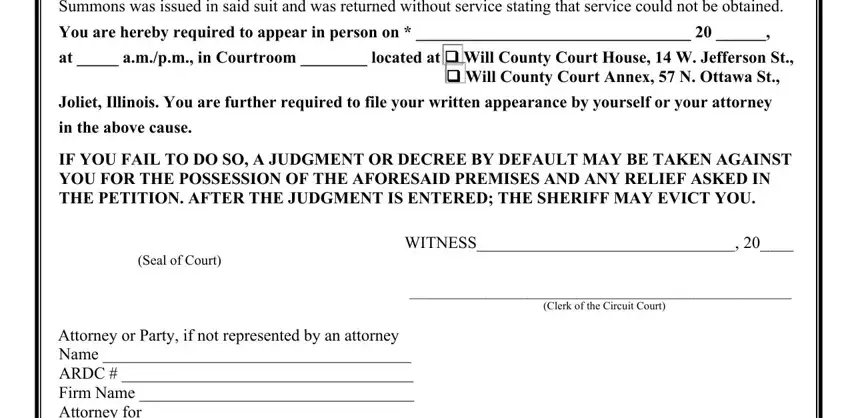 It is easy to make a mistake when filling in the WITNESS Clerk of the Circuit, hence you'll want to look again before you'll send it in.
3. Completing WITNESS Clerk of the Circuit, PAMELA J MCGUIRE CLERK OF THE, and A Revised is essential for the next step, make sure to fill them out in their entirety. Don't miss any details!

Step 3: Ensure that your information is correct and then click "Done" to complete the project. Get hold of the Illinois Form 20A when you register online for a free trial. Readily use the pdf form from your personal account page, along with any edits and adjustments being automatically kept! We do not sell or share any information that you provide when working with documents at our site.