Using the online tool for PDF editing by FormsPal, you'll be able to fill out or edit 411008 bonded here and now. The editor is constantly upgraded by our staff, getting additional features and growing to be better. With a few easy steps, you may begin your PDF journey:
Step 1: Click on the "Get Form" button above. It's going to open up our pdf tool so you can begin filling out your form.
Step 2: This editor provides the capability to change PDF forms in many different ways. Modify it by adding personalized text, correct existing content, and place in a signature - all within the reach of a couple of mouse clicks!
It is actually an easy task to complete the form with our helpful guide! Here is what you must do:
1. Start completing the 411008 bonded with a number of essential blanks. Note all the necessary information and make certain there's nothing forgotten!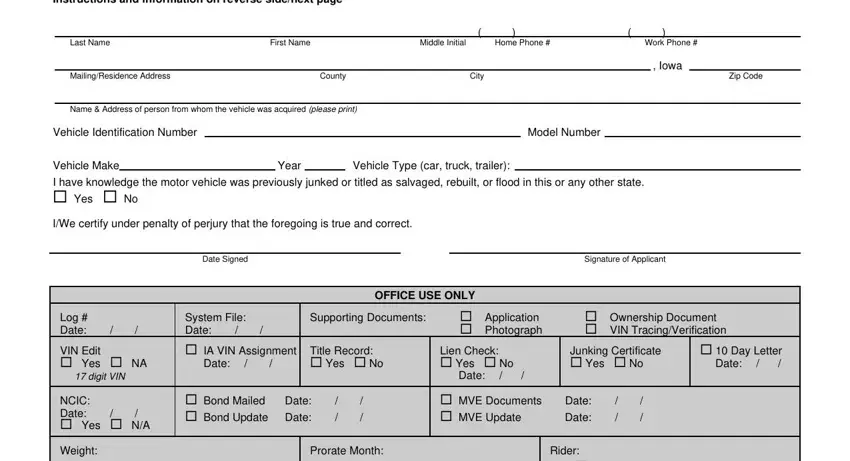 2. Once this section is finished, you have to insert the required details in LIGHTS, Headlamps Beam indicator, no more than at any one time, No white light to rear, BRAKES, Service Parking Performance, HORN, MUFFLERS, MIRRORS, WINDSHIELDS WINDOWS, Clear vision permitted Safety, WIPERS, TIRES, SEAT BELTS, and Required on or newer in order to progress further.
Always be very attentive when filling out No white light to rear and MIRRORS, as this is the part in which many people make mistakes.
Step 3: Make certain your details are accurate and then just click "Done" to finish the process. Join FormsPal today and immediately get access to 411008 bonded, all set for download. All alterations you make are preserved , helping you to change the form at a later time if required. FormsPal is invested in the confidentiality of all our users; we make sure all personal data put into our system continues to be protected.