Working with PDF documents online is very simple using our PDF tool. Anyone can fill out w 4 form iowa here and try out various other options available. Our professional team is constantly endeavoring to improve the tool and make it much better for users with its handy features. Enjoy an ever-improving experience now! With some simple steps, you may start your PDF journey:
Step 1: First, open the pdf tool by pressing the "Get Form Button" in the top section of this webpage.
Step 2: As soon as you access the online editor, you'll see the form made ready to be filled out. Apart from filling out various fields, you may also perform various other actions with the PDF, that is adding custom text, changing the original textual content, inserting images, placing your signature to the document, and much more.
This form will need specific information; in order to ensure consistency, be sure to adhere to the subsequent tips:
1. Begin filling out your w 4 form iowa with a selection of essential fields. Gather all of the necessary information and make sure nothing is missed!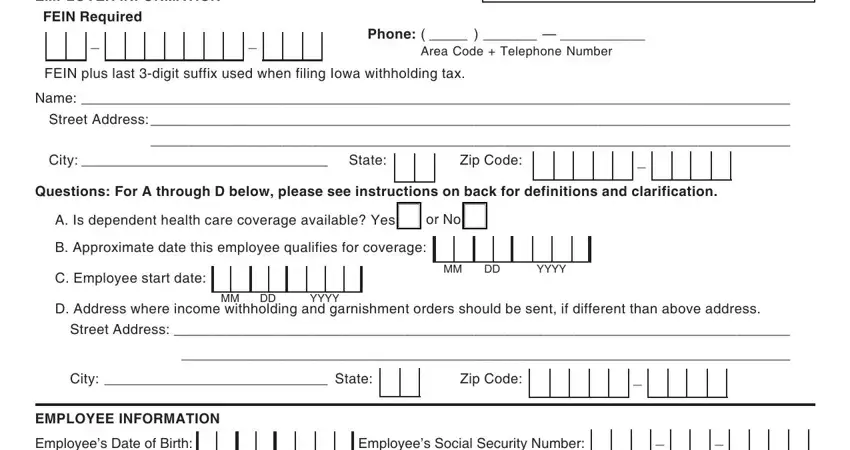 2. Now that the previous part is complete, it's time to include the needed particulars in YYYY, Last Name First Name Middle, Street Address, City State Zip Code, Iowa Department of Revenue, wwwstateiaustax, IA W Employee Withholding, Marital status, Single, Married If married but legally, Print your full name Social, Home Address City State Zip, Check this box if you are claiming, IF YOU ARE NOT EXEMPT COMPLETE THE, and Personal allowances so that you can go to the 3rd part.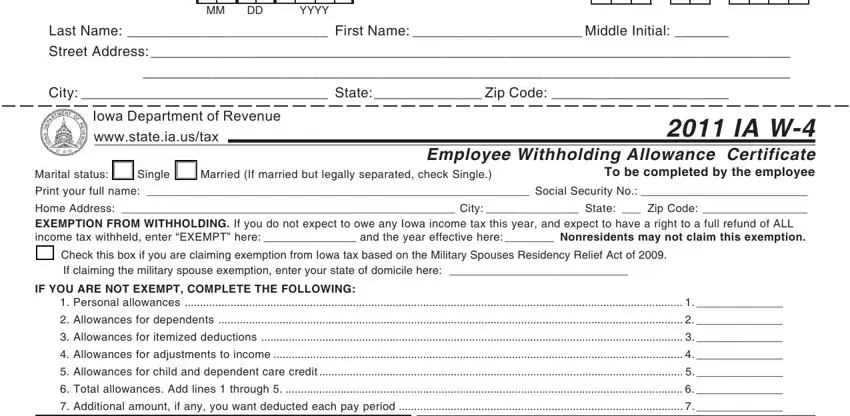 3. This next part is normally straightforward - fill in all the empty fields in I certify that I am entitled to, and Employers Detach this part and in order to complete this process.
Be extremely careful while filling in I certify that I am entitled to and I certify that I am entitled to, since this is the part where most people make mistakes.
4. The following part needs your attention in the subsequent areas: Allowances for Dependents You may, a Enter total amount of estimated, Allowances for Adjustments to, Withholding Allowances Allowed, Iowa Net Income Allowances, Iowa Net Income Allowances, Enter the number of allowances on, and allowances for child and dependent. Be sure that you give all needed details to go forward.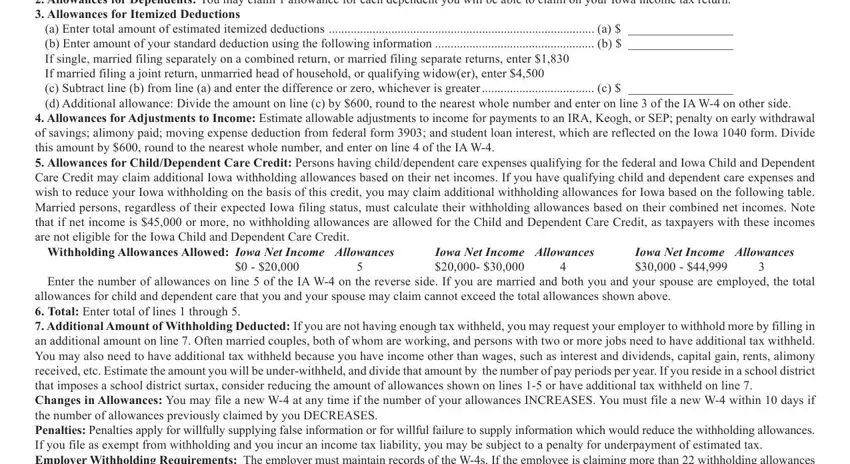 Step 3: Check all the details you've typed into the blank fields and then click the "Done" button. Sign up with us right now and instantly get access to w 4 form iowa, prepared for download. Every last change made is handily saved , so that you can modify the document at a later point if required. FormsPal ensures your data confidentiality with a protected method that in no way saves or shares any kind of personal information typed in. You can relax knowing your paperwork are kept protected any time you work with our services!