It is possible to complete kzn qualified educators database without difficulty by using our online PDF editor. The editor is constantly upgraded by us, receiving powerful functions and turning out to be greater. Should you be seeking to begin, this is what it will require:
Step 1: Press the "Get Form" button above on this page to open our PDF editor.
Step 2: With the help of our state-of-the-art PDF tool, you may do more than simply fill in blanks. Try all the functions and make your docs look perfect with customized text put in, or adjust the original input to excellence - all that comes with an ability to insert your personal pictures and sign the PDF off.
In an effort to fill out this PDF form, make certain you enter the necessary details in each blank field:
1. Whenever filling out the kzn qualified educators database, make certain to incorporate all necessary fields in their associated area. It will help expedite the process, making it possible for your information to be handled swiftly and accurately.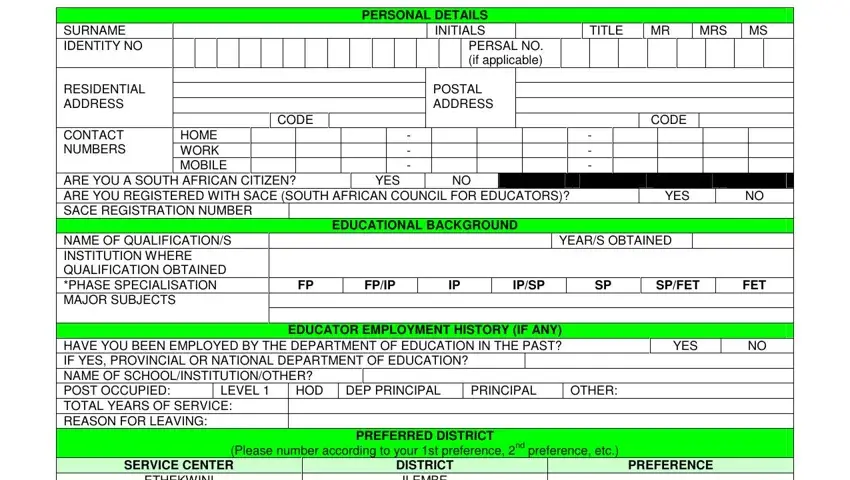 2. When the previous array of fields is complete, you have to include the required specifics in ETHEKWINI ETHEKWINI ETHEKWINI, PIETERMARITZBURG PIETERMARITZBURG, UKHAHLAMBA UKHAHLAMBA UKHAHLAMBA, ZULULAND ZULULAND ZULULAND, DISTRICT ILEMBE, PINETOWN, UMLAZI SISONKE, UGU, UMGUNGUNDLOVU, AMAJUBA OTHUKELA UMZINYATHI, DECLARATION, I MRMRSMS HEREBY CERTIFY THAT THE, SIGNATURE, DATE, and FPFOUNDATION PHASE so you can move forward further.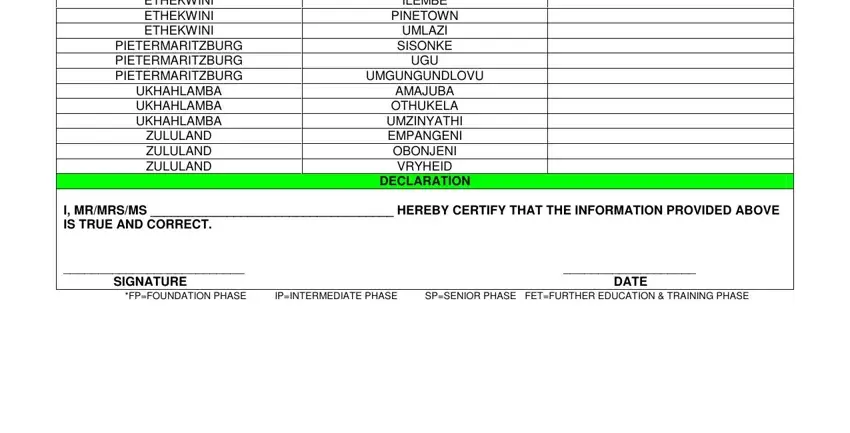 You can easily get it wrong while filling out your PINETOWN, thus you'll want to reread it prior to deciding to submit it.
Step 3: After double-checking the fields and details, click "Done" and you're all set! Join FormsPal today and easily access kzn qualified educators database, available for downloading. All adjustments made by you are saved , enabling you to modify the document later if necessary. FormsPal provides protected form completion without personal information recording or sharing. Be assured that your information is secure with us!