When working in the online PDF tool by FormsPal, you're able to fill out or change maricopa county tire here. FormsPal development team is continuously endeavoring to develop the tool and make it even faster for users with its cutting-edge functions. Take your experience to the next level with continuously growing and exceptional possibilities we provide! Should you be looking to begin, here is what it takes:
Step 1: Hit the "Get Form" button above. It'll open up our tool so you could begin filling in your form.
Step 2: This tool offers the opportunity to customize PDF forms in many different ways. Transform it by writing your own text, correct what is already in the document, and include a signature - all within the reach of several mouse clicks!
This document needs specific details; to ensure correctness, please make sure to take note of the recommendations further on:
1. To begin with, once filling in the maricopa county tire, begin with the form section that includes the following fields: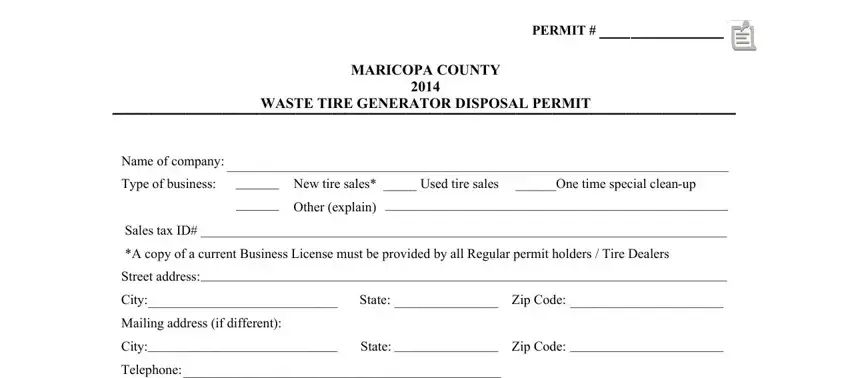 2. Once your current task is complete, take the next step – fill out all of these fields - Authorized Representative, Date, Waste tire generator has been, Regular Permit Special Permit, Expiration Date Expiration Date, Waste Resources Recycling, Date, Maricopa County, and Waste Resources Recycling with their corresponding information. Make sure to double check that everything has been entered correctly before continuing!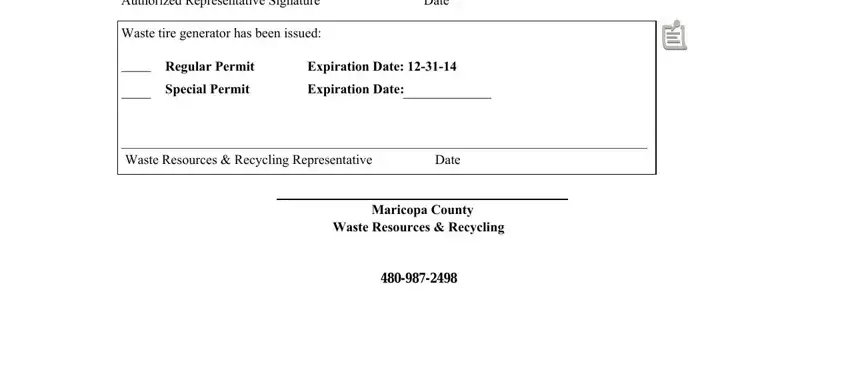 It is possible to make an error when completing the Date, thus be sure you go through it again before you decide to submit it.
Step 3: Prior to moving on, you should make sure that form fields are filled out as intended. Once you confirm that it is good, click "Done." Download the maricopa county tire after you register here for a free trial. Immediately access the pdf file inside your personal cabinet, along with any modifications and adjustments automatically synced! FormsPal is focused on the confidentiality of our users; we ensure that all information used in our editor is kept confidential.