Using the online PDF tool by FormsPal, you may complete or edit suffolk county board of health event organizers permit here and now. To keep our editor on the leading edge of efficiency, we work to adopt user-oriented features and enhancements on a regular basis. We're routinely looking for feedback - help us with remolding how we work with PDF docs. It merely requires just a few simple steps:
Step 1: Hit the "Get Form" button above. It's going to open our editor so that you can begin filling in your form.
Step 2: After you access the tool, you will find the document prepared to be completed. Apart from filling out various blank fields, you may as well do many other actions with the Document, such as putting on custom text, modifying the initial textual content, adding illustrations or photos, placing your signature to the form, and a lot more.
This form requires some specific information; to guarantee consistency, please be sure to pay attention to the guidelines listed below:
1. You should fill out the suffolk county board of health event organizers permit correctly, so be attentive while filling in the segments comprising these specific fields: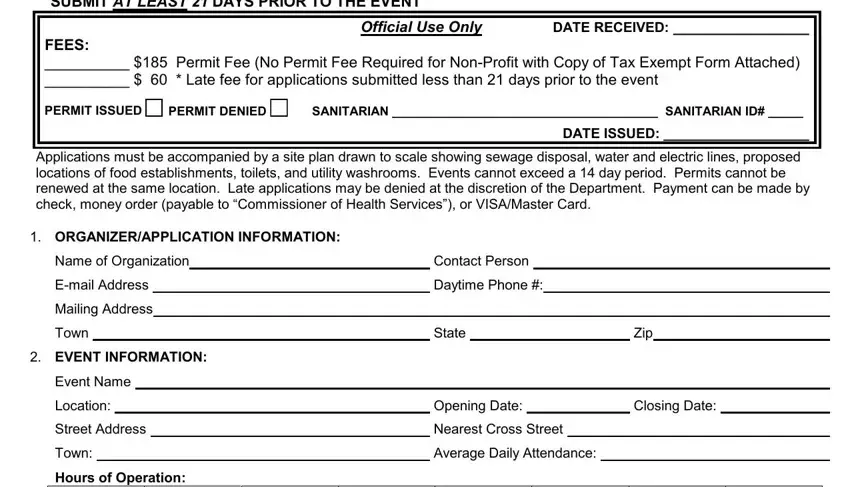 2. Right after performing this section, go to the next step and fill out the essential particulars in these fields - Saturday, AM PM AM PM, feet, Day of the Week, Sunday, Monday, Tuesday, Opening Time, Closing Time, AM PM AM PM, AM PM AM PM, AM PM AM PM, Wednesday AM PM AM PM, Thursday, and Friday.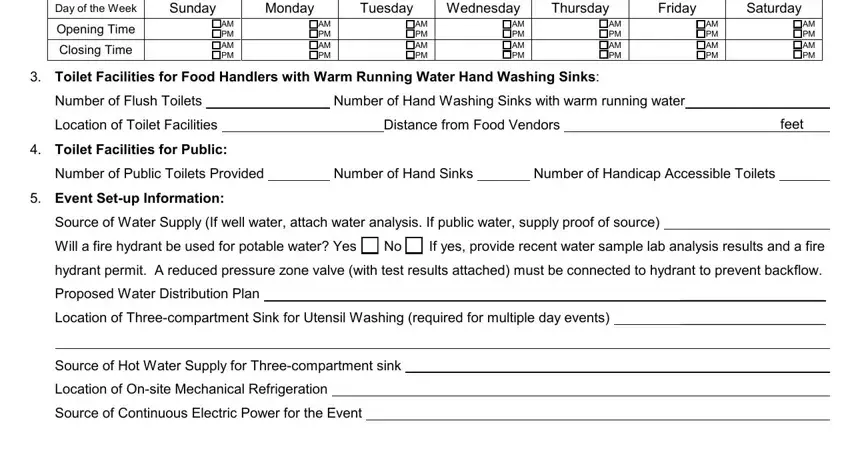 3. This third segment should also be relatively simple, of Trailers and Tents Used for, Number of Garbage Collection, of Persons Sleeping onsite, Name of Garbage Disposal Service, Name of Contracted Wastewater Pump, Name Address and Phone of Person, Page of, Will the Event Feature Live, If yes please fill out this section, Type ie Petting Zoo Name of Company, Address, Permit, Contact Person, Phone, and List of food vendors caterers and - every one of these empty fields is required to be completed here.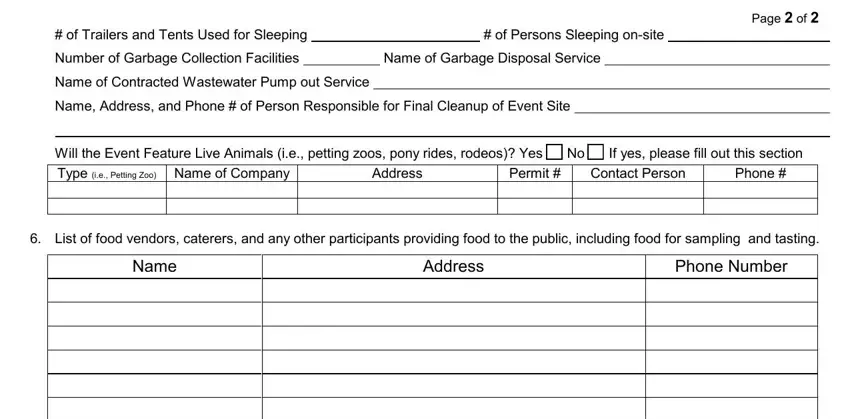 Be extremely careful when filling out Number of Garbage Collection and Name of Garbage Disposal Service, because this is the section where many people make errors.
4. This next section requires some additional information. Ensure you complete all the necessary fields - The undersigned applicant hereby, Signature, Print, Title Print, Date, BUREAU OF PUBLIC HEALTH PROTECTION, Yaphank Avenue Suite A Yaphank NY, and FAX - to proceed further in your process!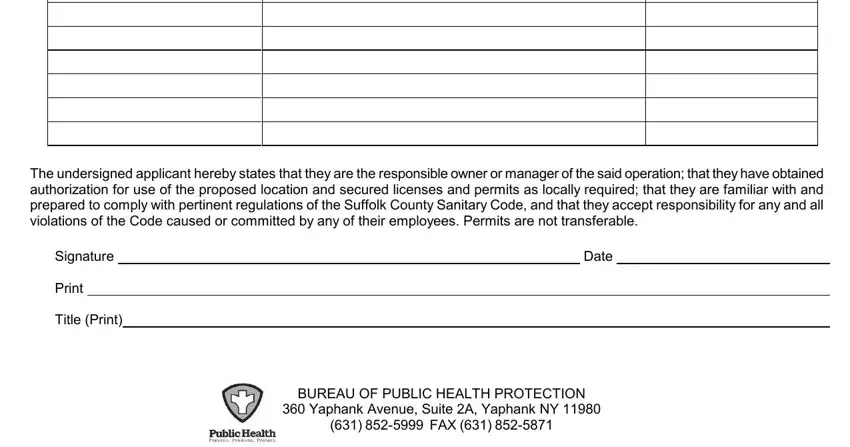 Step 3: Before finalizing your file, you should make sure that all blanks have been filled in right. The moment you are satisfied with it, click on "Done." After registering a7-day free trial account here, it will be possible to download suffolk county board of health event organizers permit or send it via email promptly. The PDF form will also be available through your personal account page with your each and every edit. We do not sell or share any details that you type in while filling out forms at our website.