Our PDF editor that you will use was created by our number one programmers. One could prepare the pag ibig mdf file instantly and efficiently applying our app. Just stick to the following guide to begin with.
Step 1: On this website page, select the orange "Get form now" button.
Step 2: The document editing page is now available. It's possible to add text or edit existing content.
Enter the information demanded by the program to prepare the file.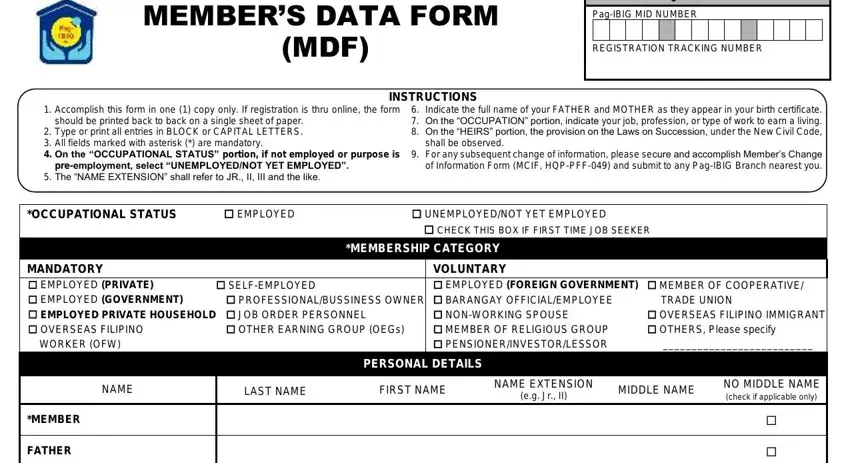 Provide the appropriate information in MOTHER Maiden Name, SPOUSE If Married, MEMBERS NAME AS APPEARING IN THE, DATE OF BIRTH, m m, y PLACE OF BIRTH, SEX Male Female, HEIGHT, WEIGHT, COMMON REFERENCE NUMBER CRN If, MARITAL STATUS SingleUnmarried, CITIZENSHIP, PROMINENT DISTINGUISHING FACIAL, FREQUENCY OF MEMBERSHIP SAVINGS MS, and SemiAnnually Annually part.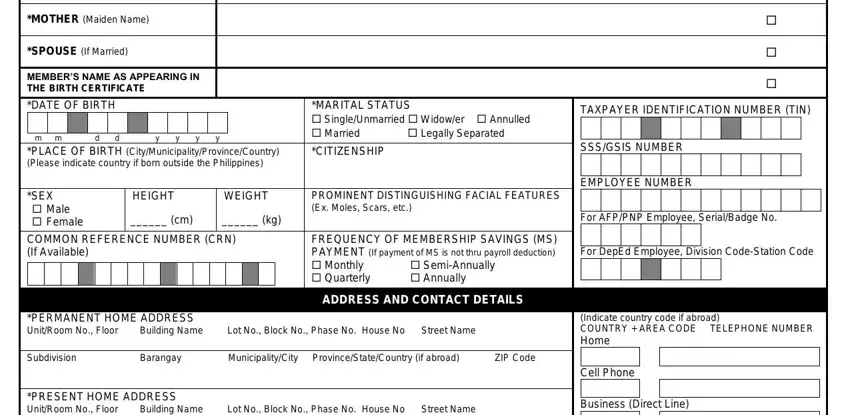 Focus on the most significant information about the Subdivision, Barangay, MunicipalityCity, Business Trunk Line Local, PREFERRED MAILING ADDRESS Present, EmployerBusiness Address, Email Address, and THIS FORM MAY BE REPRODUCED NOT section.

The PRESENT EMPLOYMENT DETAILS If with, OCCUPATION, EMPLOYMENT STATUS, PermanentRegular Casual, Contractual Projectbased, Parttime Temporary, TYPE OF WORK For OFW only, Pls specify country of assignment, Landbased Seabased, EMPLOYERBUSINESS NAME, EMPLOYERBUSINESS ADDRESS UnitRoom, MONTHLY INCOME, Basic, AllowancesOthers, and Total Mo Income area can be used to specify the rights and responsibilities of each side.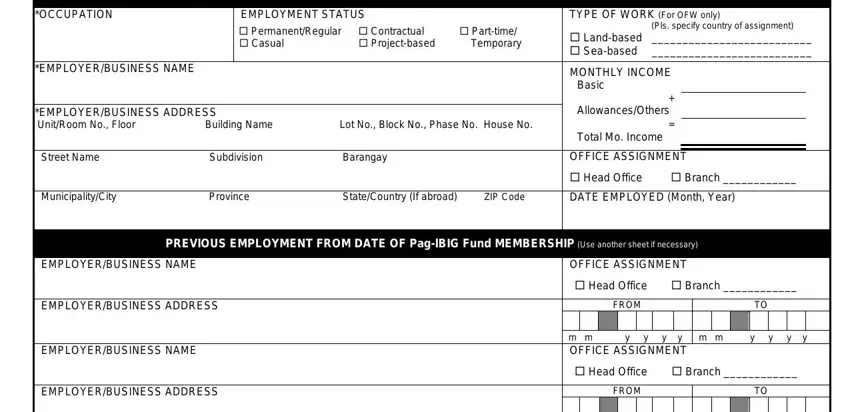 End by looking at these fields and writing the proper details: EMPLOYERBUSINESS NAME, EMPLOYERBUSINESS ADDRESS, m m y y y y m m y y y y OFFICE, Head Office Branch, FROM, m m y y y y m m y y y y, HEIRS In case of death Fund, LAST NAME, FIRST NAME, NAME EXTENSION, MIDDLE NAME, NO MIDDLE NAME Check only if, RELATIONSHIP, DATE OF BIRTH, and CERTIFICATION.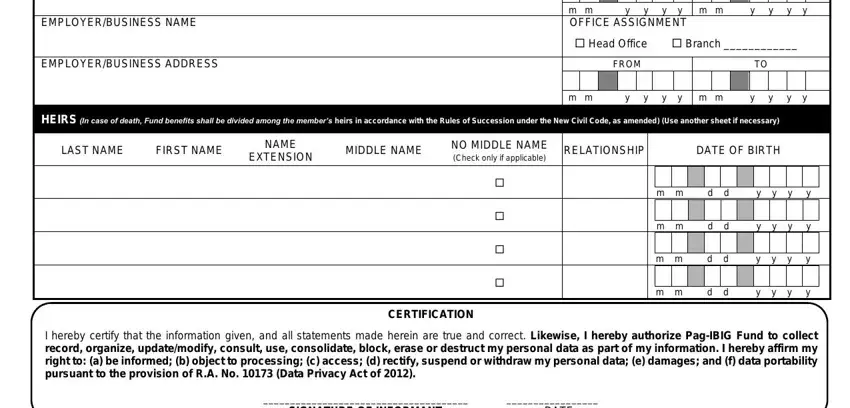 Step 3: As soon as you pick the Done button, your completed file is readily transferable to any kind of of your devices. Alternatively, you will be able to send it by using email.
Step 4: In order to avoid any type of risks in the foreseeable future, be sure to get at the very least several copies of the form.