airport identification badge can be filled in without any problem. Just make use of FormsPal PDF tool to do the job right away. The editor is continually updated by us, receiving new awesome functions and turning out to be much more versatile. Getting underway is simple! Everything you should do is stick to the following simple steps directly below:
Step 1: Access the PDF file in our editor by hitting the "Get Form Button" in the top area of this webpage.
Step 2: When you open the tool, you will notice the document all set to be filled in. In addition to filling out different blanks, you can also do other things with the Document, including adding custom text, changing the initial textual content, adding illustrations or photos, affixing your signature to the form, and much more.
This form requires specific information to be filled in, hence be certain to take whatever time to type in what's required:
1. First of all, when filling in the airport identification badge, beging with the page that includes the following fields: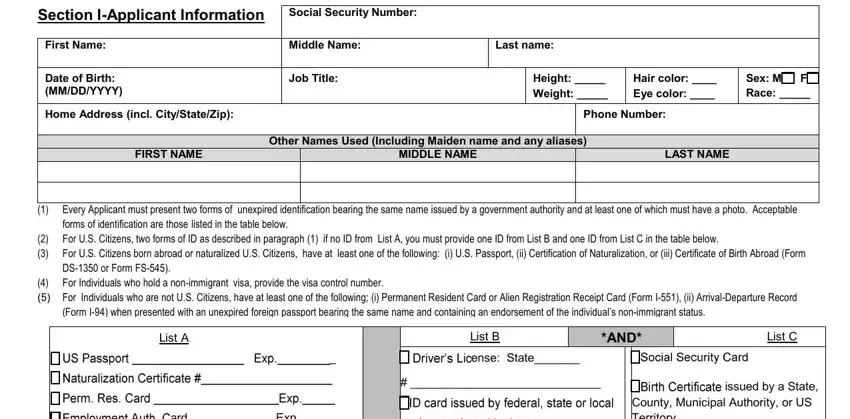 2. The subsequent part is to complete the next few fields: ard Exp, Immigrant Visa and I, Stamp Country, Exp, govt agencies with photo Exp, Exp, County Municipal Authority or US, Birth FS, Country of Birth, Country of Citizenship, CBP Approval Signature BLUE INK, CUSTOMS AND BORDER PROTECTION ONLY, SIDA Training Date, Badge Number, and Badge Access Level.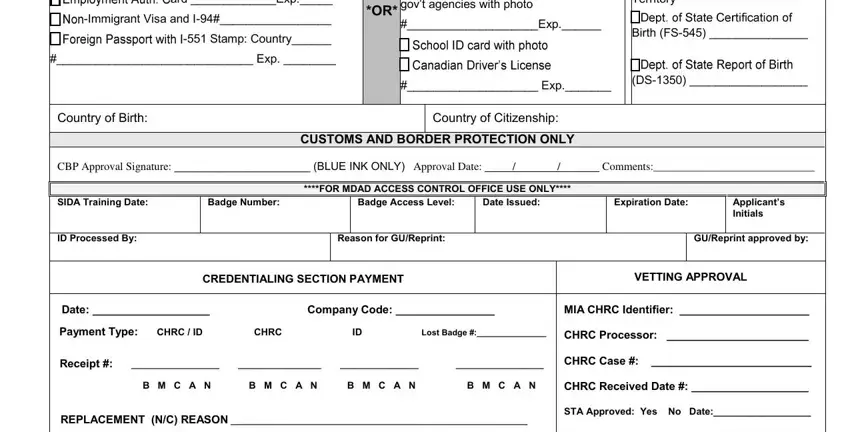 You can potentially make an error while filling out your Country of Birth, and so make sure that you reread it prior to when you send it in.
3. The next part is going to be easy - complete all of the fields in Persons seeking unescorted access, Yes, Forgery of certificates false, Yes, Aircraft piracy, Yes, No Murder, Improper transportation of a, Interference with flight crew, No No Commission of certain crimes, Yes Yes, Yes Yes Yes Yes, No No, Assault with intent to murder, and Sedition Kidnapping or hostage in order to complete the current step.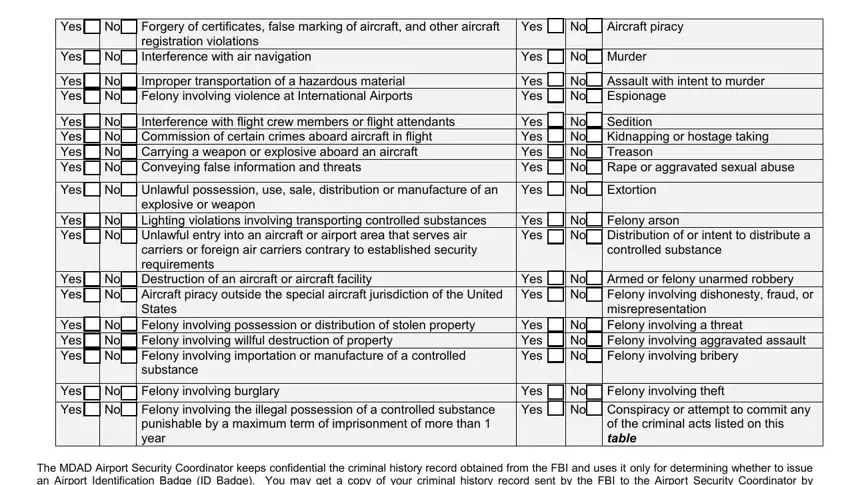 4. Your next paragraph needs your information in the following places: I understand and agree to comply, MIA ACCESS CONTROL FORM Page of, and March. It is important to provide all needed info to move further.

5. As you approach the final parts of this form, there are a few more things to complete. Mainly, Section IV Access Requirements to, New Applicant RenewalReplacement, Badge Type, Check the one that applies Green, Lime Orange Yellow White Blue, Special Certifications CBP Seal, Escort Authority, Extended Ajar, LEO, and I certify that this applicant is a should be filled out.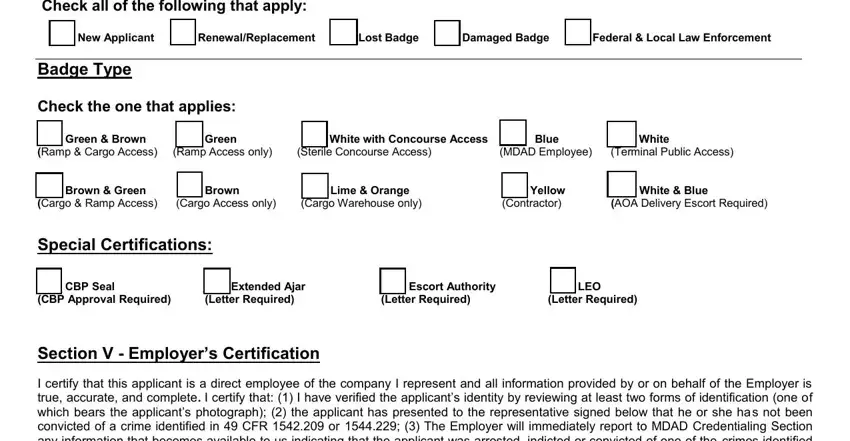 Step 3: Reread the information you've inserted in the form fields and press the "Done" button. Make a 7-day free trial account with us and get direct access to airport identification badge - accessible in your personal account. We do not sell or share any details that you enter when completing documents at our website.