You may fill out snap application ms easily by using our PDFinity® PDF editor. We are aimed at providing you with the perfect experience with our tool by constantly introducing new capabilities and enhancements. Our tool has become even more intuitive thanks to the most recent updates! Currently, filling out PDF files is easier and faster than ever. To begin your journey, take these basic steps:
Step 1: Just click on the "Get Form Button" above on this site to launch our pdf form editing tool. This way, you'll find everything that is needed to work with your file.
Step 2: Using our advanced PDF file editor, it is possible to accomplish more than just complete blank form fields. Try all of the functions and make your documents appear high-quality with custom textual content put in, or fine-tune the file's original input to perfection - all that comes with the capability to add stunning graphics and sign the PDF off.
This document will require particular details to be filled out, hence you should take whatever time to type in exactly what is required:
1. Whenever completing the snap application ms, be sure to complete all of the needed fields in their associated form section. It will help to hasten the process, enabling your information to be processed swiftly and accurately.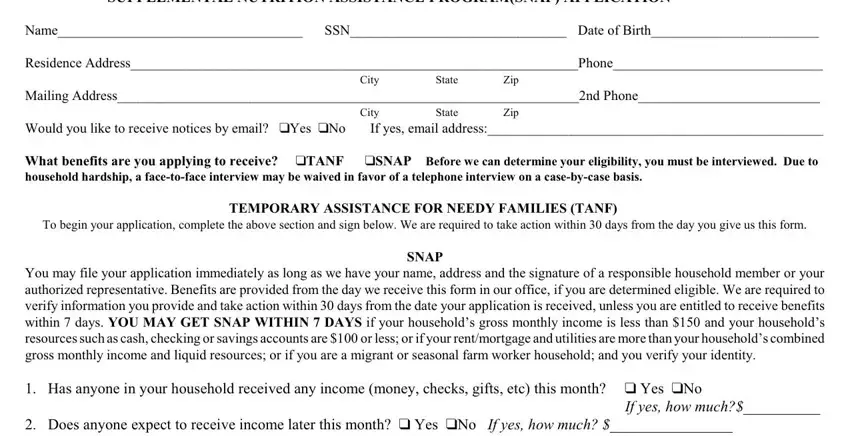 2. Once your current task is complete, take the next step – fill out all of these fields - Does anyone expect to receive, For information regarding the TANF, By signing and dating this, Only US citizens and qualified, Signature of Applicant, Date, Signature of witness if signed by, Signature of Authorized, Date, and Signature of witness if signed by with their corresponding information. Make sure to double check that everything has been entered correctly before continuing!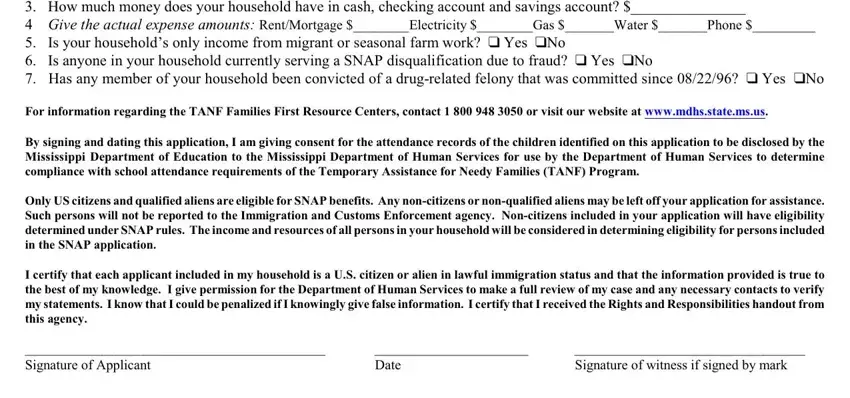 3. Completing Y or N, Choose one or more, Information pertaining to, Name First Last, Relationship to Head of Household, Age, Name First Last, Relationship to Head of Household, Age, List anyone in your household who, SNAP Authorized Representative You, and I would like to appoint Name is essential for the next step, make sure to fill them out in their entirety. Don't miss any details!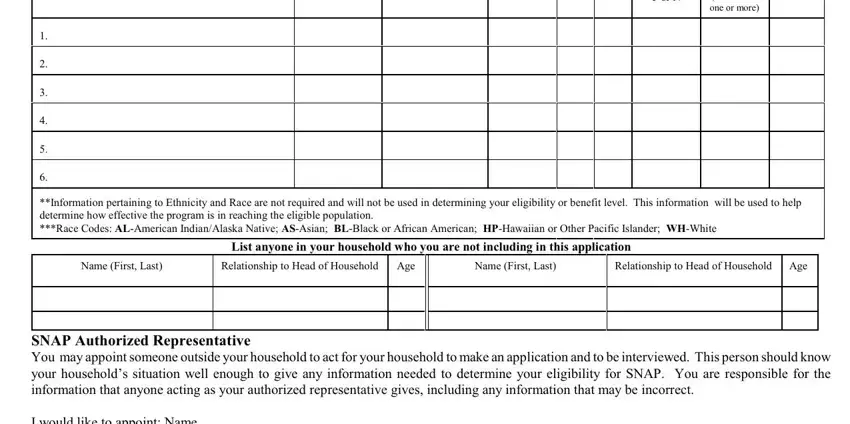 Always be really mindful when completing Name First Last and SNAP Authorized Representative You, as this is where a lot of people make errors.
Step 3: When you have reread the details in the file's blank fields, just click "Done" to conclude your form. Go for a 7-day free trial subscription with us and gain immediate access to snap application ms - which you can then use as you wish from your personal account page. FormsPal is committed to the personal privacy of all our users; we make certain that all personal data used in our system continues to be confidential.