UAAP can be filled out online without any problem. Just open FormsPal PDF editor to get it done fast. To have our tool on the forefront of convenience, we aim to adopt user-oriented features and enhancements on a regular basis. We are routinely grateful for any suggestions - join us in reshaping PDF editing. In case you are looking to get going, here is what it will take:
Step 1: Click the "Get Form" button above. It is going to open up our pdf editor so you could begin completing your form.
Step 2: This editor provides the opportunity to work with your PDF form in various ways. Transform it by adding your own text, correct existing content, and include a signature - all when you need it!
Be mindful when filling out this form. Ensure every single blank is filled out accurately.
1. While filling in the UAAP, make certain to include all of the essential blank fields in its corresponding section. This will help speed up the work, which allows your details to be handled swiftly and properly.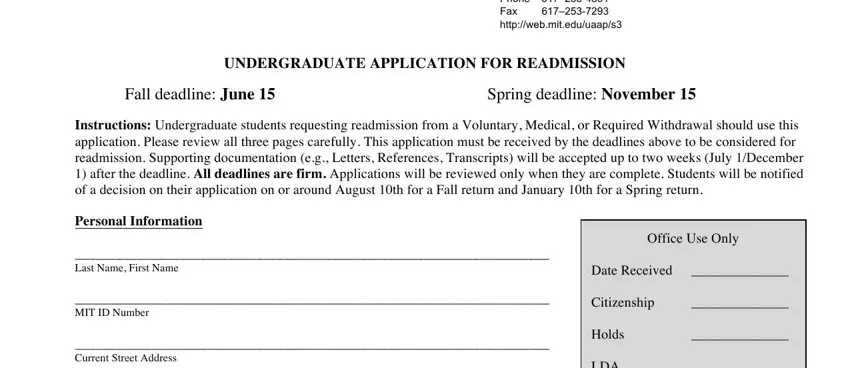 2. When this part is done, go to type in the applicable details in all these: MITXpt, MITMD, Date Received Citizenship Holds, App, Xpt, MIT ID Number Current Street, Fall Spring, Year, Entering Year, Year, Course, Advisor Where did you used to live, EmpProf, Dept, and MDDoc.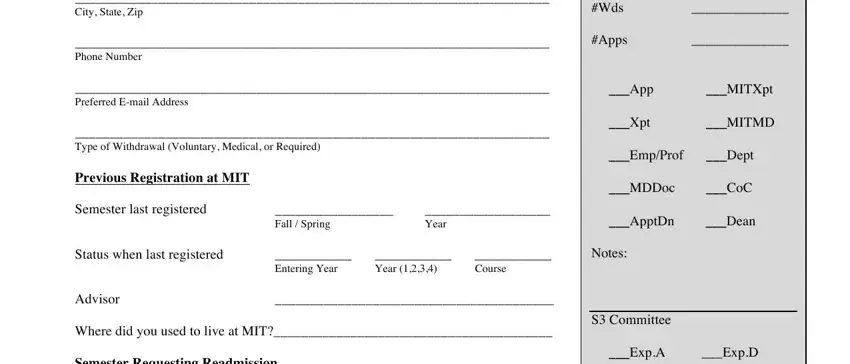 3. In this stage, have a look at Advisor Where did you used to live, Year, Fall Spring, Please print on one side only, ComA, S Committee Date Reviewed, IncWd, ComD, and Group. All of these will have to be filled out with greatest precision.
4. This next section requires some additional information. Ensure you complete all the necessary fields - On a separate sheet of paper, If you attended another, CollegeUniversity, Course, Dates, and Grade - to proceed further in your process!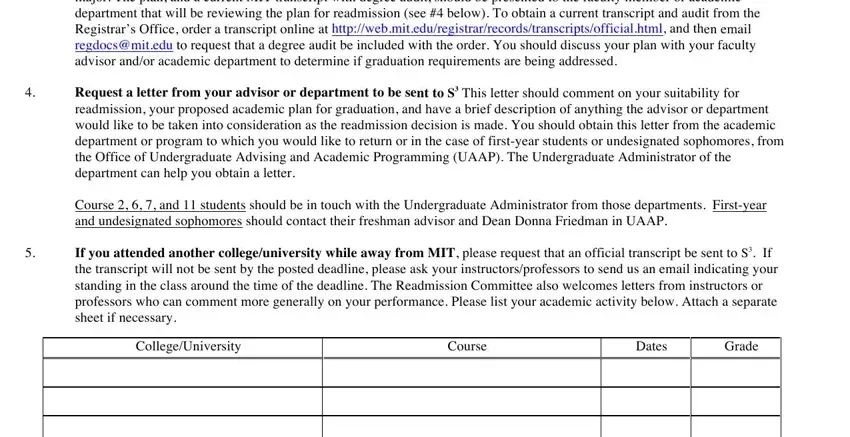 It's simple to make a mistake while completing the If you attended another, consequently make sure you take a second look before you'll submit it.
5. The last section to finalize this PDF form is pivotal. Make sure to fill in the mandatory fields, including If you were employed while away, EmployerPosition, Supervisor Name and Phone, Dates, Hoursweek, and Please print on one side only, prior to submitting. Neglecting to do this might end up in an incomplete and probably invalid form!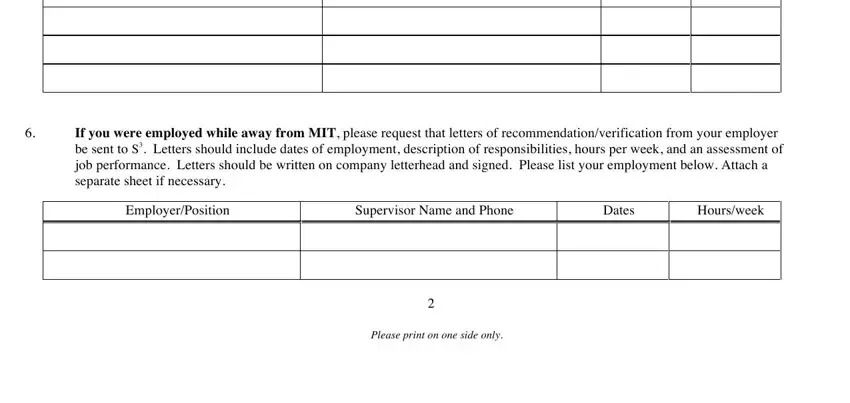 Step 3: Prior to moving forward, double-check that all blanks have been filled in as intended. The moment you establish that it's good, click "Done." Try a 7-day free trial option with us and gain direct access to UAAP - download, email, or edit inside your personal account page. When you use FormsPal, you can certainly fill out documents without stressing about database incidents or data entries being distributed. Our protected software makes sure that your private data is kept safe.