You could complete la program form effortlessly with our PDFinity® editor. We are aimed at making sure you have the perfect experience with our tool by consistently adding new features and enhancements. With all of these improvements, working with our editor becomes easier than ever! All it takes is several easy steps:
Step 1: Just press the "Get Form Button" in the top section of this site to open our pdf form editor. This way, you will find everything that is necessary to fill out your file.
Step 2: The editor offers you the ability to change most PDF documents in a variety of ways. Improve it by writing personalized text, adjust what's already in the PDF, and place in a signature - all within the reach of a couple of clicks!
This document will need particular data to be typed in, therefore ensure that you take whatever time to provide what is required:
1. The la program form will require specific information to be inserted. Make sure the following blank fields are filled out: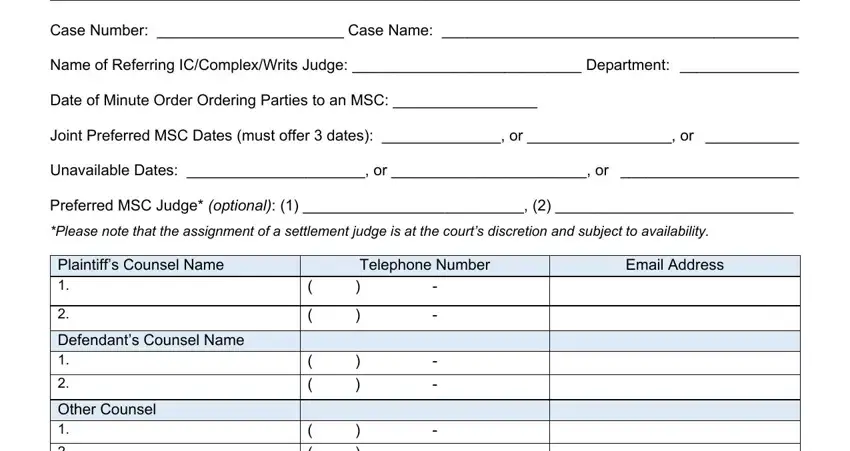 2. Your next stage is usually to submit the next few fields: Plaintiffs Causes of Action, CrossComplaints Causes of Action, Previous Mediation Date Previous, Trial Date, Trial Time Estimate, Remaining Discovery Remaining Law, Plaintiffs Last Demand Defendants, Brief Description of Case, and DO NOT WRITE BELOW THIS LINE FOR.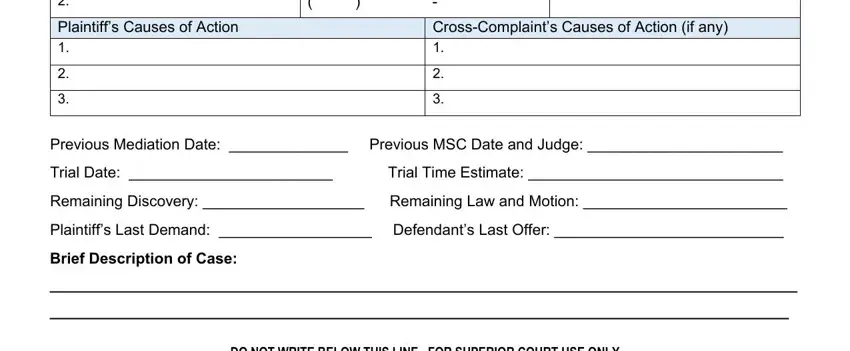 Be extremely mindful while filling out Plaintiffs Last Demand Defendants and Trial Date, since this is the part where most users make some mistakes.
3. Your next step is hassle-free - fill in all the empty fields in Date submitted Date processed to conclude this process.

Step 3: Just after taking one more look at your fields you have filled out, click "Done" and you're good to go! Join FormsPal today and instantly get access to la program form, available for download. Every last change made is handily preserved , which enables you to edit the file at a later time if necessary. Here at FormsPal, we endeavor to be sure that all your details are kept private.