You may fill out accesslaw easily with our PDFinity® online tool. Our expert team is relentlessly endeavoring to enhance the editor and make it much better for clients with its extensive functions. Make the most of present-day modern possibilities, and find a heap of unique experiences! To start your journey, go through these simple steps:
Step 1: Click the "Get Form" button above. It will open our tool so you could begin completing your form.
Step 2: Using this handy PDF editor, you are able to do more than simply fill out forms. Edit away and make your documents look faultless with customized text put in, or modify the original content to excellence - all that comes with the capability to insert stunning graphics and sign the document off.
When it comes to blanks of this precise form, here's what you should do:
1. Whenever filling out the accesslaw, make certain to complete all of the essential blank fields within the corresponding part. This will help to hasten the process, allowing your information to be handled swiftly and properly.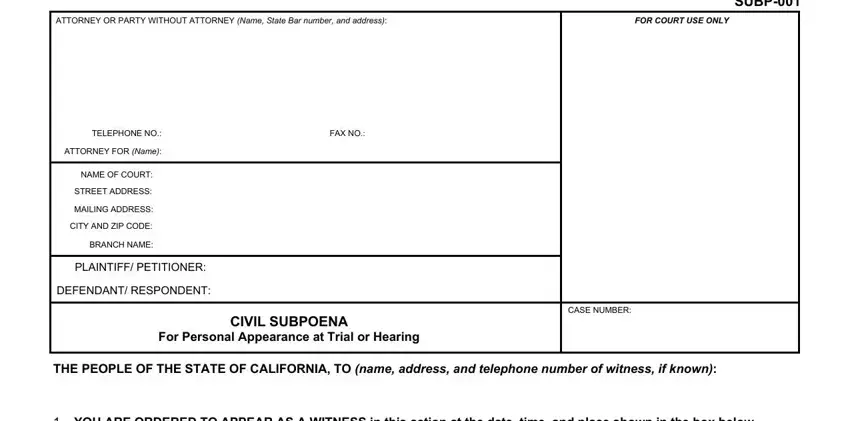 2. Once the last array of blank fields is done, go to type in the suitable details in all these: YOU ARE ORDERED TO APPEAR AS A, a Date, b Address, Time, Dept, Div, Room, IF YOU HAVE ANY QUESTIONS ABOUT, a Name of subpoenaing party or, b Telephone number, Witness Fees You are entitled to, DISOBEDIENCE OF THIS SUBPOENA MAY, Date issued, TYPE OR PRINT NAME, and SIGNATURE OF PERSON ISSUING.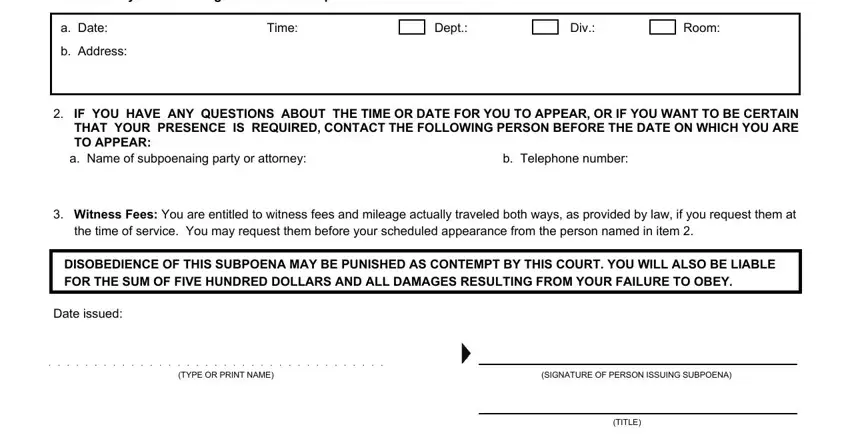 Always be really attentive while filling out Date issued and IF YOU HAVE ANY QUESTIONS ABOUT, because this is where most users make some mistakes.
3. The following step focuses on wwwac c es s lawc o m - fill in each one of these fields.

4. All set to fill out this fourth section! In this case you will get all of these PLAINTIFFPETITIONER, DEFENDANTRESPONDENT, CASE NUMBER, SUBP, PROOF OF SERVICE OF CIVIL SUBPOENA, FOR PERSONAL APPEARANCE AT TRIAL, I served this Civil Subpoena for, a Person served name, b Address where served, c Date of delivery, d Time of delivery, e Witness fees check one, were offered or demanded and paid, and f Fee for service fields to complete.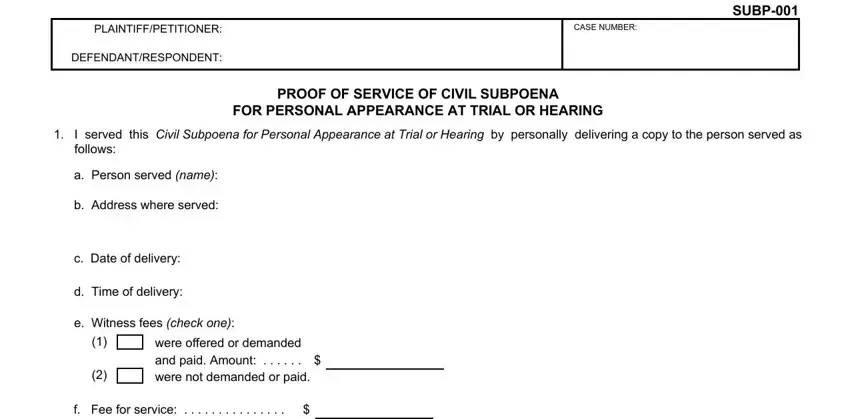 5. Last of all, this last subsection is what you need to complete prior to submitting the PDF. The fields at this point include the next: I received this subpoena for, Person serving, a b, c d e, Not a registered California, California sheriff or marshal, Exempt from registration under, f g h Name address telephone, I declare under penalty of perjury, and For California sheriff or marshal.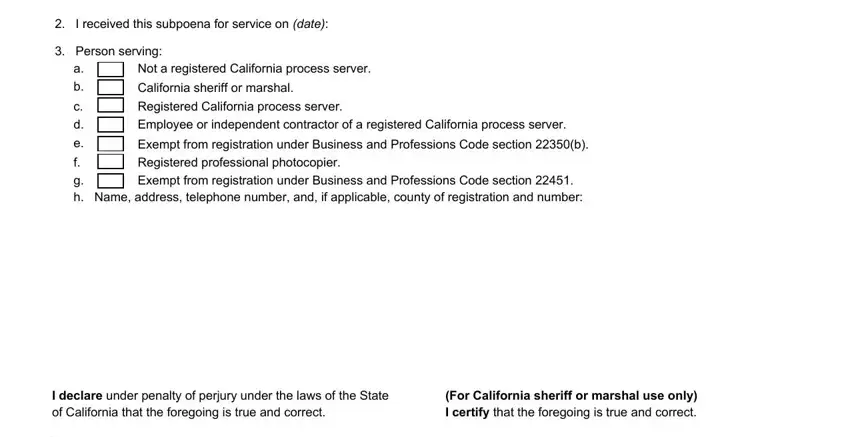 Step 3: Before moving forward, it's a good idea to ensure that form fields were filled out as intended. The moment you think it is all good, press "Done." Obtain the accesslaw the instant you register online for a 7-day free trial. Immediately access the form inside your personal cabinet, with any modifications and changes being all saved! We don't share or sell any information you use when completing documents at FormsPal.