You could fill out maryland temporary form instantly with our PDFinity® PDF editor. Our professional team is constantly working to expand the editor and make it much better for users with its extensive features. Uncover an constantly innovative experience today - check out and find new possibilities as you go! With some simple steps, you are able to begin your PDF editing:
Step 1: Click the "Get Form" button at the top of this webpage to get into our tool.
Step 2: With this state-of-the-art PDF tool, it is easy to do more than merely complete forms. Edit away and make your documents look sublime with customized text put in, or modify the original content to excellence - all backed up by an ability to incorporate your own images and sign the document off.
Filling out this document needs attentiveness. Ensure that all mandatory fields are done properly.
1. To get started, when filling in the maryland temporary form, begin with the page that includes the next blank fields: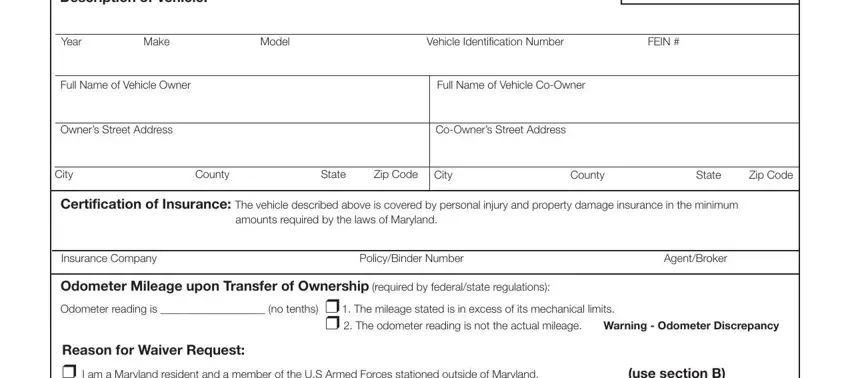 2. Soon after filling in the last step, go on to the subsequent stage and enter the essential details in these blanks - I certify that I am a member of, NameLocation of Base, Military Address, Maryland Tag, I request an inspection waiver due, Signature of Serviceman, Printed Name, The above named serviceman is, Signature of Commanding Officer, Printed Name, Date, Date, Section C To be completed by, Reminder This vehicle must pass a, and submitted by the inspection.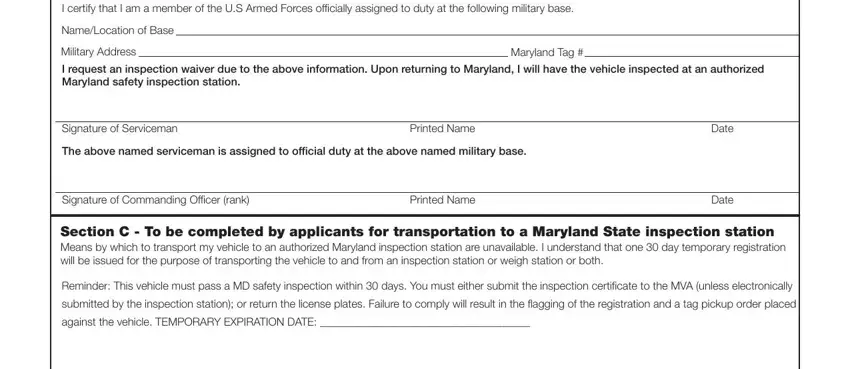 3. This third step is going to be simple - fill out all the empty fields in Owners Printed Name, CoOwners Printed Name, For more information visit our, and TTY for the hearing impaired to complete the current step.

It is possible to make an error while completing the Owners Printed Name, consequently make sure to take a second look before you'll send it in.
Step 3: Soon after proofreading the filled in blanks, click "Done" and you're good to go! Right after starting a7-day free trial account with us, it will be possible to download maryland temporary form or email it at once. The PDF form will also be at your disposal from your personal cabinet with your each modification. When you use FormsPal, you're able to complete forms without the need to get worried about information leaks or entries getting distributed. Our protected system makes sure that your private information is kept safely.