With the help of the online PDF editor by FormsPal, it is easy to fill out or change form mv 1 here and now. The editor is consistently updated by our team, receiving new features and turning out to be even more versatile. Should you be looking to start, this is what it takes:
Step 1: Click the "Get Form" button at the top of this page to get into our editor.
Step 2: When you launch the PDF editor, you'll notice the form all set to be filled out. Other than filling out various fields, it's also possible to do some other things with the PDF, including adding any words, modifying the initial text, adding images, putting your signature on the form, and much more.
When it comes to blanks of this precise form, here's what you want to do:
1. Start completing the form mv 1 with a number of major blanks. Consider all the information you need and be sure absolutely nothing is omitted!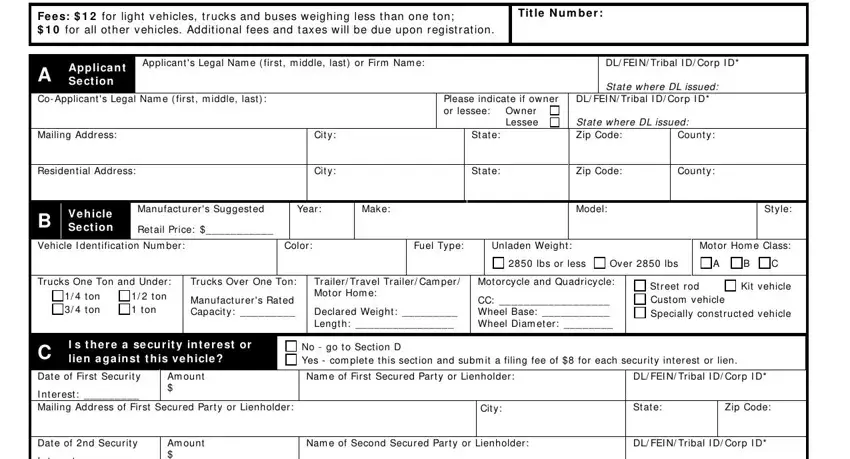 2. After the previous part is completed, it is time to include the required particulars in I nt erest Mailing Address of, City, St at e, Zip Code, Odom e t e r St a t e m e n t of, Under penalt y of law MCA I, The vehicle described above was, used t o t he applicant nam ed in, new, The check one of m y knowledge it, six digit odom et er now reads no, five or, D O N OT CH ECK, UN LESS APPLI CABLE, and The odom et er reading reflect s t so you're able to go to the third stage.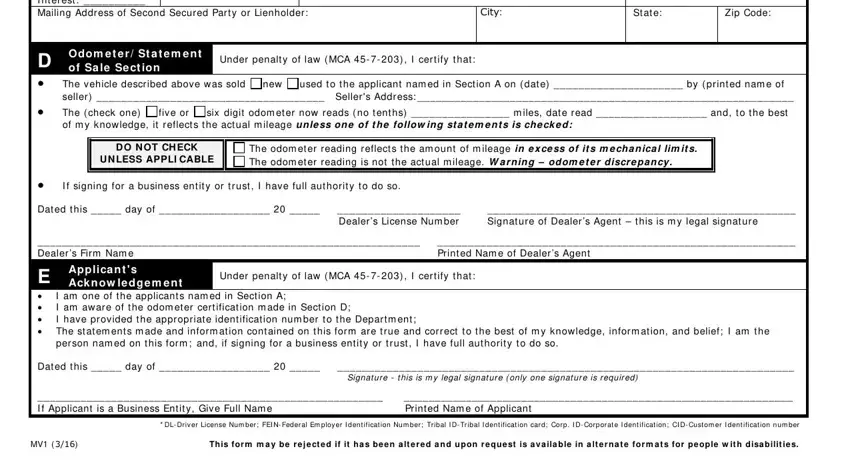 Those who work with this form frequently make errors while completing six digit odom et er now reads no in this section. You should definitely reread whatever you type in here.
Step 3: Make certain your information is correct and then click on "Done" to progress further. Go for a free trial account at FormsPal and get instant access to form mv 1 - download or edit inside your personal account page. FormsPal guarantees your information privacy via a secure method that never saves or shares any kind of sensitive information provided. Feel safe knowing your paperwork are kept protected every time you use our services!