MV20 can be completed very easily. Just open FormsPal PDF editing tool to finish the job without delay. Our editor is continually developing to provide the very best user experience achievable, and that is because of our commitment to continual development and listening closely to customer feedback. With some basic steps, you'll be able to begin your PDF journey:
Step 1: Simply hit the "Get Form Button" in the top section of this page to open our pdf file editing tool. There you will find everything that is required to fill out your file.
Step 2: As soon as you start the PDF editor, there'll be the document all set to be filled out. Other than filling in various blank fields, you may also do other sorts of actions with the form, that is adding your own text, changing the original text, adding images, affixing your signature to the PDF, and more.
This form needs some specific information; in order to ensure accuracy and reliability, please take note of the tips further on:
1. Start completing your MV20 with a selection of necessary blanks. Gather all the required information and ensure nothing is omitted!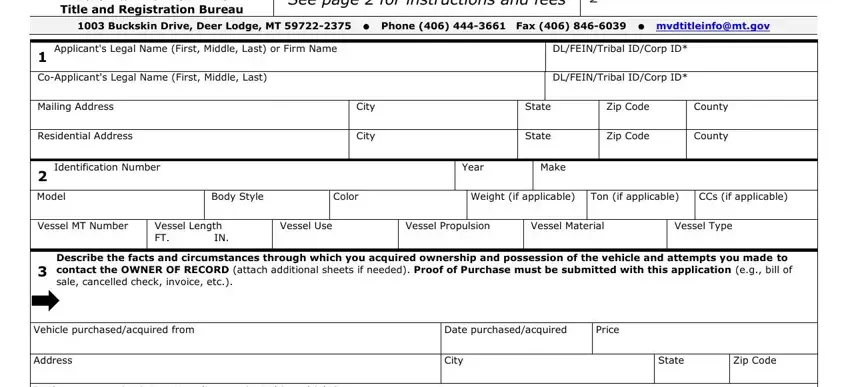 2. Once your current task is complete, take the next step – fill out all of these fields - Vehicle purchasedacquired from, Amount, No continue to next section Yes, Perfected Date, Provide full and complete name of, Provide full and complete address, One of the following sections A B, A surety bond is not required, This vehicle is a slidein truck, A B Manufactured homes must be, Assessed Date C For all other, Assessed By, Written name, Value, and The value of the vehicle is over with their corresponding information. Make sure to double check that everything has been entered correctly before continuing!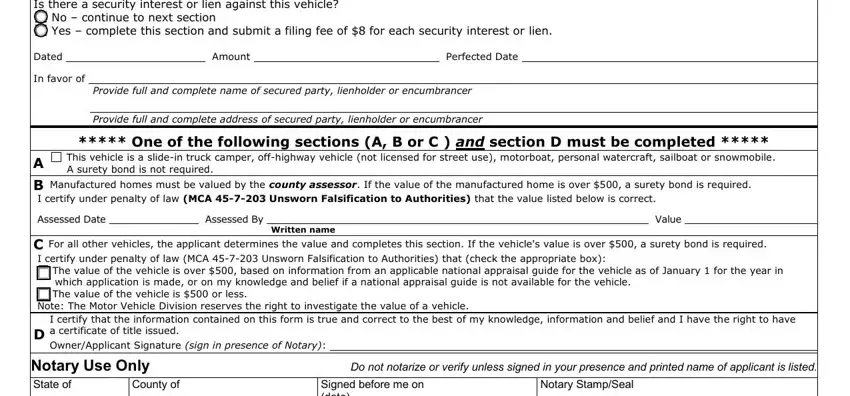 3. This next segment focuses on All other vehicles The applicant, Have a law enforcement officer, Describe how you came to own the, invoice etc, The surety bond may be obtained, The surety bond must Be in an, by the national appraisal guide or, Be conditioned to indemnify a, encumbrancer of the vehicle and, The ownerapplicant must sign, A If you wish to title and, treasurers office to apply for a, B If you wish to only title the, o See the Title Manual for, and Proof of purchase eg cancelled - type in these blanks.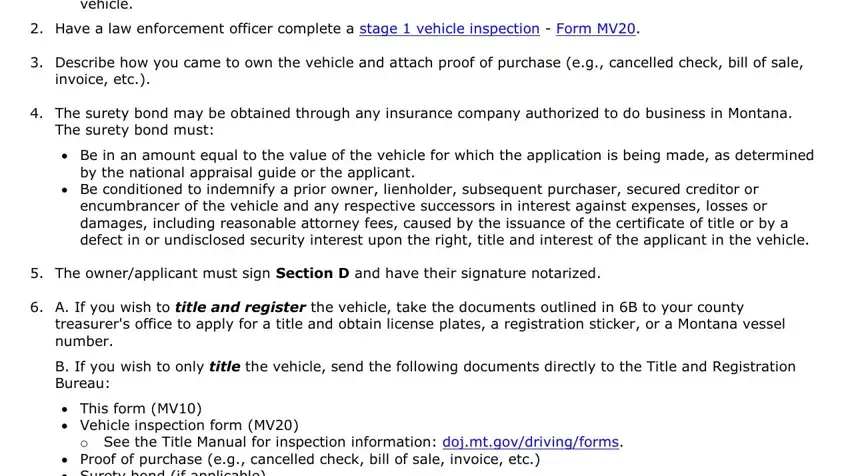 People who work with this form generally make errors when filling in A If you wish to title and in this part. Be sure you re-examine what you enter here.
4. The following paragraph needs your input in the following parts: After the bond expires a new, The bond expiration date is, MV Page of, and Montana county and state. Be sure that you fill out all of the needed information to move further.

Step 3: Before finishing your file, make certain that form fields have been filled in right. Once you're satisfied with it, click "Done." Join us now and immediately access MV20, all set for downloading. All changes you make are kept , allowing you to modify the form at a later time if needed. FormsPal ensures your data privacy with a protected method that never saves or shares any type of sensitive information typed in. Be confident knowing your files are kept protected when you use our service!