Our PDF editor was made with the aim of allowing it to be as effortless and easy-to-use as it can be. All of these steps can make filling in the witness suspoena form aoc g 100 fast and simple.
Step 1: Choose the button "Get Form Here" on the webpage and hit it.
Step 2: At the time you get into our witness suspoena form aoc g 100 editing page, you will find all of the actions you can take about your document within the upper menu.
To fill in the witness suspoena form aoc g 100 PDF, provide the information for all of the sections: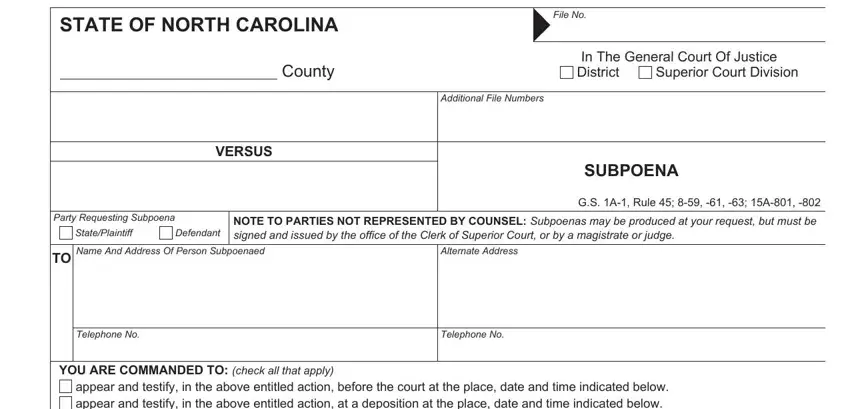 Put the necessary information in the appear and testify in the above, See attached list List here if, Name And Location Of CourtPlace Of, Date To AppearProduce Until, Time To AppearProduce Until, Name And Address Of Applicant Or, Date, Signature, Telephone No Of Applicant Or, Deputy CSC, Assistant CSC, Clerk Of Superior Court, Magistrate, AttorneyDA, and District Court Judge part.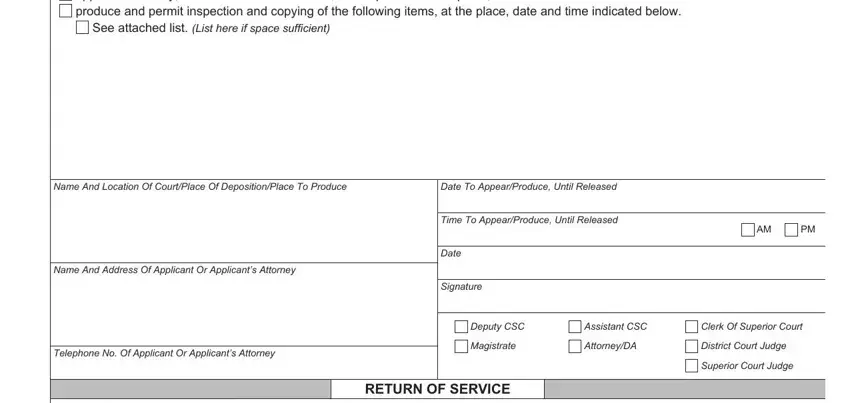 The application will require for more details as a way to easily fill out the section I certify this subpoena was, personal delivery telephone, registered or certified mail, I was unable to serve this, Service Fee, Paid, Due, Date Served, Name Of Authorized Server type or, Signature Of Authorized Server, TitleAgency, NOTE TO PERSON REQUESTING SUBPOENA, and Please see reverse side.

Step 3: Press the Done button to save your file. Now it is readily available for upload to your electronic device.
Step 4: Create duplicates of the document. This should protect you from forthcoming problems. We cannot view or distribute the information you have, therefore you can relax knowing it is secure.