Working with PDF files online is certainly quite easy with this PDF tool. You can fill out illinois tollway payment plan here without trouble. To keep our tool on the leading edge of practicality, we aim to put into action user-driven features and enhancements on a regular basis. We're at all times pleased to receive suggestions - assist us with revampimg PDF editing. Starting is effortless! What you need to do is stick to the following basic steps below:
Step 1: Click on the "Get Form" button in the top area of this page to get into our PDF tool.
Step 2: With our handy PDF file editor, it is easy to accomplish more than simply fill in blank fields. Edit away and make your documents seem faultless with custom text added in, or modify the original input to perfection - all supported by the capability to insert your personal graphics and sign it off.
This PDF form will need specific data to be entered, so make sure to take some time to fill in what's required:
1. Begin completing your illinois tollway payment plan with a group of necessary blanks. Consider all of the information you need and make sure there is nothing overlooked!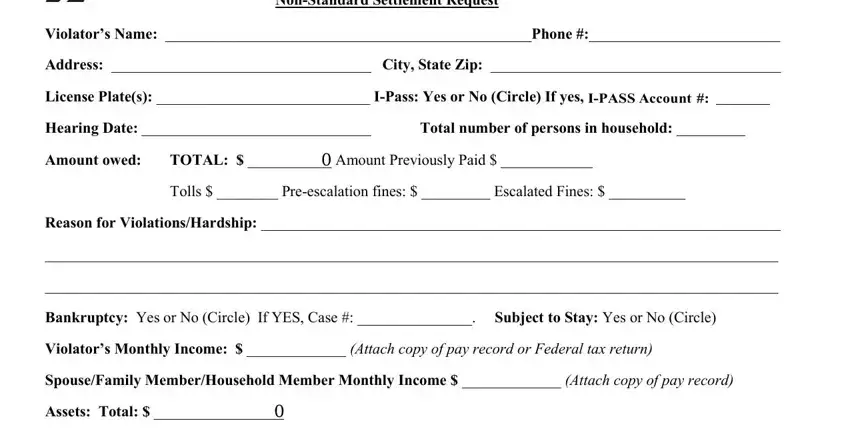 2. Once your current task is complete, take the next step – fill out all of these fields - CheckingSaving Accounts, Total Attach copy, House OWN or RENT Circle, Value, Owe, Car, Value, Owe, Liabilities Total, Monthly Expenses, Housing, Car Electricity Gas, Other Expenses, Medical Attach documentation of, and Violators Proposed Settlement with their corresponding information. Make sure to double check that everything has been entered correctly before continuing!
Always be very attentive when filling in CheckingSaving Accounts and Car, since this is the part in which many people make mistakes.
3. The following part is related to To be completed by Tollway, Tollways Settlement Offer, and Assistant Attorney General - type in all of these blank fields.

Step 3: Spell-check all the details you have entered into the blank fields and click on the "Done" button. Get your illinois tollway payment plan once you register at FormsPal for a 7-day free trial. Quickly get access to the pdf form inside your FormsPal account, with any edits and adjustments being all preserved! When using FormsPal, you'll be able to fill out forms without the need to worry about personal data breaches or entries getting distributed. Our protected system ensures that your personal information is stored safe.