Whenever you want to fill out filing appeal court, there's no need to download and install any software - just make use of our online tool. The editor is constantly maintained by us, receiving handy features and becoming better. This is what you'll have to do to start:
Step 1: Press the "Get Form" button above on this page to get into our editor.
Step 2: This editor lets you work with PDF forms in a range of ways. Enhance it by including personalized text, correct what's already in the document, and include a signature - all doable in minutes!
With regards to the fields of this specific document, here is what you should do:
1. Begin completing the filing appeal court with a number of major blanks. Collect all the information you need and make sure there is nothing forgotten!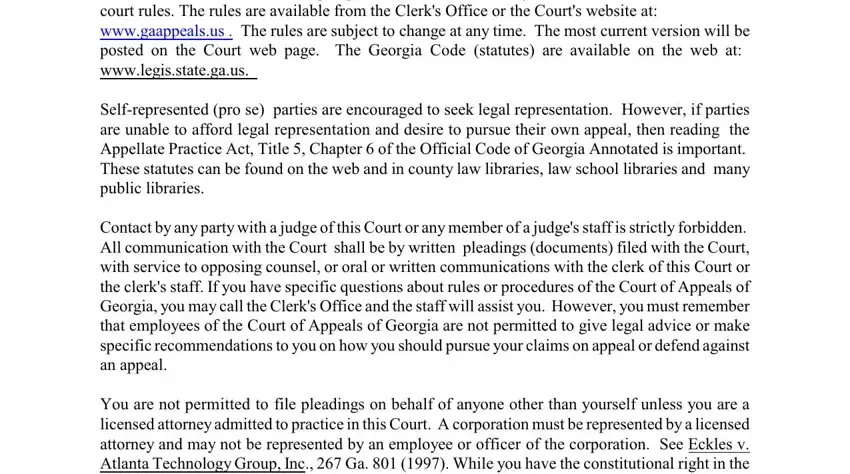 2. Once your current task is complete, take the next step – fill out all of these fields - HOW TO ACCESS COURT RECORDS You, TYPES OF APPEALS, and DISCRETIONARY APPLICATIONS An with their corresponding information. Make sure to double check that everything has been entered correctly before continuing!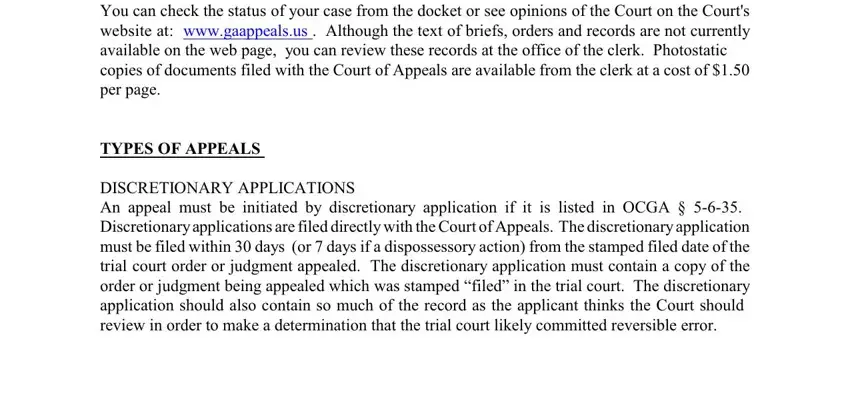 3. This 3rd part is considered rather uncomplicated, NOTICE OF APPEAL, IN THE SUPERIOR STATE ETC COURT, OF COUNTY, STATE OF GEORGIA, PLAINTIFF, vs DEFENDANT, CASE NUMBER, NOTICE OF APPEAL, Notice is given that, matter hereby appeals to the Court, and day of - every one of these empty fields will need to be filled out here.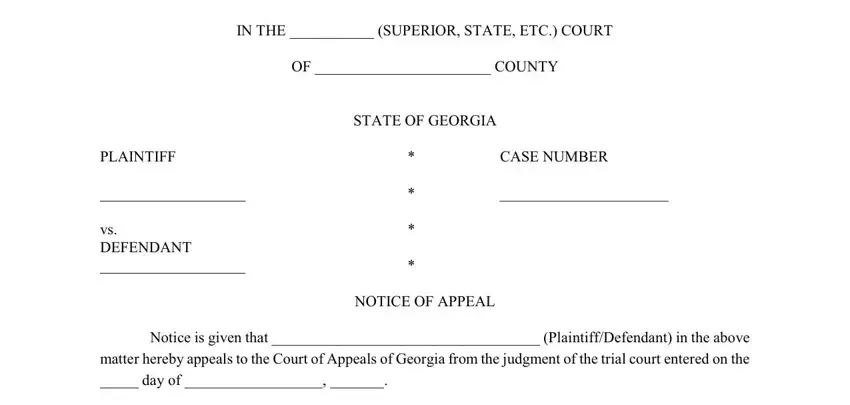 4. This next section requires some additional information. Ensure you complete all the necessary fields - The clerk shall omit nothing from, the record on appeal the following, A transcript of evidence and, appeal, The Court of Appeals rather than, involved is and appeals of such, pursuant to Article VI Section VI, CERTIFICATE OF SERVICE, I certify that I have this day, a copy of this Notice of Appeal by, prepaid to himher at complete, and This the day of - to proceed further in your process!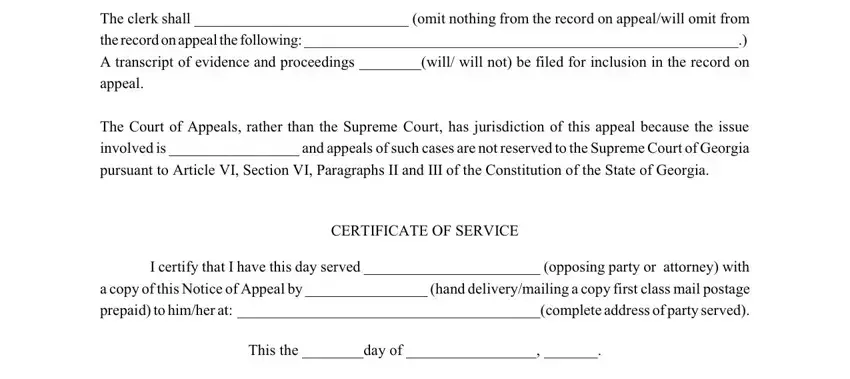 5. Since you come near to the completion of this file, there are actually a couple extra requirements that should be fulfilled. Specifically, COURT OF APPEALS OF GEORGIA, APPELLANT, APPELLEE, CASE NUMBER, PAUPERS AFFIDAVIT, Comes now Appellants name first, Are you presently employed G Yes, G No, and If the answer is Yes state the should all be done.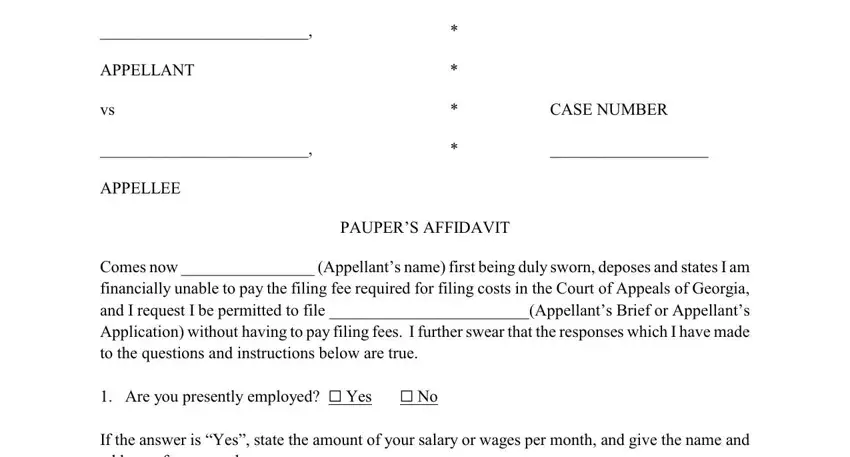 You can potentially make errors when completing your PAUPERS AFFIDAVIT, therefore ensure that you look again before you decide to send it in.
Step 3: Look through what you have typed into the form fields and press the "Done" button. Sign up with us now and immediately get access to filing appeal court, prepared for downloading. All changes you make are saved , allowing you to modify the document further as needed. FormsPal guarantees your data confidentiality via a protected method that never records or distributes any sort of private data involved. You can relax knowing your paperwork are kept safe each time you work with our service!