Through the online editor for PDFs by FormsPal, it is easy to complete or alter quash writ of garnishment right here. To have our tool on the cutting edge of convenience, we aim to adopt user-driven features and improvements regularly. We are routinely grateful for any suggestions - assist us with reshaping how you work with PDF forms. All it takes is a couple of simple steps:
Step 1: Simply click the "Get Form Button" at the top of this page to get into our form editor. There you will find all that is necessary to fill out your document.
Step 2: With this handy PDF editing tool, you may accomplish more than simply fill in forms. Try all the functions and make your forms seem great with custom textual content added in, or tweak the file's original content to perfection - all comes with an ability to incorporate any kind of images and sign the PDF off.
It is simple to finish the form adhering to this detailed tutorial! Here is what you must do:
1. You need to fill out the quash writ of garnishment correctly, thus be attentive while working with the areas including all of these blank fields: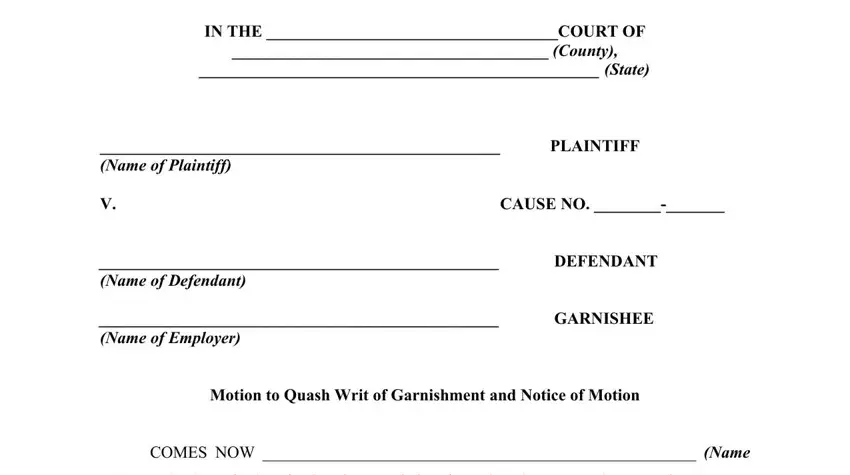 2. Once your current task is complete, take the next step – fill out all of these fields - of Defendant Defendant in the, quash the Writ of Garnishment, date and later served on, Name of Employer Garnishee on the, based was satisfied prior to the, Respectfully submitted, and Name of Defendant with their corresponding information. Make sure to double check that everything has been entered correctly before continuing!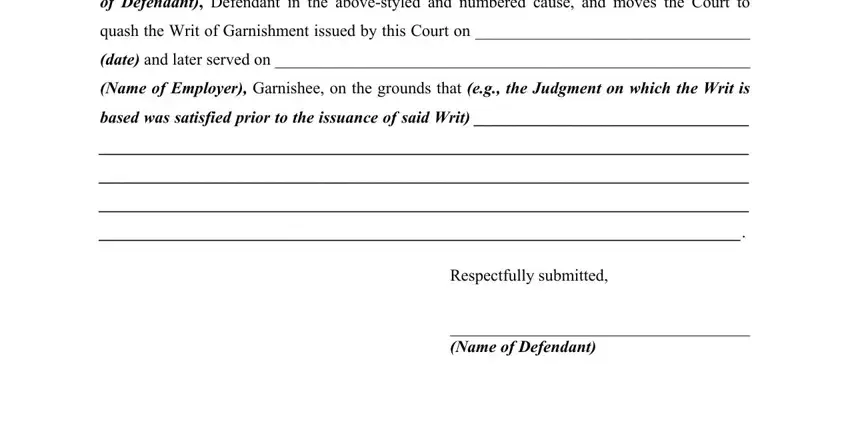 In terms of of Defendant Defendant in the and Respectfully submitted, be certain you don't make any errors in this current part. The two of these could be the most important ones in this PDF.
3. Within this step, take a look at You are hereby notified that on, date at time or as soon, Courtroom of the Court for, County, State at the County Courthouse at, street address city county state, Name of Defendant, will bring on for hearing his, above Motion, Respectfully Submitted, and Name of Defendant. All of these should be filled out with utmost accuracy.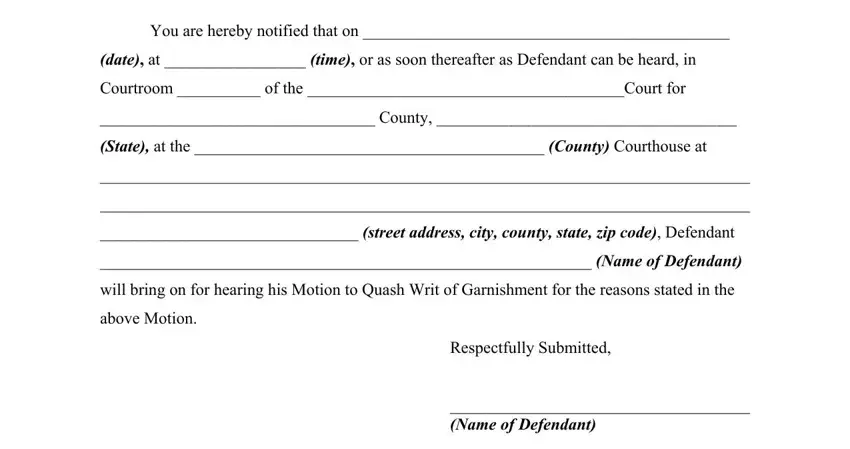 4. To go onward, the following step involves filling in several blanks. These comprise of Certificate of Service, This is to certify that I, Name of Defendant have this day, Motion to Quash Writ of, Garnishment by US Mail postage, Plaintiff and to the following, Name of Attorney Attorney for, Post Office Box, and City State Zip Code, which are key to moving forward with this particular form.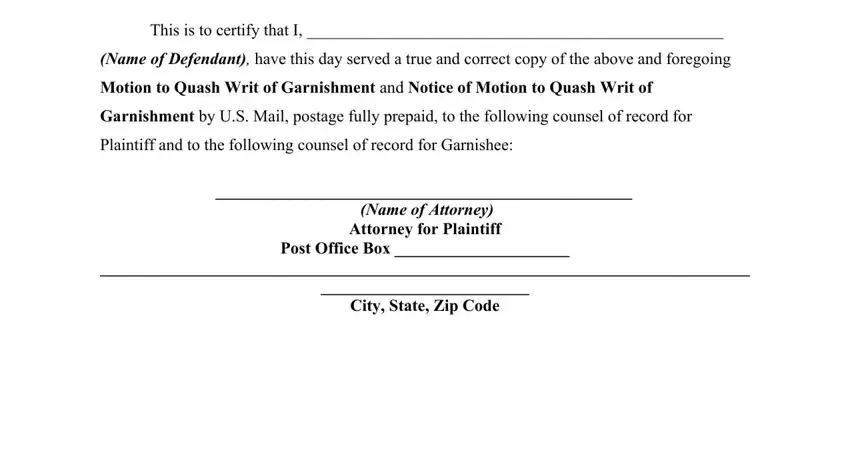 5. Now, the following final segment is what you'll want to wrap up before using the form. The blanks at this point include the next: Name of Attorney, Attorney for Garnishee, Post Office Box, City State Zip Code, This the day of, Respectfully Submitted, and Name of Defendant.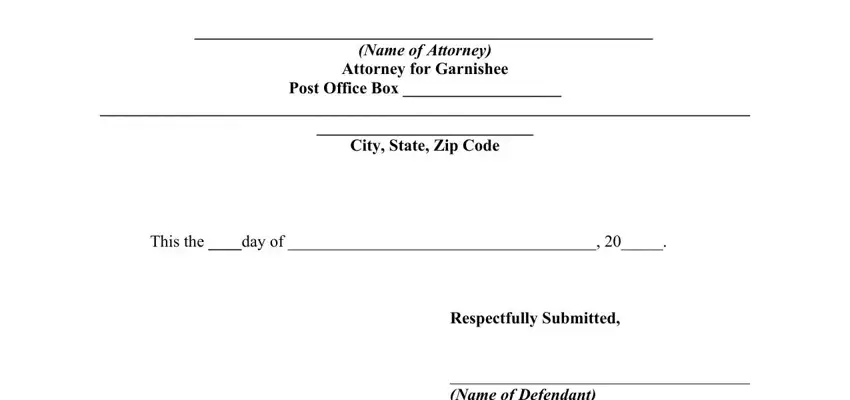 Step 3: Soon after taking another look at your entries, hit "Done" and you're done and dusted! Grab your quash writ of garnishment when you sign up for a free trial. Readily access the pdf form from your FormsPal account, together with any edits and adjustments conveniently synced! FormsPal guarantees safe document tools with no data recording or sharing. Be assured that your information is secure with us!