official form personal can be filled in online easily. Simply make use of FormsPal PDF tool to get it done right away. FormsPal team is committed to providing you the ideal experience with our tool by constantly presenting new features and improvements. Our editor has become a lot more useful with the latest updates! Now, working with PDF files is easier and faster than ever. Getting underway is effortless! What you need to do is follow the next simple steps down below:
Step 1: First of all, access the pdf editor by clicking the "Get Form Button" in the top section of this site.
Step 2: The editor provides you with the capability to change PDF forms in various ways. Modify it by writing customized text, adjust what is already in the document, and place in a signature - all when you need it!
As for the blanks of this particular document, this is what you need to know:
1. Complete the official form personal with a number of major blanks. Consider all of the required information and make sure there is nothing overlooked!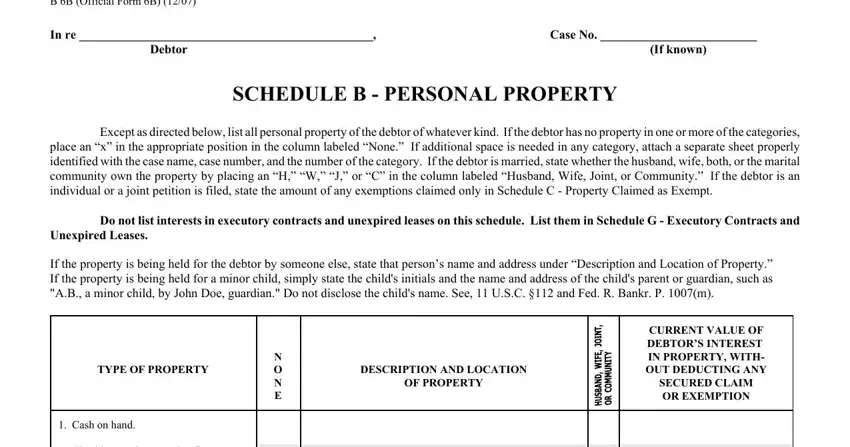 2. Soon after this section is filled out, go to enter the relevant details in all these - Checking savings or other finan, Security deposits with public, Household goods and furnishings, Books pictures and other art, Wearing apparel, Furs and jewelry, Firearms and sports photo graphic, Interests in insurance policies, and Annuities Itemize and name each.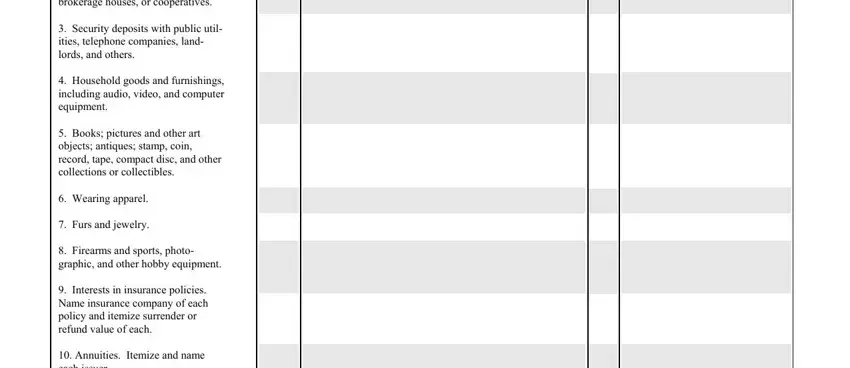 3. Through this step, take a look at Interests in an education IRA as. All of these will have to be filled in with utmost focus on detail.

4. This next section requires some additional information. Ensure you complete all the necessary fields - In re, Case No, Debtor, If known, SCHEDULE B PERSONAL PROPERTY, Continuation Sheet, TYPE OF PROPERTY, N O N E, DESCRIPTION AND LOCATION, OF PROPERTY, CURRENT VALUE OF DEBTORS INTEREST, SECURED CLAIM OR EXEMPTION, Interests in IRA ERISA Keogh or, Stock and interests in, and Interests in partnerships or - to proceed further in your process!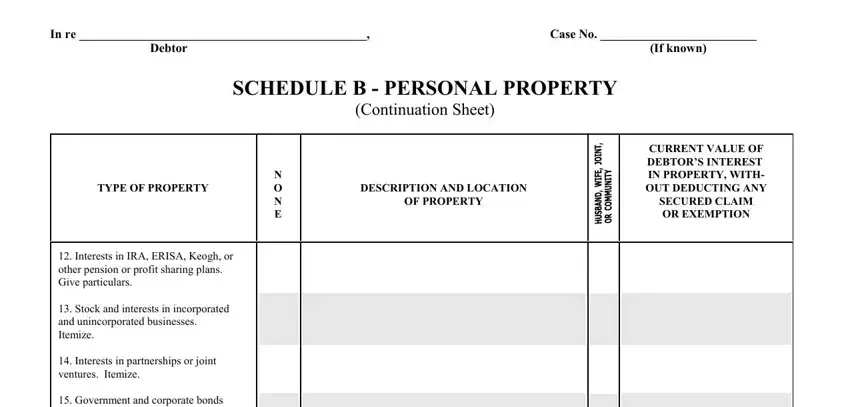 5. As a final point, this last subsection is what you should wrap up before submitting the document. The blanks under consideration are the next: Government and corporate bonds, Accounts receivable, Alimony maintenance support and, Other liquidated debts owed to, Equitable or future interests, Contingent and noncontingent, and Other contingent and unliquidated.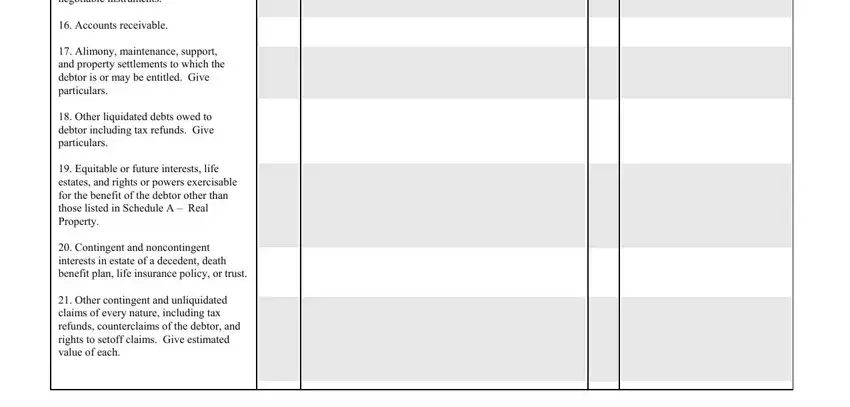 It's easy to get it wrong while filling out your Other liquidated debts owed to, for that reason be sure you take another look prior to deciding to finalize the form.
Step 3: Look through what you've typed into the blanks and click the "Done" button. Right after registering a7-day free trial account with us, it will be possible to download official form personal or send it via email without delay. The PDF file will also be available through your personal account with your each and every modification. We do not share the information you enter when working with forms at our site.