We have used the hard work of our best computer programmers to build the PDF editor you are about to benefit from. Our app will permit you to complete the nursing orientation competency checklist form with ease and don't waste time. What you need to undertake is comply with the following straightforward instructions.
Step 1: Click the "Get Form Now" button to get going.
Step 2: At the moment you are on the file editing page. You can modify and add text to the file, highlight words and phrases, cross or check certain words, insert images, put a signature on it, erase needless fields, or remove them completely.
Type in the information requested by the platform to fill in the document.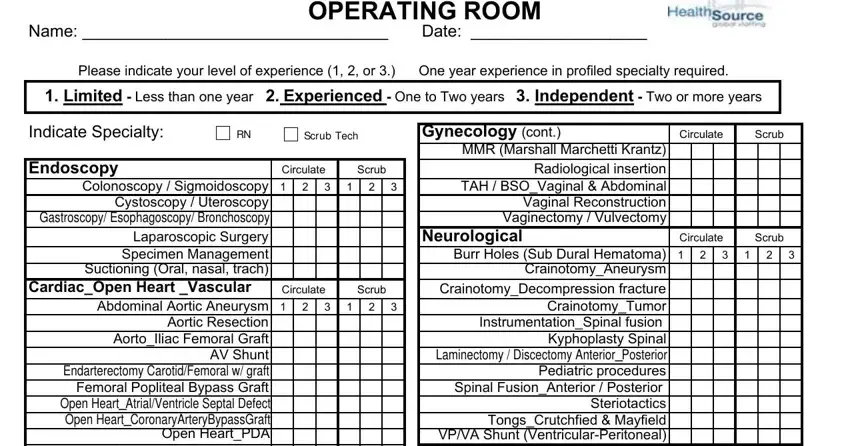 Provide the appropriate data in the GeneralseeEndoscopy, Circulate, Scrub, Abdominalperinealresection, Appendectomyruptured, Ophthalmology, Circulate, Scrub, CataractextractionwithIOL, Orthopedics, Circulate, Scrub, and ACLAnteriorCruciateLigament area.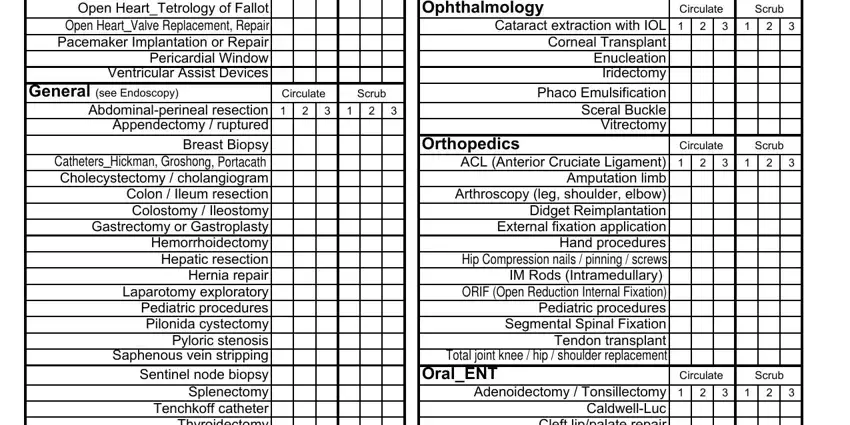 In the Gynecology, Circulate, Scrub, APRepair, ORHSGSLKP, OralENT, Circulate, Scrub, and AdenoidectomyTonsillectomy field, emphasize the significant details.

For field Plastics, Abdominoplasty, Thoracic, ChestTubeDrains, Circulate, Scrub, TransplantProcurment, Circulate, Scrub, BoneMarrow, and CornealHeartLungKidneyLiverPancreas, state the rights and responsibilities.
Check the areas CornealHeartLungKidneyLiverPancreas, Trauma, Circulate, Scrub, Burns, TraumaticAmputations, OTHER, Circulate, Scrub, UrologicalseeEndoscopy, Circulate, Scrub, BloodBloodProductsAdministration, BladderSuspension, and CERTIFICATIONS and next complete them.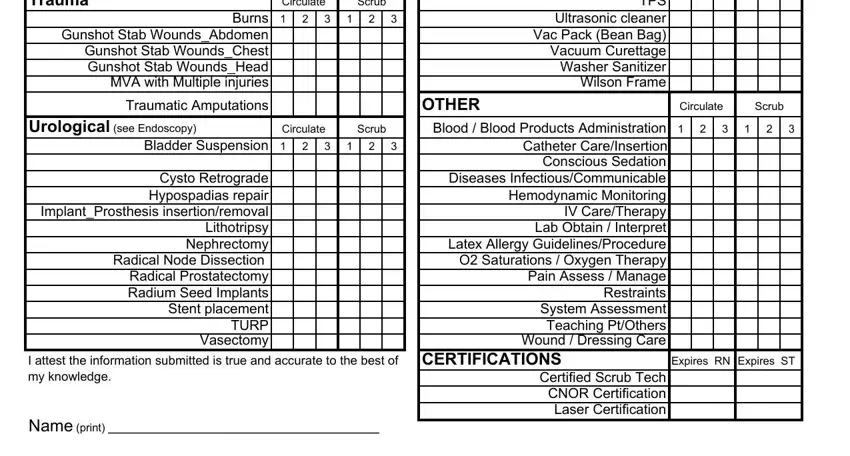 Step 3: As you click the Done button, your prepared document can be transferred to any of your devices or to electronic mail specified by you.
Step 4: Generate minimally a couple of copies of your document to stay away from any kind of potential difficulties.