You can complete the vehicle motor alaska document using our PDF editor. The next steps will enable you to easily prepare your document.
Step 1: On the following website page, select the orange "Get form now" button.
Step 2: Now you can manage the vehicle motor alaska. You should use the multifunctional toolbar to include, delete, and modify the text of the file.
These particular segments will help make up your PDF form: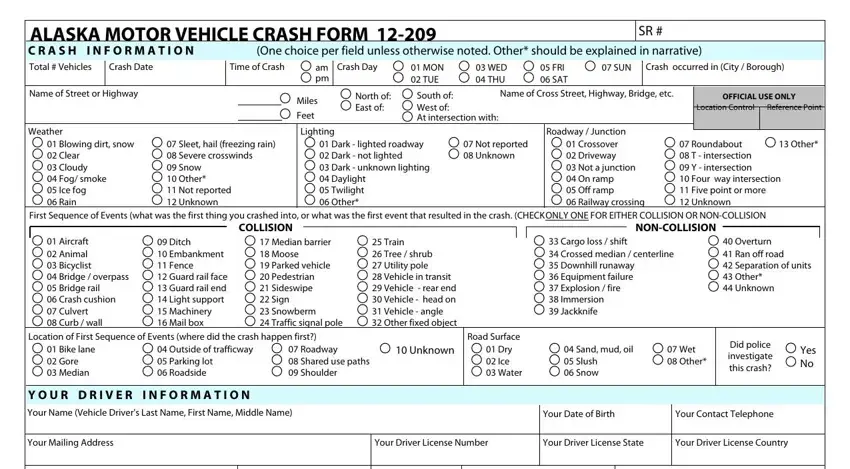 Type in the details in the Your City, Your State, Your Zip Code, Your Residence Country, Y O U R V E H I C L E I N F O R M, Your Vehicle Damage, No of Occupants, Your Vehicle Owners Name Last, Vehicle Owners Telephone, None minor Functional, Disabling Totaled, Unknown, Your Vehicle Owners Mailing Address, Your Vehicle Owners City, and Your Vehicle Owners State field.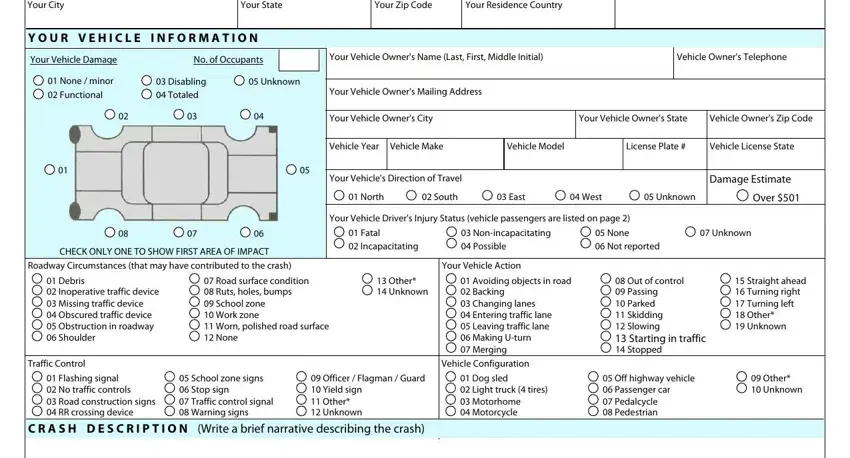 You will be demanded specific essential information so you can fill in the ALASKA MOTOR VEHICLE CRASH FORM O, Other Drivers Name Last Name First, Other Drivers Date of Birth, Other Drivers Contact Telephone, Other Drivers Mailing Address, Other Drivers License, Other Drivers License State, Other Drivers License Country, Other Drivers Mailing Address City, Other Drivers State, Other Drivers Zip Code, Other Drivers Residence Country, O T H E R D R I V E R V E H I C L, Other Vehicle Damage, and Other Vehicle No of Occupants field.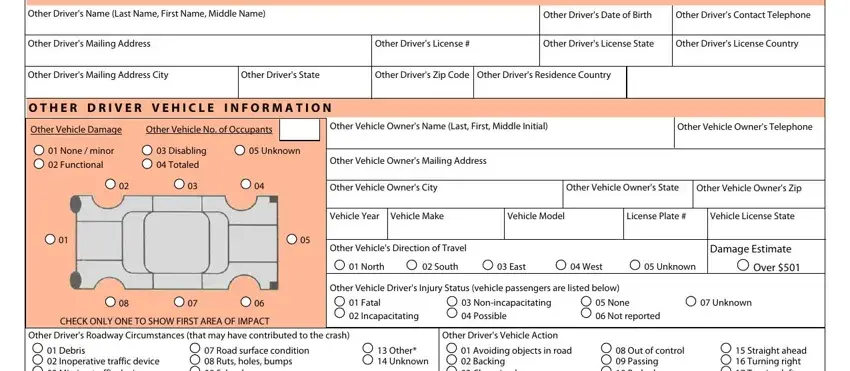 The space Debris Inoperative traffic, Road surface condition Ruts, Avoiding objects in road Backing, Out of control Passing Parked, Other Drivers Traffic Control, Other Drivers Vehicle Configuration, Flashing signal No traffic, School zone signs Stop sign, Officer Flagman Guard Yield, Dog sled Light truck tires, Off highway vehicle Passenger, Straight ahead Turning right, Other Unknown, I N J U R Y S E C T I O N Fill in, and Injury Status is where you can put all parties' rights and responsibilities.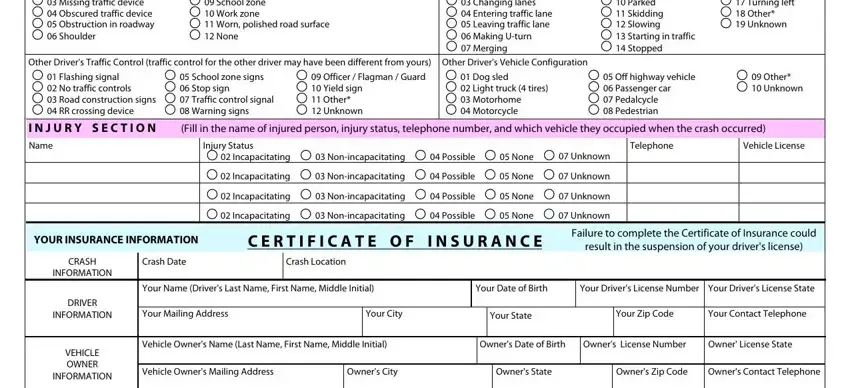 Review the fields VEHICLE INFORMATION, INSURANCE INFORMATION, Vehicle year, Vehicle make, Vehicle model, License plate, Vehicle License State, Vehicle Identification Number VIN, Did you have a current automobile, YES, Insurance Policy Number, Address and Telephone Number of, Insurance Policy Period, FROM, and SIGNATURE and next complete them.

Step 3: Choose the Done button to make certain that your finished document may be exported to any electronic device you pick out or sent to an email you indicate.
Step 4: Generate copies of the document - it can help you refrain from upcoming concerns. And don't be concerned - we do not share or check the information you have.