You may complete Pa 1000 G Form effortlessly with the help of our online PDF editor. To retain our tool on the leading edge of practicality, we strive to implement user-driven capabilities and improvements on a regular basis. We're at all times thankful for any suggestions - help us with revampimg PDF editing. This is what you would need to do to get started:
Step 1: Open the PDF file in our editor by hitting the "Get Form Button" at the top of this page.
Step 2: This tool offers you the capability to work with PDF files in a variety of ways. Enhance it by adding any text, adjust what is originally in the file, and add a signature - all within the reach of a few clicks!
This PDF form will need particular details to be filled in, thus be sure you take the time to provide what's requested:
1. Start completing your Pa 1000 G Form with a group of necessary blanks. Consider all the necessary information and ensure there is nothing forgotten!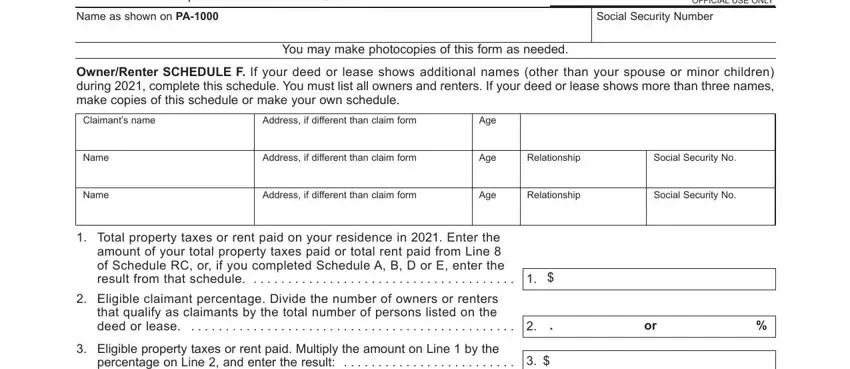 2. After finishing the last step, go to the next stage and complete all required particulars in these fields - OwnerRenter SCHEDULE G Annualized, Enter the date of death of the, Number of days the claimant lived, Add the positive amounts from, any amount for Line g before the, Enter the result of dividing the, Line Round to two decimal places, Multiply Line times Line, Subtract Line from Line and, and Line g of the claim form.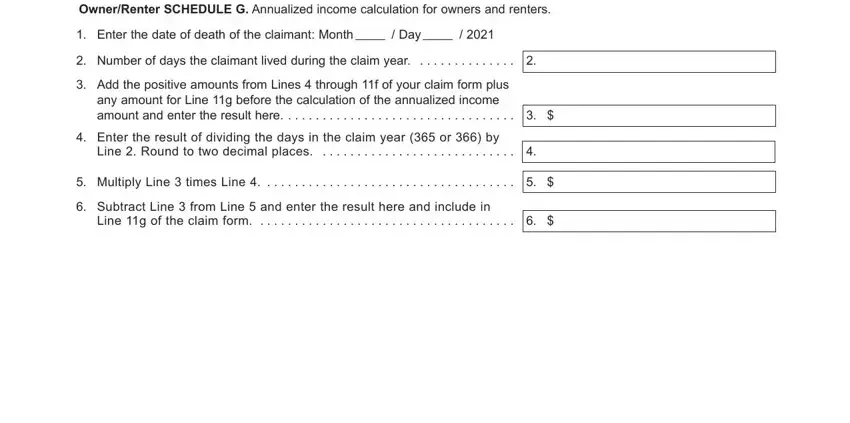 Regarding Multiply Line times Line and Add the positive amounts from, be sure you don't make any errors in this current part. These two are viewed as the most significant fields in this form.
Step 3: Go through all the information you have typed into the blanks and click the "Done" button. Sign up with FormsPal now and easily access Pa 1000 G Form, available for downloading. Every last change made is conveniently kept , making it possible to modify the document further anytime. We don't share or sell the information that you use while working with forms at FormsPal.