It is possible to work with Pa 600 L Sg Form without difficulty using our online editor for PDFs. Our team is committed to providing you the ideal experience with our tool by consistently releasing new functions and improvements. With these updates, working with our tool gets better than ever! By taking a few easy steps, it is possible to start your PDF editing:
Step 1: Press the "Get Form" button above on this page to open our tool.
Step 2: The tool provides the capability to work with nearly all PDF files in various ways. Transform it by writing any text, adjust original content, and add a signature - all at your disposal!
This document will require particular details to be entered, hence you must take some time to fill in what is required:
1. For starters, when filling out the Pa 600 L Sg Form, begin with the form section that features the subsequent blank fields:

2. Right after the first part is filled out, go on to type in the applicable details in all these: Name, aDDress, Number, Dist, reCorD Number, File CleareD by, appl reg No, Number, Worker iD, CaseloaD, Date oF aDmissioN, Date oF optioNs assessmeNt, authorizeD reasoN, CoNtaCt NametelephoNe NumberaDDress, and Not authorizeD reasoN.

People frequently make mistakes while filling in Date oF optioNs assessmeNt in this area. Ensure that you read again what you type in right here.
3. This next step is normally simple - fill out every one of the fields in last Name, PErSon rEquESTing MEdiCAL, First Name, miDDle iNitial Jr sr i etC, CurreNt aDDress iF iN a FaCility, Date moveD to this aDDress, toWNship, sChool DistriCt, previous aDDress iF iN a FaCility, City, state, zip CoDe, aDmissioN Date, area CoDe aND telephoNe Number, and area CoDe aND telephoNe Number to conclude this segment.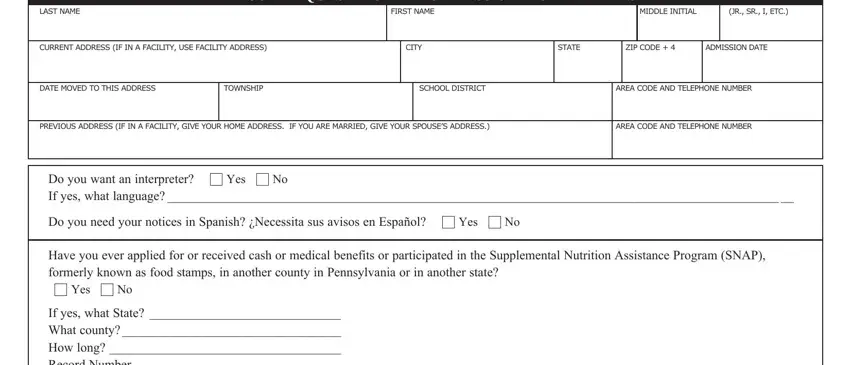 4. All set to fill out this fourth portion! In this case you will get all these Have you ever applied for or, Yes, Have you previously lived in a, Yes, If yes provide name, Address, Dates, and PA L SG blanks to fill out.

5. Since you come near to the finalization of this form, you will find a couple extra requirements that must be fulfilled. Specifically, RElAtIOnShIP, lASt nAmE, FIRSt nAmE, JRSR AlIASmAIDEn nAmE BIRth DAtE, SSn, selF, spouse, DepeNDeNt, For Race Your benefits will not be, Please answer and sign, Are you a US Citizen, Yes, No If No check one, Permanent Resident, and Temporary Resident must be filled out.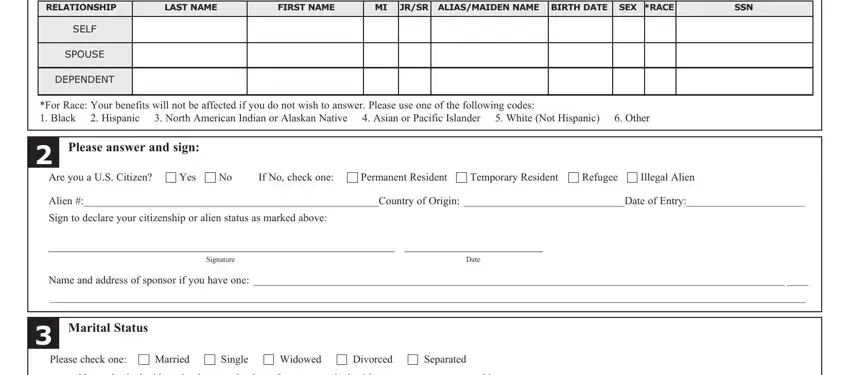 Step 3: Go through the information you've entered into the blanks and hit the "Done" button. Sign up with FormsPal now and immediately use Pa 600 L Sg Form, set for download. All adjustments made by you are kept , helping you to change the document at a later stage if necessary. We do not share any information you enter when filling out forms at our website.