ems pcr template can be filled out online easily. Simply use FormsPal PDF editor to get the job done in a timely fashion. FormsPal team is always endeavoring to develop the editor and ensure it is even better for users with its multiple functions. Take your experience to another level with constantly developing and unique possibilities we provide! Getting underway is simple! What you need to do is adhere to these basic steps down below:
Step 1: Click on the "Get Form" button above on this page to access our tool.
Step 2: As soon as you open the PDF editor, you will see the form ready to be filled out. Apart from filling out different blank fields, you could also do other sorts of actions with the file, including adding your own words, editing the original text, inserting illustrations or photos, placing your signature to the form, and more.
If you want to finalize this PDF form, be certain to type in the information you need in every single area:
1. To begin with, while filling out the ems pcr template, start in the page that features the next blanks: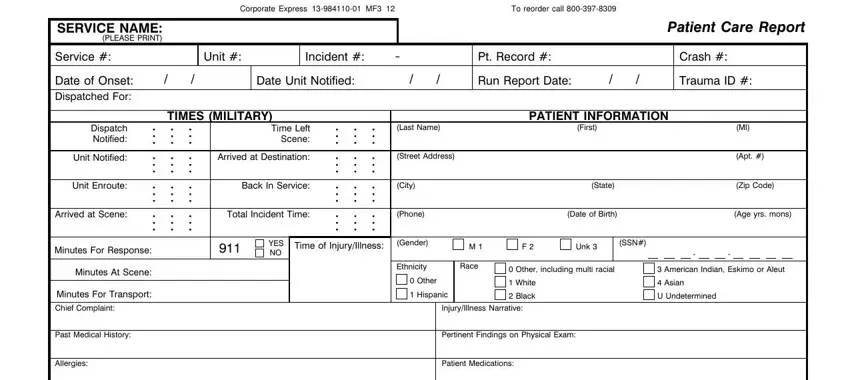 2. Soon after filling out the last part, head on to the next step and complete the necessary details in these blank fields - Emerg Med Care Given, Patient Response to Emerg Med Care, Provider Impression, Select one, Abdominal PainProblems, Cardiac Rhythm Disturbance, Hypothermia Trauma, PregnancyOB Delivery, StingsVenomous Bites, Airway Obstruction, Alleged Sexual Assault, Allergic Reaction, Altered Level of Consciousness, Behavioral Disorder, and Cardiac Arrest.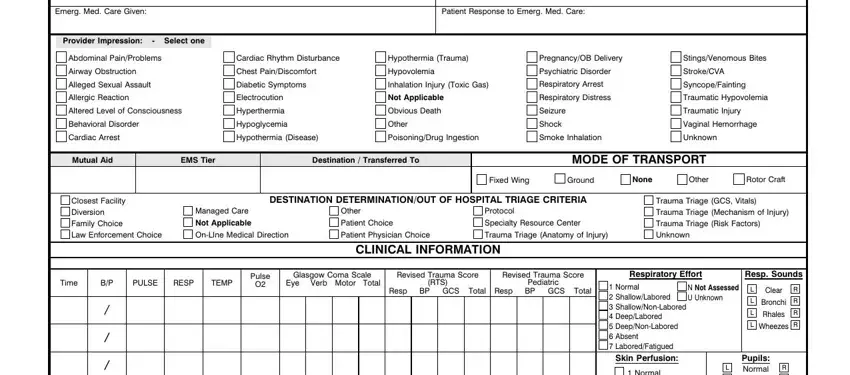 Always be extremely careful when filling in Provider Impression and Allergic Reaction, because this is where most people make some mistakes.
3. Completing Normal, Decreased, Not Assessed, Constricted, Dilated, No react, Revised Trauma Score RTS Values, Resp Rate, None, Systolic BP, GCS Total, None, Unk, TIME COLUMNS, and Eye Opening Component is essential for the next step, make sure to fill them out in their entirety. Don't miss any details!

4. It is time to begin working on the next part! In this case you will have these SERVICE NAME PLEASE PRINT, Service, Unit, Incident, Pt Record, Date of Onset, Date Unit Notified, Run Report Date, Crash, Trauma ID, INJURY, D s o c a t i, o n F r a c t u r e, INJURY MATRIX, and Select one form blanks to do.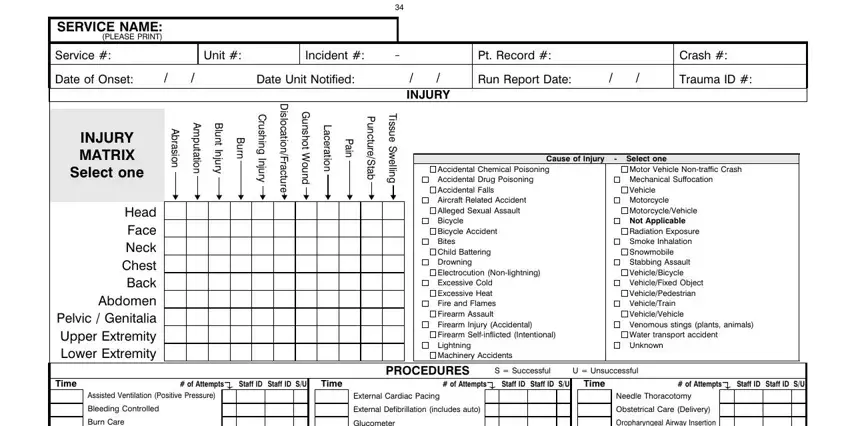 5. The pdf has to be wrapped up by going through this section. Below one can find a comprehensive set of blank fields that need to be completed with appropriate details to allow your form usage to be complete: Burn Care, Cardiopulmonary Resuscitation, Cervical Immobilization, Combination AirwayEOA, Combination AirwayET, Cricothyrotomy, ECG Monitoring, Endotracheal Intubation, Esophageal Airway, Glucometer, Intraosseous Catheter, Intravenous Catheter, Intravenous Fluids, Long Spineboard, and MAST PASG.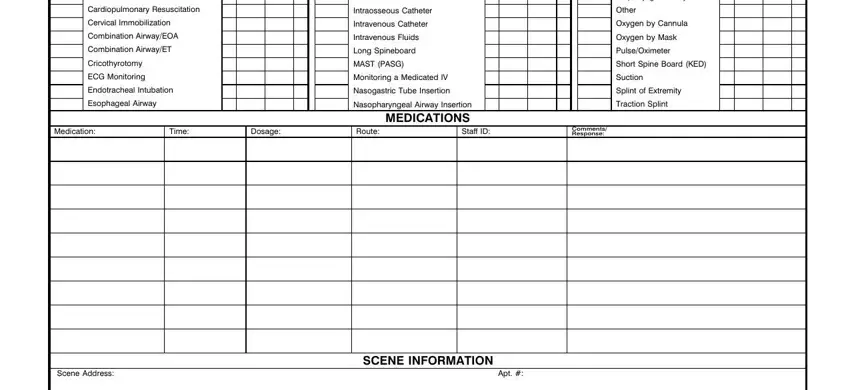 Step 3: Go through all the details you've entered into the blanks and hit the "Done" button. Create a free trial subscription with us and obtain instant access to ems pcr template - downloadable, emailable, and editable in your FormsPal account. FormsPal is committed to the privacy of our users; we ensure that all personal information used in our tool is confidential.