Creating files with our PDF editor is simpler as compared to nearly anything. To change petplan claim form pdf the file, there's nothing you have to do - just stick to the steps listed below:
Step 1: The first thing is to click the orange "Get Form Now" button.
Step 2: When you've entered the petplan claim form pdf editing page you may notice every one of the actions you can carry out about your template at the upper menu.
Enter the content required by the program to fill in the document.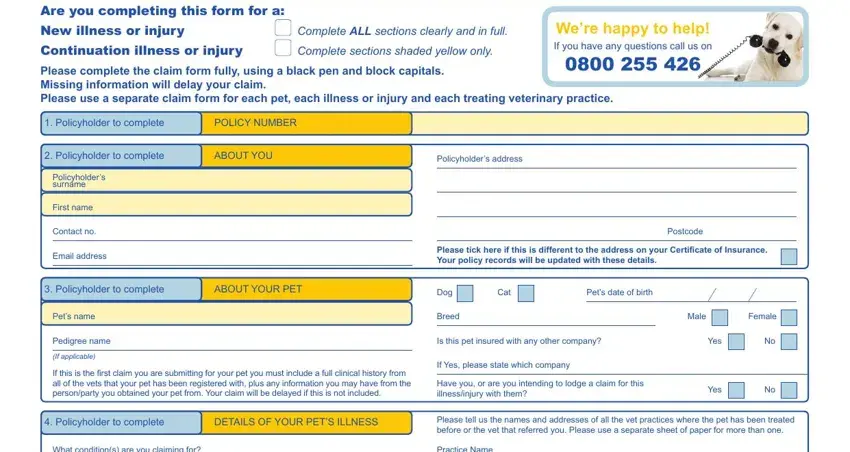 Provide the demanded data in the box What conditions are you claiming, Practice Name, Address, Please tell us the date you first, Phone, Date and time Condition first, AM PM, Date from, Postcode, Date and time pet seen by vet, AM PM, If your pet was injured please, Did the illness or injury result, Yes, and Date of death.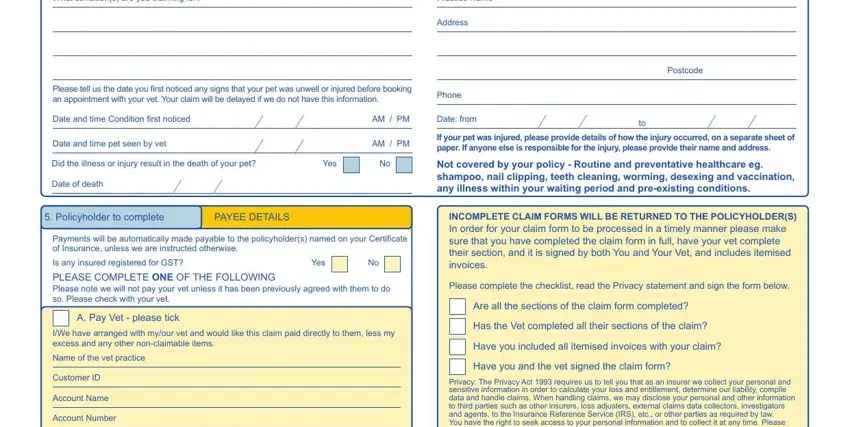 Write down the main details in Vet practice sign here, Date, B Pay Policyholders please tick, IWe wish the claim to be paid to, Name, Account Name, Account Number, IMPORTANT NOTES Please send, Privacy The Privacy Act requires, IDR Statement Disputes are not an, IWe certify the information given, Petplan Australasia administers, Please sign here, and Date field.

Please include the rights and responsibilities of the parties inside the ASK YOUR VET TO COMPLETE THESE, Vet practice to complete, GENERAL INFORMATION, When was this pet first registered, If this pet has been referred, Name, Address, Is any part of this claim for a, Yes, If Yes were the pets vaccinations, Yes, Please give date of last, Dont Know, Is any part of this claim for, and Yes part.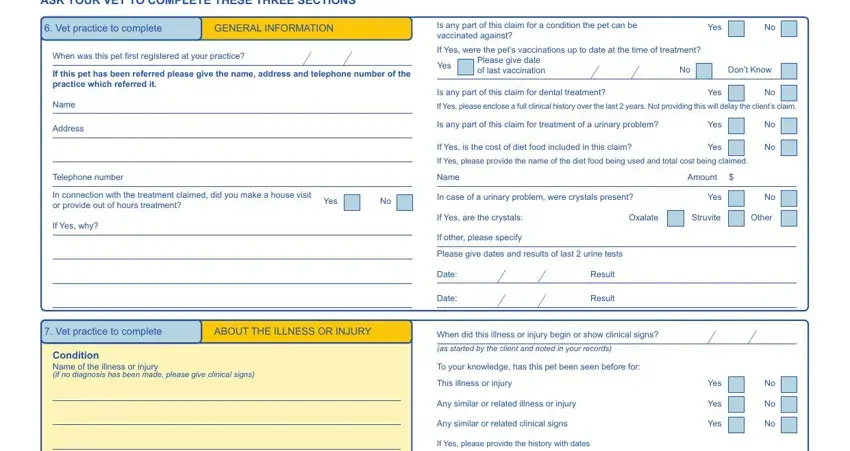 End by reading the following fields and completing them as required: Date, Date, Did death or euthanasia result, Yes, Date of death, If the pet was put to sleep did, Is this claim a continuation of a, Yes, Yes, Treatment date from, Total amount being claimed inc GST, PLEASE ENCLOSE FULL ITEMISED, Vet practice to complete, DECLARATION BY VETERINARY PRACTICE, and Vet practice stamp here.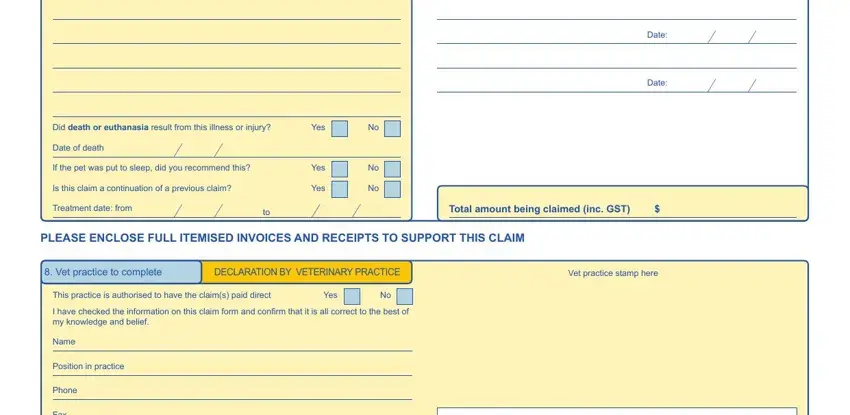 Step 3: Select the Done button to make sure that your finalized document can be transferred to each gadget you pick out or mailed to an email you indicate.
Step 4: Be certain to avoid forthcoming difficulties by preparing no less than two duplicates of the document.