You can work with usps 3526 form effortlessly with the help of our PDFinity® editor. The editor is consistently maintained by us, getting new features and becoming a lot more convenient. By taking a couple of easy steps, you may start your PDF editing:
Step 1: Hit the "Get Form" button in the top area of this webpage to get into our tool.
Step 2: With the help of our handy PDF editing tool, it is easy to accomplish more than simply complete blank form fields. Edit away and make your documents look perfect with customized textual content added in, or optimize the file's original input to excellence - all that accompanied by the capability to insert any pictures and sign the file off.
This PDF form will require you to provide specific details; to ensure accuracy, make sure you take note of the recommendations hereunder:
1. First, once filling out the usps 3526 form, begin with the section that features the subsequent blanks: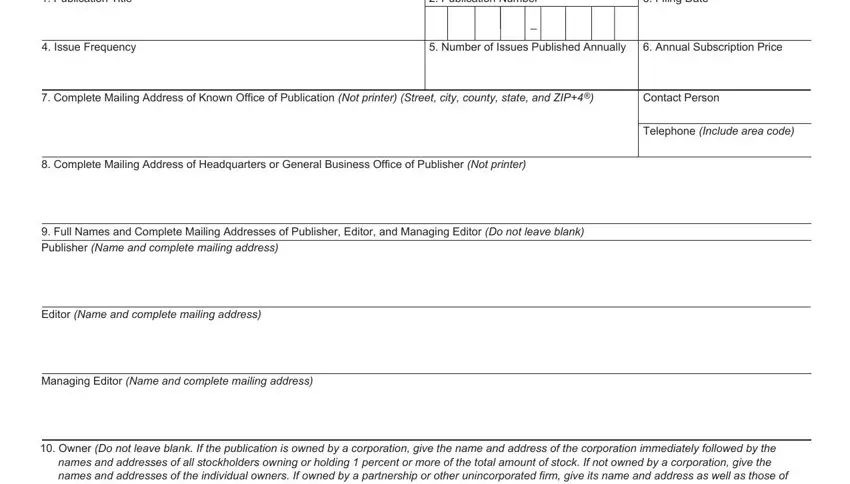 2. Once your current task is complete, take the next step – fill out all of these fields - Full Name, Complete Mailing Address, Known Bondholders Mortgagees and, None, Full Name, Complete Mailing Address, and Tax Status For completion by with their corresponding information. Make sure to double check that everything has been entered correctly before continuing!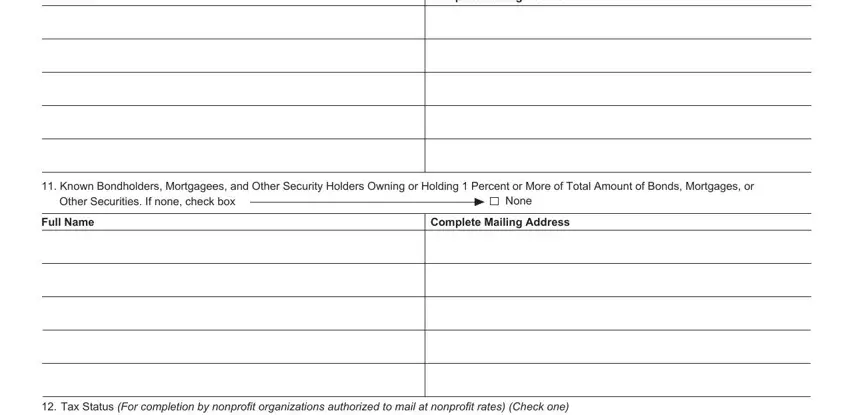 3. This subsequent step should also be relatively easy, The purpose function and nonprofit, Has Not Changed During Preceding, Has Changed During Preceding, and PS Form July Page of see - each one of these blanks will have to be filled out here.

Be very mindful when filling out The purpose function and nonprofit and Has Changed During Preceding, because this is where many people make errors.
4. All set to fill in the next form section! In this case you will have all of these Publication Title, Issue Date for Circulation Data, Extent and Nature of Circulation, a Total Number of Copies Net press, Average No Copies Each Issue, No Copies of Single Issue, b Paid Circulation By Mail and, the Mail, Mailed OutsideCounty Paid, Mailed InCounty Paid Subscriptions, Paid Distribution Outside the, Paid Distribution by Other Classes, c Total Paid Distribution Sum of b, d Free or Nominal Rate, and By Mail form blanks to complete.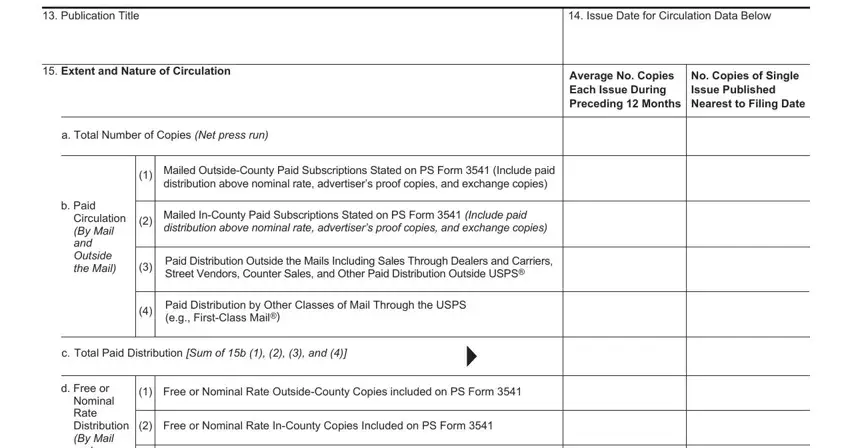 5. This final notch to conclude this form is critical. Be sure to fill out the appropriate blanks, including d Free or Nominal Rate, Free or Nominal Rate Copies Mailed, Free or Nominal Rate Distribution, Total Free or Nominal Rate, Total Distribution Sum of c and e, Copies not Distributed See, Total Sum of f and g, Percent Paid c divided by f times, and If you are claiming electronic, before using the file. Or else, it can give you a flawed and probably nonvalid paper!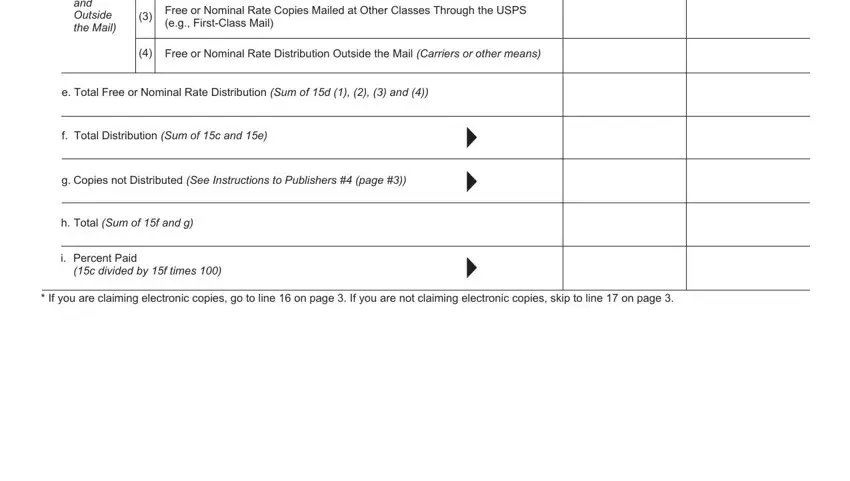 Step 3: Soon after going through the form fields, hit "Done" and you are good to go! Sign up with us now and easily get access to usps 3526 form, available for downloading. All modifications you make are saved , allowing you to customize the file at a later point if required. FormsPal is dedicated to the confidentiality of all our users; we make sure that all personal information handled by our tool stays confidential.