Through the online tool for PDF editing by FormsPal, you are able to complete or change can i renew my handicap placard online right here and now. In order to make our tool better and easier to work with, we consistently work on new features, with our users' suggestions in mind. It just takes just a few simple steps:
Step 1: Hit the orange "Get Form" button above. It will open our editor so that you could start filling out your form.
Step 2: When you open the editor, there'll be the document made ready to be completed. Besides filling out different blanks, you can also do many other actions with the form, specifically putting on any textual content, modifying the original text, inserting illustrations or photos, putting your signature on the form, and much more.
It will be an easy task to fill out the form using out detailed tutorial! Here is what you must do:
1. Whenever submitting the can i renew my handicap placard online, be certain to incorporate all needed blank fields in the associated form section. This will help to expedite the work, allowing for your details to be handled quickly and correctly.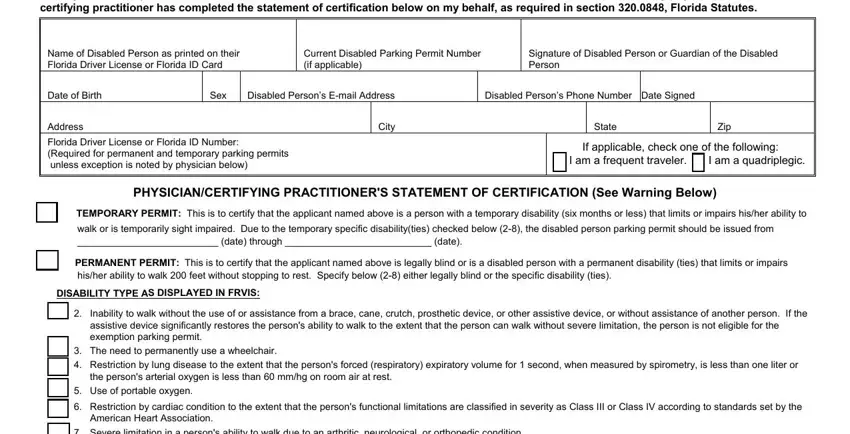 2. The subsequent stage would be to fill in these blanks: Severe limitation in a persons, WARNING Any person who knowingly, misdemeanor of the first degree, Certification or License No, LICENSED IN THE STATE OF, PrintType Name of Certifying, Business Address, City, State, Zip, Certifying Authority Signature, Date Signed, Area CodeTelephone Number, SPECIAL EXCEPTION The severely, and If the Special Exception box is.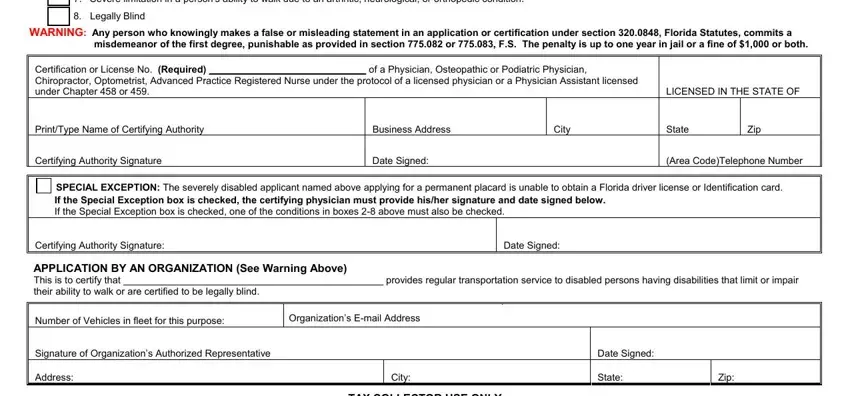 It's easy to make errors when completing the misdemeanor of the first degree, hence you'll want to take a second look before you decide to send it in.
Step 3: As soon as you have glanced through the information you given, click on "Done" to complete your document generation. Try a 7-day free trial account with us and gain immediate access to can i renew my handicap placard online - which you can then use as you want inside your personal account. FormsPal offers protected form completion without personal data recording or distributing. Rest assured that your information is in good hands with us!