Whenever you wish to fill out retirement opm mm online, there's no need to download any sort of software - simply give a try to our online PDF editor. To retain our tool on the cutting edge of practicality, we work to implement user-driven features and improvements on a regular basis. We are always looking for feedback - play a vital role in reshaping PDF editing. Getting underway is easy! What you need to do is follow these simple steps directly below:
Step 1: First, open the pdf editor by clicking the "Get Form Button" in the top section of this page.
Step 2: With our handy PDF editing tool, you are able to accomplish more than just fill out blanks. Edit away and make your documents appear perfect with custom text put in, or tweak the original content to excellence - all backed up by an ability to add your own graphics and sign the document off.
Filling out this PDF will require thoroughness. Make certain each blank field is filled out correctly.
1. The retirement opm mm online requires certain information to be inserted. Make certain the subsequent fields are filled out: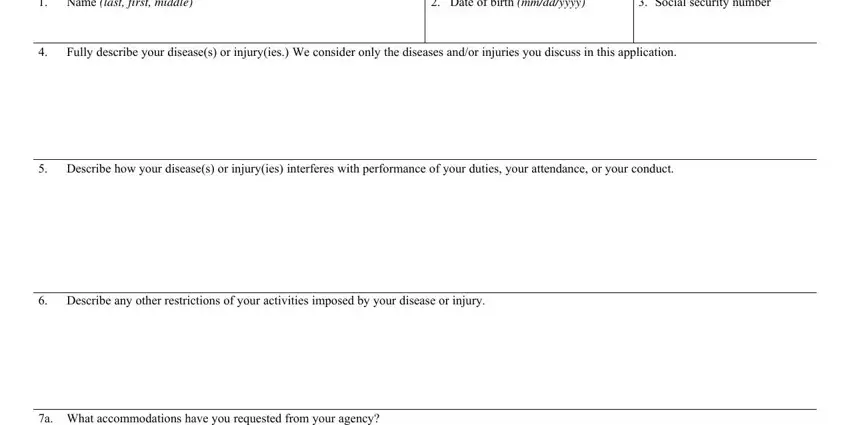 2. Once your current task is complete, take the next step – fill out all of these fields - a What accommodations have you, b Has your agency been able to, Yes, c What is your current status with, In pay status and working without, In leave without pay status, If you are currently in a leave, Give the approximate date you, position mmyyyy, Have you been, hospitalized for your disease or, Yes, Give date of most recent, To mmyyyy, and Notice for FERS and CSRS Offset with their corresponding information. Make sure to double check that everything has been entered correctly before continuing!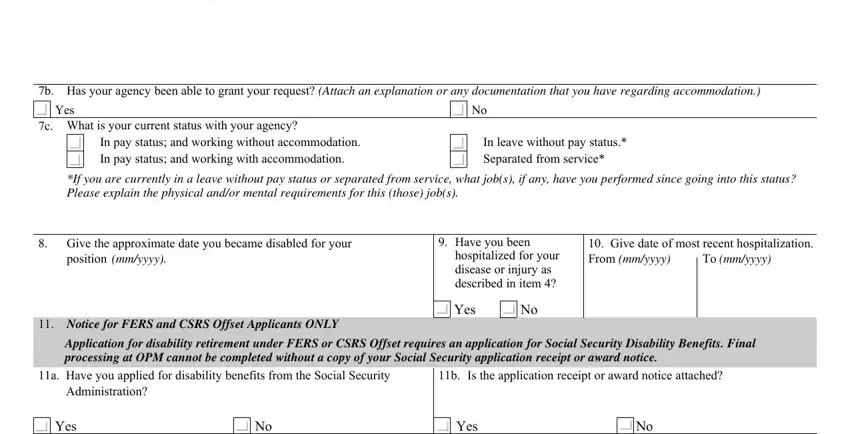 3. Through this part, look at Name, Address, Date of Treatments, Applicants Consent and, WARNING Any intentionally false, fine of not more, I certify that all statements made, Signature Do not print, Date mmddyyyy, and Daytime telephone number. These are required to be filled in with greatest accuracy.
4. Completing Email address, Privacy Act Statement, Solicitation of this information, Public Burden Statement, and We estimate this form takes an is crucial in the fourth form section - ensure that you spend some time and take a close look at each and every field!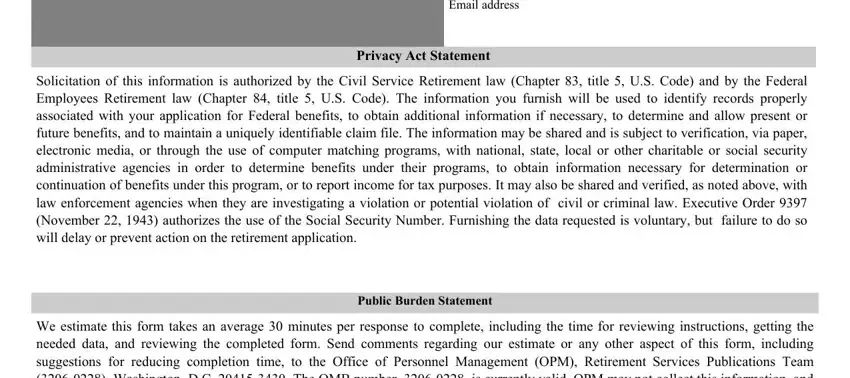 When it comes to Email address and Privacy Act Statement, ensure that you don't make any errors in this section. The two of these could be the most significant ones in this form.
5. To conclude your document, the particular subsection has several extra fields. Completing Name last first middle, Date of birth mmddyyyy, Social security number, Title of position of record, Date of entry into position, mmddyyyy, Section B Information About, See instructions above, Is performance less than fully, Yes complete items of this, No go to Section C, Show the approximate date mmyyyy, After the date in item has the, inability to do the job began, and Period the increase or award will finalize everything and you'll surely be done very quickly!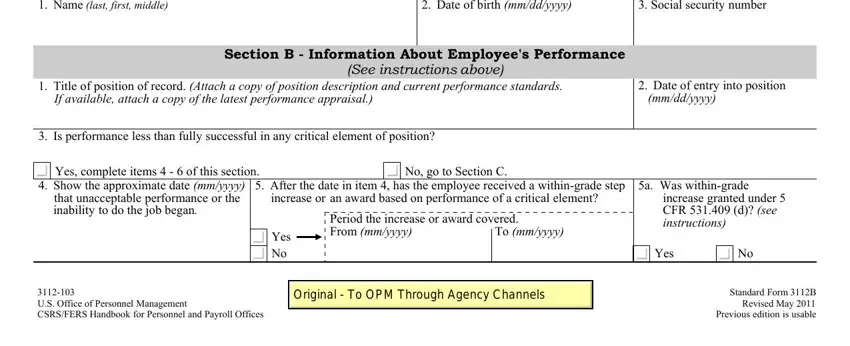 Step 3: Revise the details you have typed into the blank fields and then click on the "Done" button. Acquire the retirement opm mm online after you join for a 7-day free trial. Quickly get access to the pdf document from your FormsPal account page, along with any edits and adjustments automatically kept! FormsPal is invested in the personal privacy of our users; we make sure all personal information put into our editor continues to be secure.