You could fill out Rev 41 0104E Form instantly using our online PDF editor. Our team is devoted to giving you the best possible experience with our editor by constantly releasing new capabilities and improvements. With these updates, working with our tool becomes easier than ever before! By taking several basic steps, you may begin your PDF journey:
Step 1: Simply click on the "Get Form Button" at the top of this webpage to get into our pdf file editor. Here you'll find everything that is needed to work with your file.
Step 2: With our handy PDF file editor, you're able to do more than just complete blanks. Try all the features and make your documents look professional with customized text incorporated, or fine-tune the file's original content to perfection - all that comes along with an ability to incorporate stunning graphics and sign it off.
In an effort to complete this document, ensure that you enter the information you need in every single blank field:
1. The Rev 41 0104E Form necessitates particular details to be inserted. Ensure the next blanks are complete: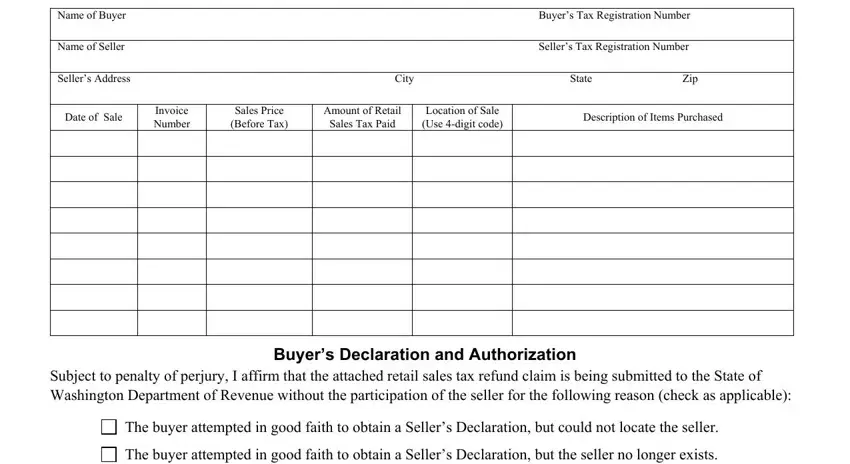 2. Once the previous part is filled out, proceed to type in the relevant details in these: The buyer attempted in good faith, Name and Title print, Buyers Signature, Date, Attn Refunds State of Washington, and For tax assistance visit.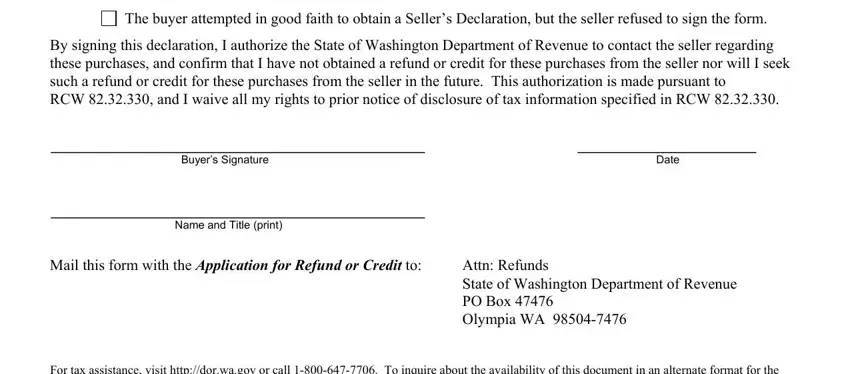 Always be very careful when filling out Attn Refunds State of Washington and Name and Title print, as this is the section in which a lot of people make some mistakes.
Step 3: Prior to finishing the document, ensure that all form fields were filled in the proper way. Once you are satisfied with it, press "Done." After setting up a7-day free trial account here, you'll be able to download Rev 41 0104E Form or email it without delay. The PDF will also be easily accessible in your personal cabinet with all of your modifications. FormsPal guarantees your data privacy by using a secure method that in no way saves or distributes any type of personal data used in the file. Feel safe knowing your paperwork are kept protected when you use our service!