You may work with rev 485 effortlessly with our PDFinity® PDF editor. Our editor is consistently developing to present the very best user experience achievable, and that is due to our commitment to constant enhancement and listening closely to customer opinions. With just a couple of easy steps, you'll be able to begin your PDF editing:
Step 1: First, access the pdf editor by clicking the "Get Form Button" at the top of this site.
Step 2: When you start the PDF editor, there'll be the document made ready to be filled in. Apart from filling in different fields, it's also possible to do many other things with the file, such as writing custom words, modifying the original text, inserting images, affixing your signature to the document, and much more.
It is actually an easy task to complete the pdf adhering to our helpful guide! This is what you should do:
1. It is critical to fill out the rev 485 accurately, thus be attentive while working with the segments that contain all of these blanks: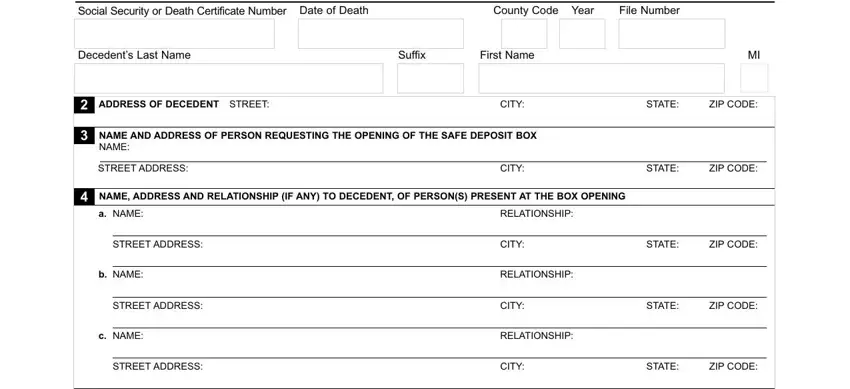 2. Right after this section is filled out, go on to type in the applicable details in these - NAME AND ADDRESS OF FINANCIAL, NAME, STREET ADDRESS, NAME OF PERSON MAKING LAST ENTRY, CITY, STATE, ZIP CODE, DATE AND TIME OF LAST ENTRY, DATE OF CONTRACT TO RENT BOX, NUMBER OF BOX, TITLE UNDER WHICH BOX IS REQUESTED, NAME AND ADDRESS OF PERSONS HAVING, a NAME, b NAME, and STREET ADDRESS.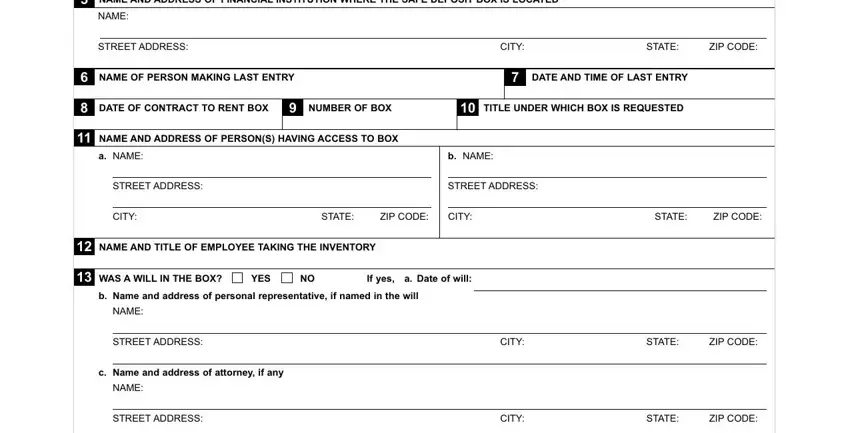 3. This next part is all about REV EX, SAFE DEPOSIT BOX INVENTORY, Page, INSTRUCTIONS, Cash Report total only, Stocks List in detail every, Obligations of US Government, ie jointly held payable on death, Bonds Designate by name amount, Bank and Savings and Loan, and branch and balance, Jewelry Coins Stamps Manuscripts, Deeds Mortgages Current Insurance, All other contents, and Return completed form to - complete these blanks.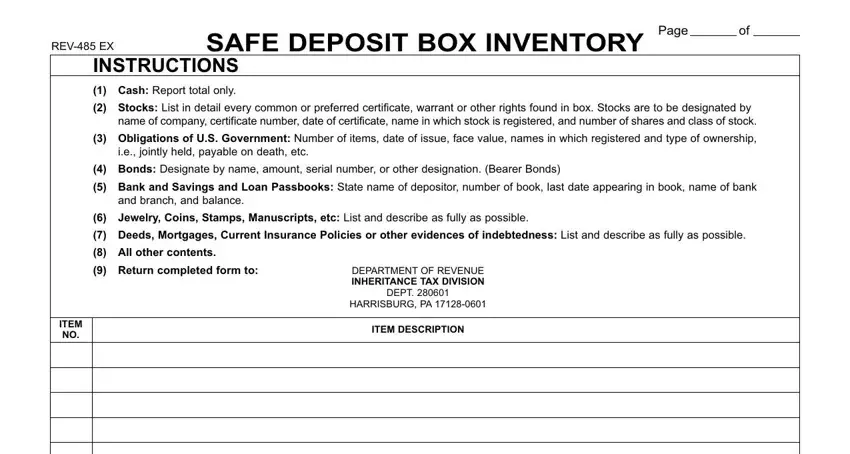 4. The next subsection will require your information in the following areas: I CERTIFY UNDER PENALTY OF PERJURY, PERSON RECEIVING COPY OF, SIGNATURE, PRINT NAME, and PRINT NAME AND CHECK APPROPRIATE. Remember to fill in all of the needed info to go forward.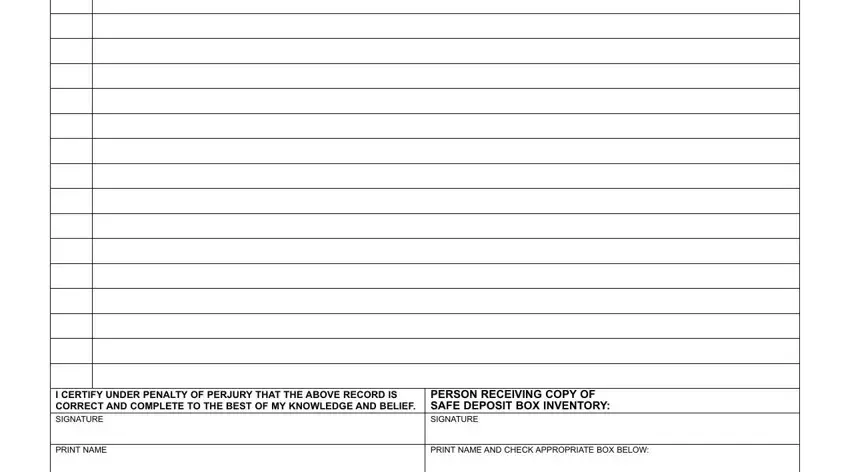 Lots of people often make mistakes while completing PERSON RECEIVING COPY OF in this area. Ensure that you re-examine what you type in here.
5. This final step to submit this document is crucial. Make sure you fill out the required blank fields, consisting of PRINT TITLE, DATE, CHECK APPROPRIATE BOX, Executortrix, Administratortrix, Estate Representative, Joint owner of safe deposit box, and NOTE Attach additional x sheets, prior to using the form. Neglecting to accomplish that can lead to a flawed and potentially nonvalid paper!

Step 3: Make sure that the details are correct and simply click "Done" to continue further. After registering a7-day free trial account with us, you'll be able to download rev 485 or send it via email immediately. The PDF form will also be at your disposal in your personal account page with your each edit. If you use FormsPal, you're able to complete forms without having to be concerned about personal data incidents or entries getting shared. Our secure system helps to ensure that your personal information is kept safe.