It is really simple to fill out the st leo transcript gaps. Our PDF tool can make it virtually effortless to complete any kind of PDF file. Down below are the only four steps you'll want to follow:
Step 1: Choose the "Get Form Here" button.
Step 2: You're now on the form editing page. You can edit, add content, highlight particular words or phrases, insert crosses or checks, and put images.
The particular parts will make up the PDF document: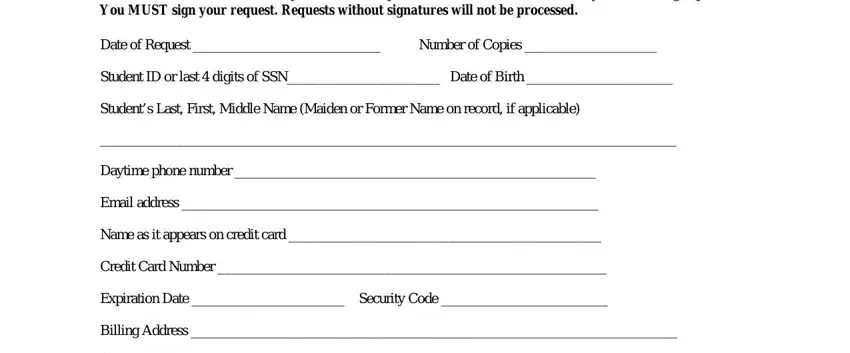 The application will expect you to fill in the ADDRESS TO SEND TRANSCRIPT TO, SPECIAL INSTRUCTIONS Hold, Semesterterm grades post, Degree Conferral, Overnight delivery additional, Student Signature, Digital signatures are not accepted, The Family Educational Rights and, Return completed transcript, Saint Leo University Registrar PO, and Fax Email transcriptssaintleoedu segment.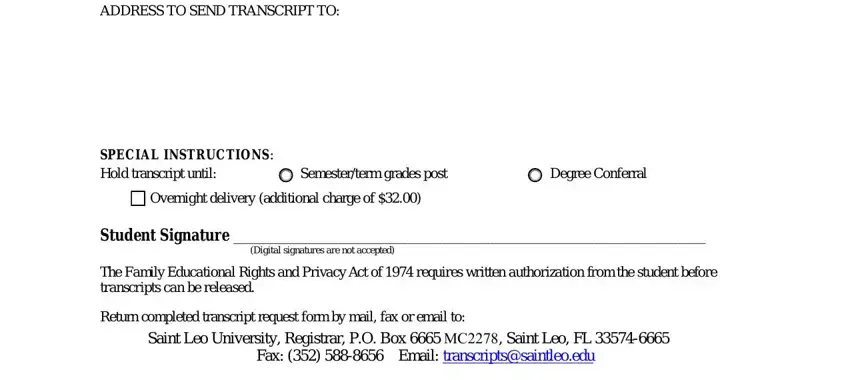 Step 3: Click the Done button to confirm that your completed form may be exported to any kind of gadget you decide on or forwarded to an email you indicate.
Step 4: Get a duplicate of each document. It will certainly save you some time and assist you to stay away from concerns later on. Keep in mind, the information you have won't be shared or analyzed by us.