In case you need to fill out sanmar employment w chester ohio, you don't have to download any software - simply give a try to our PDF tool. We are dedicated to making sure you have the perfect experience with our tool by continuously releasing new capabilities and improvements. Our tool has become even more useful as the result of the most recent updates! Now, working with PDF files is easier and faster than ever before. It merely requires a couple of simple steps:
Step 1: Firstly, access the pdf tool by clicking the "Get Form Button" in the top section of this page.
Step 2: With this state-of-the-art PDF file editor, you'll be able to do more than simply fill out blank form fields. Edit away and make your documents look high-quality with custom textual content added in, or modify the original input to excellence - all that comes with the capability to add any images and sign the file off.
With regards to the blanks of this precise document, here is what you need to know:
1. The sanmar employment w chester ohio needs specific information to be inserted. Be sure the subsequent blanks are filled out: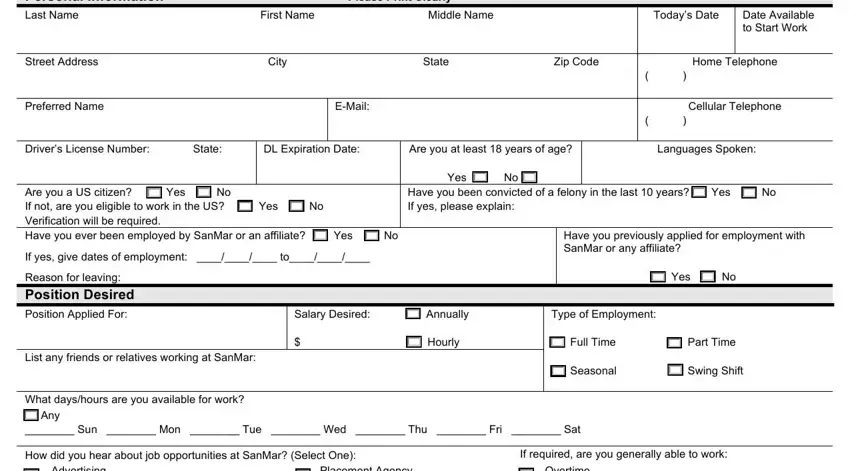 2. After filling out the last part, go on to the subsequent part and fill out all required particulars in all these fields - Advertising Direct Inquiry Other, Placement Agency Rehire, Overtime Weekends Swing Shift, Education and Training Indicate, Education, Name and Location City State and, High School Did you, graduate, High School, College or University, Graduate School, Business Vocation or Community, Special Training or, Certifications, and Technical Skills.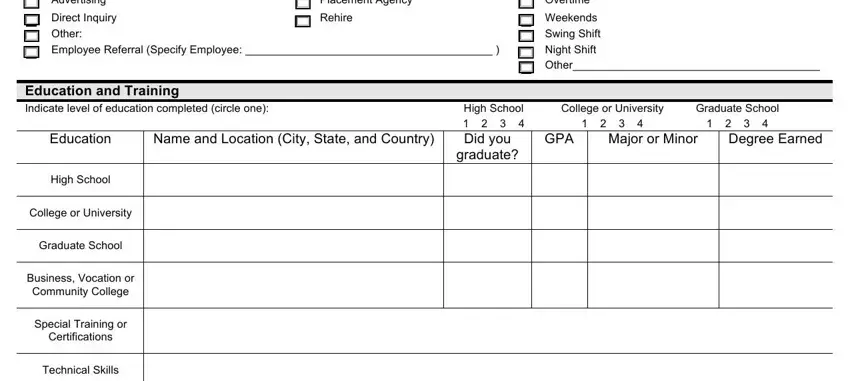 Always be very attentive while completing Advertising Direct Inquiry Other and Business Vocation or Community, as this is where a lot of people make some mistakes.
3. The next step is generally hassle-free - complete every one of the form fields in Yes, Work Experience Please give an, Telephone Numbers, From, Dates Employed, Starting Hourly RateSalary, Final Hourly RateSalary, May we contact your current, Yes, Work Performed, Supervisor Employer Address, Supervisor Employer Address, Supervisor, Employer Address Starting Job, and Supervisors Contact Information to conclude this part.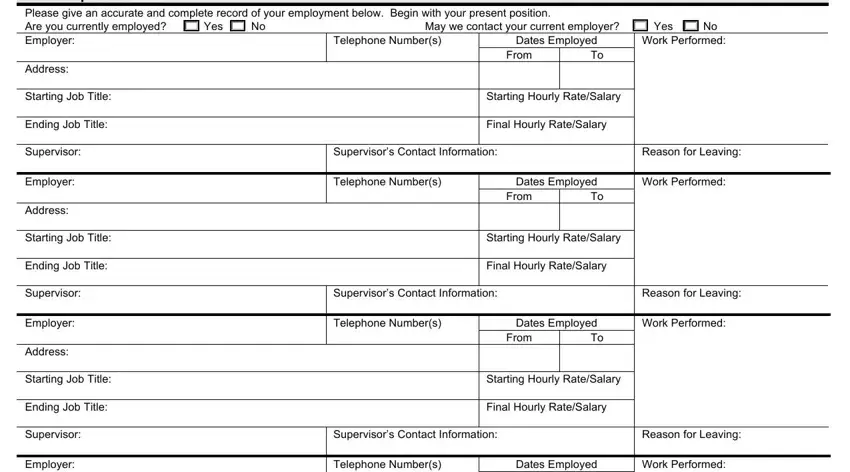 4. The next section requires your information in the subsequent parts: Employer Address Starting Job, From, Starting Hourly RateSalary, Final Hourly RateSalary, Supervisor Professional References, Supervisors Contact Information, Reason for Leaving, Name, Title, Company, Contact Information, Phone EMail Phone EMail Phone EMail, Declaration I hereby certify that, and I hereby authorize SanMar andor. Just remember to type in all of the required details to go further.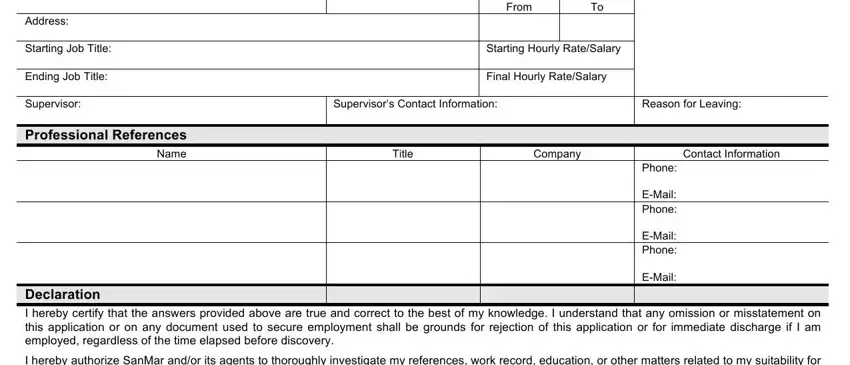 5. Finally, this final subsection is precisely what you will have to finish prior to using the document. The blank fields at issue include the following: In completing the application for, APPLICANT SIGNATURE, and DATE.

Step 3: After you've glanced through the information in the blanks, just click "Done" to conclude your document creation. Right after registering afree trial account with us, you will be able to download sanmar employment w chester ohio or send it through email directly. The PDF form will also be accessible in your personal cabinet with your modifications. FormsPal guarantees your information privacy by using a secure system that in no way records or distributes any kind of personal information used. Be assured knowing your docs are kept safe when you use our service!