Working with PDF forms online is always simple with this PDF editor. You can fill out saqa evaluation fees 2021 here and use a number of other functions available. The editor is consistently upgraded by us, receiving new features and becoming a lot more convenient. Here's what you'll need to do to get started:
Step 1: Simply hit the "Get Form Button" above on this site to start up our form editing tool. Here you'll find all that is required to fill out your document.
Step 2: With our advanced PDF editor, it's possible to do more than merely complete blank fields. Try all of the features and make your documents appear great with customized textual content put in, or fine-tune the file's original input to perfection - all that backed up by the capability to insert just about any photos and sign it off.
Be mindful while completing this pdf. Make certain all necessary blank fields are filled in properly.
1. Complete the saqa evaluation fees 2021 with a group of major fields. Get all the necessary information and make certain there's nothing overlooked!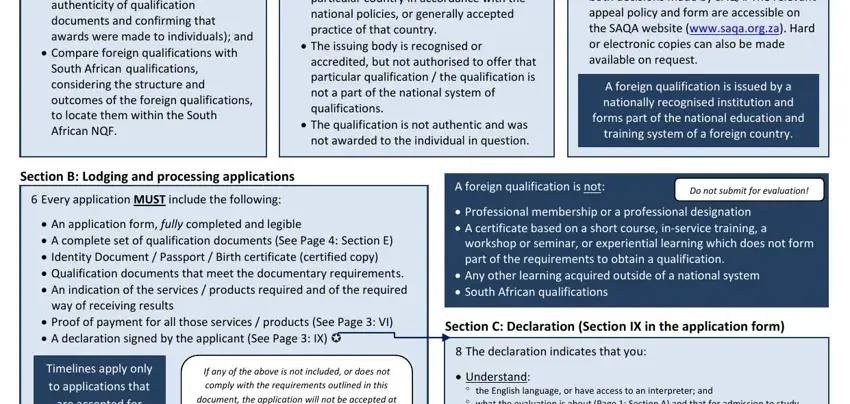 2. The subsequent step would be to submit the next few blank fields: I Who is making the application, Qualification holder QH, Personnel agency, Employer prospective employer, Institution where QH wants to study, Body regulating a profession, Immigration practitioner lawyer, Family or friend of the QH, Mrs, Prof, Title Circle one Ms Name, Rev, Other Mocidile ciducidcider, Company name If applicable, and II Who holds the qualifications.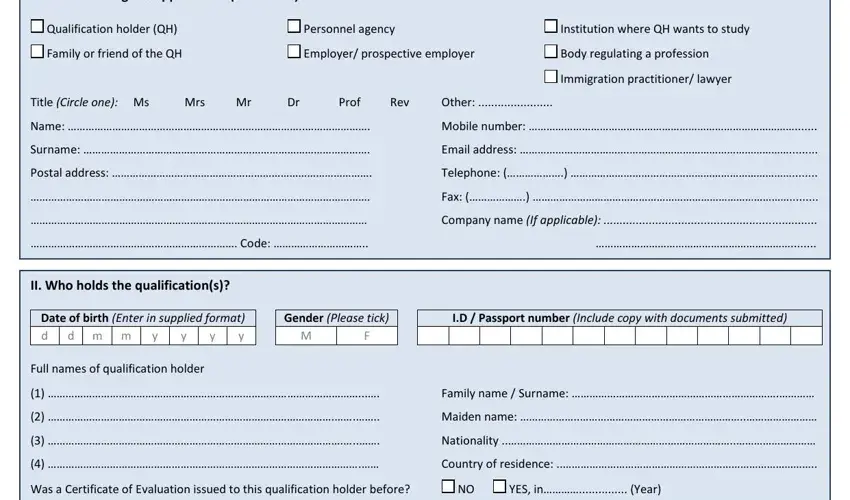 Always be extremely attentive while completing I Who is making the application and Rev, as this is where a lot of people make a few mistakes.
3. The next part is generally simple - fill in all of the fields in Name of qualification, Awarded by institution name, Country, Attended To, From, Completed Yes, General work visa, IV Why do you need the evaluation, Professional registration, University first degree, General employment, Secondary School, Critical skills visa, Corporate visa, and Postschool to complete this part.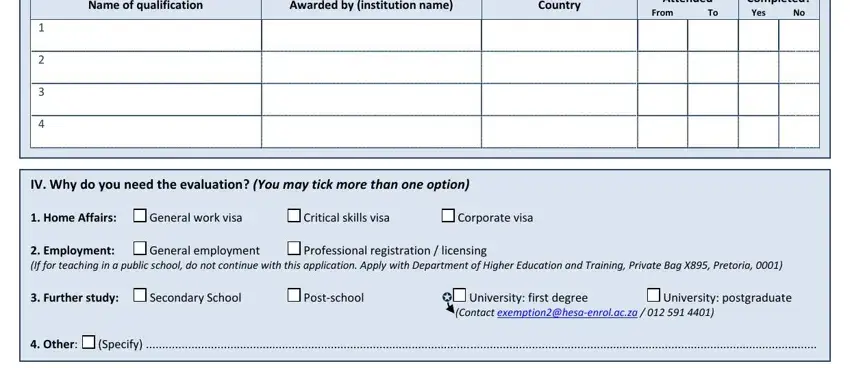 4. The subsequent paragraph will require your details in the following parts: V What would you like us to do, I will pick them up at the SAQA, I will send someone to pick them, Please post them to the address in, Also please eenable online access, You will receive an SMS andor, business day Someone else can pick, and APPLICATION REQUIREMENTS AND. Make certain you provide all requested details to move onward.

5. The final point to complete this document is essential. Ensure to fill out the appropriate form fields, for instance I need a certificate of evaluation, VI What do you need from SAQA What, Within the normal processing time, I need the certificate to be, In South Africa, In SADC, Elsewhere in the world, Certificates are posted only per, pages and of this document, Quicker than the above delivery, Incomplete applications are, processing starts from Day One, there is a record of their, Postage fees are similar to the, and charges SAQA, before using the document. Or else, it may contribute to a flawed and probably incorrect form!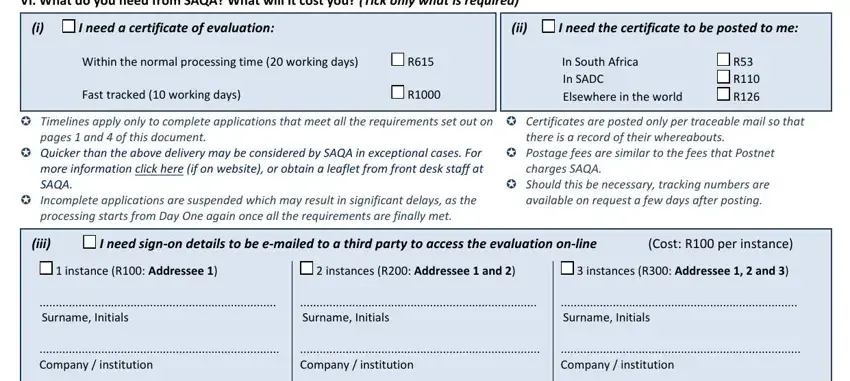 Step 3: Make sure that the details are correct and press "Done" to finish the process. Sign up with us now and immediately get saqa evaluation fees 2021, ready for download. All modifications you make are preserved , making it possible to customize the document at a later time as needed. FormsPal offers secure document editing devoid of personal information record-keeping or any sort of sharing. Feel comfortable knowing that your data is secure with us!