Filling in 171 form pdf is a snap. Our team designed our tool to really make it simple to use and allow you to complete any form online. Here are a few steps you will want to follow:
Step 1: First, click the orange button "Get Form Now".
Step 2: Now it's easy to alter your 171 form pdf. This multifunctional toolbar permits you to include, erase, transform, and highlight content or perform similar commands.
Please provide the following information to create the 171 form pdf PDF: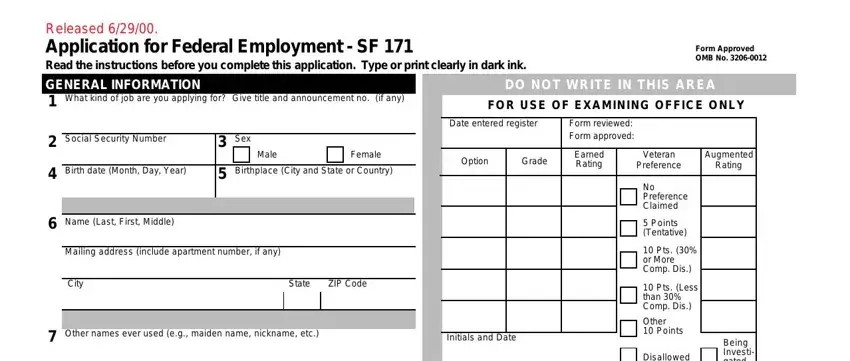 Enter the appropriate information in Home Phone, Area Code, Number, Work Phone Area Code, Number, Extension, Were you ever employed as a, Item If YES mark each type of, Temporary, CareerConditional, Career, Excepted, What is your highest grade, FOR USE OF APPOINTING OFFICE ONLY, and Point segment.
Write down all details you may need in the area to months, Less than month, Are you willing to travel away, to nights each month, to nights each month, C or more nights each month, MILITARY SERVICE AND VETERAN, THE FEDERAL GOVERNMENT IS AN EQUAL, Read the instructions that came, NO PREFERENCE, POINT PREFERENCE You must show, POINT PREFERENCE If you claim, YES NO, Noncompensably disabled or Purple, and Compensably disabled less than.

The WORK EXPERIENCE If you have no, May we ask your present employer, YES NO, READ WORK EXPERIENCE IN THE, Describe your current or most, You may sum up in one block work, INCLUDE VOLUNTEER WORK nonpaid, INCLUDE MILITARY SERVICE You, IF YOU NEED MORE SPACE TO DESCRIBE, IF YOU NEED MORE EXPERIENCE BLOCKS, IF YOU NEED TO UPDATE ADD MORE, Name and address of employers, Dates employed give month day and, From Salary or earnings Starting, and Ending area needs to be applied to put down the rights or obligations of both parties.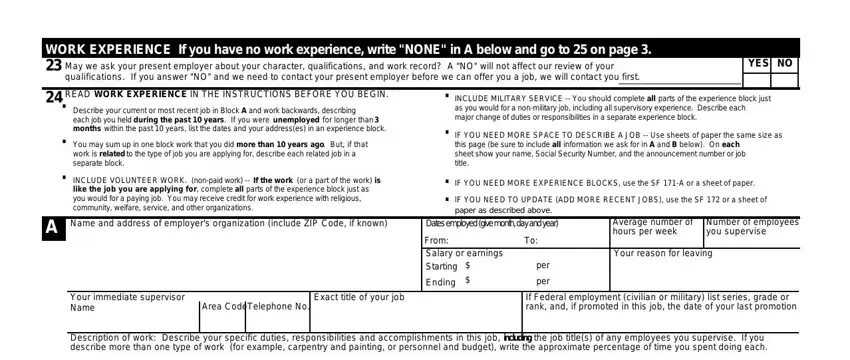 End by checking the following sections and writing the proper data: Name and address of employers, Dates employed give month day and, From Salary or earnings Starting, Ending, per, per, Average number of Number of, you supervised, Your reason for leaving, Your immediate supervisor Name, Area CodeTelephone No, Exact title of your job, If Federal employment civilian or, Description of work Describe your, and Page.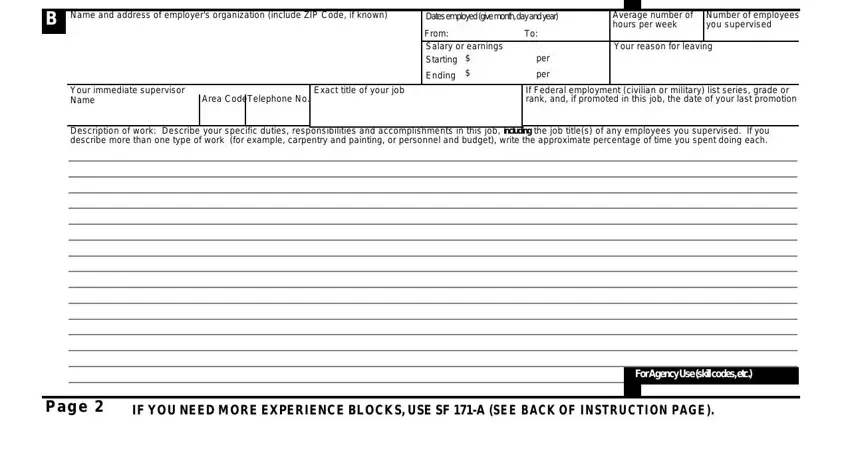 Step 3: If you are done, select the "Done" button to export the PDF file.
Step 4: You can generate duplicates of your file toremain away from all of the possible worries. Don't be concerned, we cannot publish or watch your data.