The procedure of completing the 521 ssa is actually hassle-free. We made sure our software is not hard to use and can help prepare any form in a short time. Read about the four steps you'll have to take:
Step 1: You can hit the orange "Get Form Now" button at the top of the following webpage.
Step 2: After you have accessed the editing page 521 ssa, you'll be able to find every one of the actions readily available for the form in the top menu.
Provide the essential details in each segment to fill out the PDF 521 ssa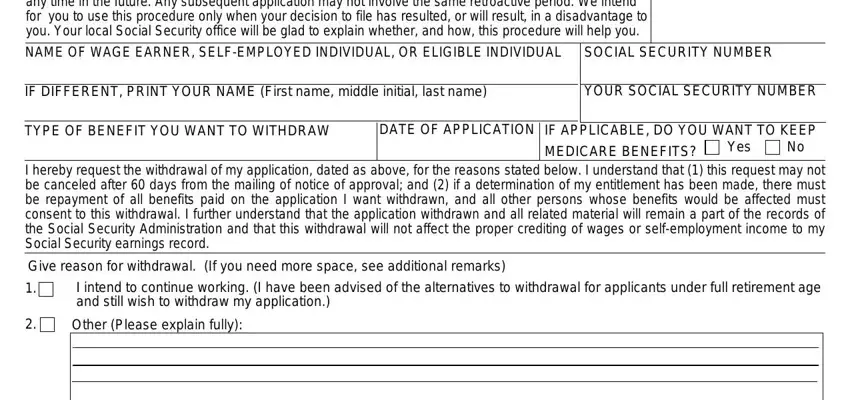 Jot down the data in Continued, on, reverse SIGNATURE, OF, PERSON, MAKING, REQUEST Date, Month, day, year Telephone, Number, include, area, code City, and, State ZIP, Code and Signature, of, Witness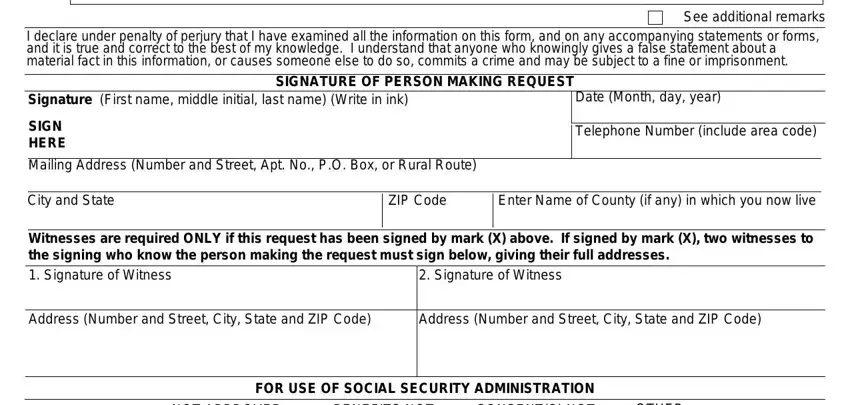 Mention the vital details in APPROVED, BENEFITS, NOT, REPAID NOT, APPROVED, BECAUSE OTHER, Attach, special, determination SIGNATURE, OF, SSA, EMPLOYEE TITLE, CLAIMS, AUTHORIZE, R OTHER, Specify and DATE box.

Describe the rights and obligations of the sides inside the paragraph FormS, S, AUF, Additional, Remarks and Page, of
Finish the document by reading the next fields: Privacy, Act, Statement and of, its, programs

Step 3: Choose the Done button to save your document. Now it is obtainable for upload to your gadget.
Step 4: Be certain to stay away from possible difficulties by making as much as a couple of copies of your document.